By Phil Marsh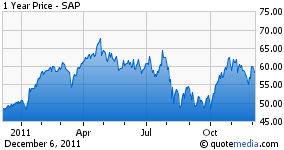 SAP AG (NYSE:SAP) announced on Saturday that it would acquire cloud software maker SuccessFactors, Inc. (NYSE:SFSF) for $3.4 billion in cash, a major move that puts the dominant maker of business applications squarely into cloud computing. It is a transaction that may signal many more of its type to come as traditional software and business service companies strive to remain relevant and innovative by acquisition.
At over $40 per share in cash, the purchase comes at a 52-percent premium on SFSF's Friday closing price of $26.25 per share. The deal, however, brings SAP much needed top-line growth in an area where the company itself has largely failed. Paul Hamerman, an analyst at Forrester, a technology research group, stated in Forrester's blog that "By acquiring SuccessFactors, SAP puts itself into a much stronger competitive position in human resources applications and reaffirms its commitment to software-as-a-service as a key business model."
Forrester sees the cloud computing market expanding six-fold from its current volume of 40 billion, to more than 240 billion in 2020. Software providers are increasingly moving their offerings into the cloud and reducing their leverage on their traditional on-site installations. Customers are becoming ever mindful of the benefits in terms of cost, scalability and continuous upgrades availed on solutions that reside on the web rather than within their own servers. Unlike installed software, cloud applications have no upfront cost since they are often deployed on a subscription basis. And with companies such as Google (NASDAQ:GOOG) and Amazon (NASDAQ:AMZN) making great strides in cloud computing, security has become much less of a barrier to adaption.
In the race to capture this growth, SAP is seen as lagging behind its competition -especially its archrival, Oracle Corporation (NYSE:ORCL) - with whom it is battling with for customers. In October of this year, Oracle made a move in the race for the cloud and purchased RightNow Technologies (NASDAQ:RNOW), an SAP competitor, for $1.5 billion. Although SAP is expected to meet a current goal of reaching 1,000 cloud customers by the year's end, cloud computing contributed just 2 percent of revenues for 2010, roughly $335 million. Considering the comparatively superior growth for cloud services compared to installed solutions, this picture needs to change for SAP to catch up.
By comparison, SuccessFactors posted revenue of $205.9 million in 2010 and was on track to nearly double that to $400 million next year. For a much smaller company, SuccessFactors enjoys an active subscriber base of 15 million spread over 3,500 corporate customers in 168 countries. In a sign of its flexibility in scale of operations, its customers' user base ranges from the few dozens to over 2 million. Its portfolio includes talent and recruiting management, goal and performance reviews, business execution and even senior executive succession planning.
These people-focused cloud applications are expected to integrate smoothly and be highly complementary with SAP's enterprise strengths. In addition to its own installed solutions for talent management and workforce analytics, SAP's core services include HR, payroll and shared services delivery. SAP currently has over 15,000 human capital management deployments over its customer base, through which it reaches over 500 million employees - all of which would have a likely interest in the new cloud offerings SuccessFactors brings to the fold.
SAP, who said it was financing the SuccessFactors acquisition with cash on hand and a $1.4 billion loan facility, said the deal would slightly dilute earnings for 2012 but would become accretive in subsequent years. The company has a standing goal to boost total revenue to $26.9 billion by 2015, an improvement of over $10 billion compared to last year, which market the company's return to growth following the 2009 economic crisis. This target is now likely to be surpassed.
SAP's acquisition of SuccessFactors is arguably a move that ensures its continued presence in a battlefront for increased digital footprint and users. SAP and its legacy competitors such as Oracle and IBM (NYSE:IBM) are not only competing with Salesforce.com, Inc. (NYSE:CRM), the current undisputed leader by volume in the customer relationship cloud computing, but they are increasingly competing with companies like Google and Facebook (although not for strictly the same objective… yet). Employees and decision makers are using their online social habits (and the cloud) with them at work, and will increasingly ask why their tools at work are not as easy as their social life.
This purported revolution will most assuredly rearrange the current industry landscape in the coming couple of years. This acquisition was not the first. IBM already has Social Business and Cross Channel Commerce acquisitions under its belt. Since October, so does, as we said, Oracle with RightNow, almost certainly this will not be the last planned acquisition.
The astute investor will find probable reward by keeping an eye on current competitors to SuccessFactors, equally innovating and of similar size, and thus with matching potential. Taleo (NASDAQ:TLEO) Kenexa (KNXA) and NetSuite (NYSE:N) come to mind among current publicly traded targets for acquisition. Workday is another enterprise-in-the-cloud player that will become public in the second half of next year.
SAP closed Friday at $59.54 per share on Friday, and SFSF traded at $26.25 per share on the same close.
Disclosure: I have no positions in any stocks mentioned, and no plans to initiate any positions within the next 72 hours.