A relatively new Dow Jones index series attempts to combine fundamental and quantitative analysis in an endeavor to ascertain a statistical probability that a company will accomplish the Required Business Performance (RBP) necessary to support its stock price. This RBP probability methodology was developed and supplied by Transparent Value LLC. RBP methodology may potentially offer a new portfolio discipline, and provide others a sensible new metric for equity analysis.
RBP attempts to estimate the likelihood, based on recent historical performance, that a company will generate the business required to justify the current price of its stock. RBP Probability is calculated by factoring revenue changes over the previous twelve quarters to see whether the company is likely the perform at a level consistent with its current stock price.
RBP formulation does not consider outside macro factors that could influence a company's performance, believing that such matters should already be reflected in the stock's price. Additionally, it does not consider how or why a company previously achieved its performance, instead presuming that success speaks for itself and that the methods by which management reaches an objective is less important than whether or not they consistently perform at or above expectations.
An RBP index or basket of investments will overweight companies that the methodology determines to have a high probability of meeting expectations and underweight those with a lower probability of doing the same. Moreover, the index attempts to avoid those companies with the lowest determined probabilities.
In so doing, RBP methodology is somewhat negatively framed in that it will look at a particular universe of equities and attempt to filter out those companies that have the lowest probability of meeting expectations, or, rather, the highest probability of missing expectation. The system is designed to build a broad portfolio of investments based upon an index, yet avoiding those members deemed to have the greatest risk to disappoint.
In an effort to provide the RBP for a varied but small group of equities, I have provided the RBP for the 10 Dow Dogs of 2011. I have also provided their 1-month and 2011-to-date equity performance rates, as well as their yields. I have also provided the same information for the broader market as defined by both the Dow Industrial Average and the S&P 500. See the chart below: (click to enlarge)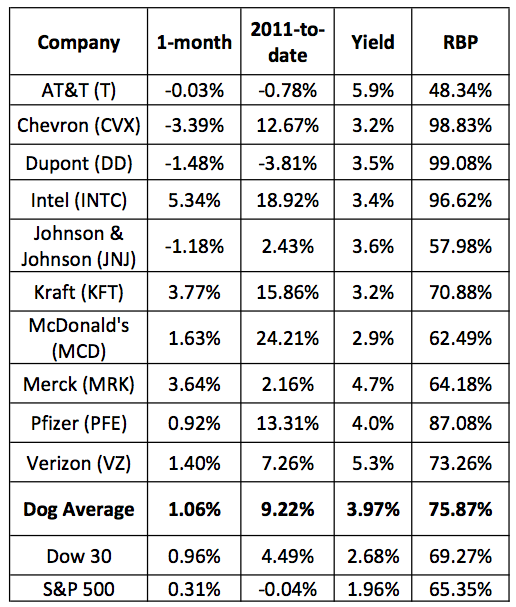 As you can see, even among Dow components, RBP can vary dramatically. Within the 2011 Dow dogs, RBP percentages vary between a low of 48.34 percent, or slightly more probable to disappoint, to a high of 99.08 percent, or believed less than one percent likely to disappoint.
This highest dog RBP belongs to Dupont (DD), which also happens to have the worst 2011-to-date performance of the dogs. This lagging performance is likely at least partially responsible for Dupont's high RBP. Nonetheless, the other two dogs with a RBP above 90 percent are among the groups best recent performers.
Interestingly, the RBP for the Dow dogs in total (75.87%) is higher than the RBP for both the whole Dow (69.27%) and the even broader S&P 500 (65.35%). The dogs also have a noticeably higher average yield and a considerably preferable 2011-to-date average rate of appreciation.
Disclaimer: This article should not be construed as personalized investment advice as it does not take into account your specific situation or objectives.
Disclosure: I am long KFT.