New York-based Hedge Fund Baker Bros. Advisors LLC, as of the most recent SEC 13-F filing for the September 2011 quarter, had $2.1 billion in equity assets, almost all invested in the biotech sector, including 80% in small cap and micro cap equities, and the remaining in mid cap equities.
Brothers Julian and Felix manage the fund, and they have an outstanding record of finding huge biotech winners over the long-term, some of which are reflected in their current holdings as discussed below. Their most recent huge win is in Pharmasset Inc. (VRUS) that they bought in 2007 in the mid-single-digits, and that was acquired last month by Gilead Sciences Inc. (NASDAQ:GILD) for $137.
Brother Julian studied at Harvard and has a business background, and Brother Felix holds a Ph.D. in Immunology from Stanford University. Typically, the fund buys into companies at the lows, basing their decision on a fundamental analysis of the opportunity. With their big winners, as in the case of Seattle Genetics (NASDAQ:SGEN) and Viropharma Inc. (VPHM), they build their positions over a long time, often ending with large 10% plus stakes in the target company.
The fund holds investments for an average of three years, with most of their winners such as VPHM and SGEN being held for well over twice that average time frame. Both brothers maintain a very low profile, and almost never give interviews, and hence are below the radar screens of most investors.
With the biotech index down by almost by a third since the peak in May this year, now may be a good time to hunt for some bargains in the group. Based on Baker Bros. most recent Q3 filing, the following are its most bullish picks that may be of interest (see table):
Viropharma Inc. develops products for the treatment of diseases impacting patients with few if any treatment options, including drugs for hereditary angioedema, clostridium difficle infection, and seizures in children and adolescents. At $257 million, including the adding of $30 million in Q3, this is the third largest position in its portfolio. Baker Bros. is also the largest institutional shareholder in VPHM, holding 11.0 million or 15.5% of outstanding shares. It initiated the position in Q1 of 2005, with a 4 million share position in the $3-$4 range, and since then it has built that up to a large 11.0 million share position as the stock has traded up well over six-fold during that time. Baker Bros. adding to their huge position in Q3 even as the stock trades near ten-year highs is a strong sign of confidence in the outlook for VPHM going forward.
Dendreon Corp. (NASDAQ:DNDN) develops targeted therapeutics to treat cancer using active immunotherapies, monoclonal antibodies and small molecules. Among investor circles, it is probably best known as the maker of Provenge® for Prostate Cancer. Baker Bros. initiated a new $23 million position in DNDN in Q3, and is the 13th largest institutional investor in DNDN out of 289 that have a position in the company. DNDN shares have plunged recently, down over 80% since July on back-to-back disaster quarter reports for the latest June and September quarters, leading investors to question the long term potential and competitive strength of its lead drug Provenge, an FDA approved immunotherapy for prostate cancer. The purchase by Baker Bros. in Q3 after the plunge in DNDN shares is notable, since they have a record of accumulating shares at lows, as they did in VPHM in early 2005 (and SGEN in 2004), after the stock had dropped from well over $100 to the low single digits, profiting from the following six-fold surge.
Seattle Genetics Inc. is a clinical biotech company focusing on the development of monoclonal antibody-based therapeutics for the treatment of cancer and autoimmune diseases. At $344 million, including $22 million added in Q3, this is the second largest position in its portfolio. Bakers Bros. is also the largest institutional shareholder in SGEN, holding 15.3 million or 17.9% of outstanding shares. It initiated the position at the end of 2004, with a 1.5 million share position bought in the mid-single-digits, and since then it has built it up to a large 15.3 million share position as the stock has surged three-fold during that time. Baker Bros. adding to their huge position in Q3 even as the shares traded then near all-time highs is a strong sign of confidence in the outlook for SGEN.
Incyte Corporation (NASDAQ:INCY) develops small molecule drugs for hematologic and oncology indications, and inflammatory and autoimmune diseases. At $155 million, this is the fifth largest position in Baker Bros. portfolio. They initiated this position in 2001, probably in the mid-teens, and it has traded down and flat since that time. However, on December 2, as reported by us earlier in our weekly review of last week's insider trades in the healthcare sector, Baker Bros. bought an additional 2.5 million shares for $32.2 million, increasing their position in the company to 13.6 million or 10.8% of outstanding shares.
Ariad Pharmaceuticals Inc. (NASDAQ:ARIA) is engaged in the development of drugs that treat aggressive and advanced-stage cancer by regulating cell signaling with small molecules. It is also developing small-molecule drugs that block signal transduction pathways in cells responsible for osteoporosis, and immune and inflammatory diseases. Baker Bros. added $6 million in Q3 to its $9 million prior quarter position in ARIA. The position in ARIA was just initiated in mid-2011, probably in the high teens, so Baker Bros. adding to that position as the stock has traded since is a sign of confidence in ARIA going forward.
The following are the stocks that Baker Bros. is bearish about based on their Q3 selling activity:
Inhibitex Inc. (NASDAQ:INHX) develops differentiated anti-infective products to prevent and treat serious viral and bacterial infections, including primarily shingles and chronic infections caused by hepatitis C virus (HCV). Baker Bros. dropped their entire $11 million in Q3. INHX shares recently doubled this month after the company reported positive top-line data from its clinical trial of INX-189 in hepatitis C patients.
Halozyme Therapeutics (NASDAQ:HALO) develops recombinant human enzymes for the infertility, drug delivery, endocrinology, oncology, and dermatology markets. Baker Bros. cut $9 million in Q3 from a $36 million prior quarter position. The position was initiated at the end of 2005, when HALO traded in the $2 range, so their selling out of the position in Q3 in the $6-$8 range was at a huge profit.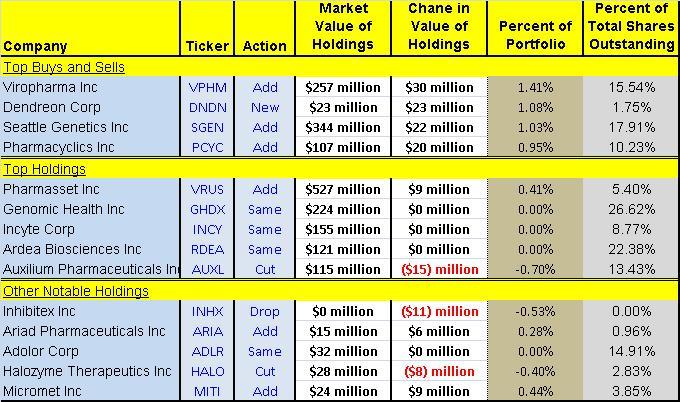 Historical fundamentals including operating metrics and stock ownership information were derived using SEC filings data, I-Metrix® by Edgar Online®, Zacks Investment Research, Thomson Reuters and Briefing.com. The information and data is believed to be accurate, but no guarantees or representations are made.
Disclosure: I have no positions in any stocks mentioned, and no plans to initiate any positions within the next 72 hours.
Disclaimer: Material presented here is for informational purposes only. Nothing in this article should be taken as a solicitation to purchase or sell securities. Before buying or selling any stock you should do your own research and reach your own conclusion. Further, these are our 'opinions' and we may be wrong. We may have positions in securities mentioned in this article. You should take this into consideration before acting on any advice given in this article. If this makes you uncomfortable, then do not listen to our thoughts and opinions. The contents of this article do not take into consideration your individual investment objectives so consult with your own financial adviser before making an investment decision. Investing includes certain risks including loss of principal.