It came as a surprise to almost no one when IDC reported that Samsung (OTCPK:SSNLF) had "regained the lead" in global smartphone sales in the March quarter. Apple's (NASDAQ:AAPL) decline in smartphone market share relative to Samsung may not be as important as assumed, however. Other factors such as mobile device profitability and investments in product development may play a greater role in determining the outlook for these two companies.
A Closer Look at Smartphone Market Share
It has become commonplace to question IDC's accuracy and impartiality in reporting Apple sales, but I've chosen not to go there. Such "shoot the messenger" exercises are unproductive. And when IDC reported a virtual tie between Apple and Samsung in smartphone sales for the December quarter, I was more than happy to celebrate the news.
I also did a little dancing on Samsung's smartphone grave, which may have been premature. As of the December quarter results, I declared victory for Apple in the smartphone war with Samsung. Samsung came back in the March quarter with sales and market share increases in its smartphone business. But these were quarter over quarter increases rather than year over year.
I still believe Apple will ultimately triumph, but that's a little hard to prove at this juncture. So let's take a closer look at the market share results and do some comparison of quarterly results, in order to put IDC's information in perspective. As I usually do, I massage the IDC data a little to generate a "top five vendor" market share number rather than the total market share calculation that IDC uses.
This is one of the ways that my thinking about market share has evolved over the past year. IDC and other research firms naturally count all Android devices sales, usually lumped into an "other" category, even though many of those sales include so-called "white box" sales in China and other emerging markets.
Many, including myself, question whether those white box phones should even be included in the smartphone category. By recalculating market share to include only IDC's identified top five smartphone makers, I effectively exclude white box sales. The trends in market share are shown in the chart below.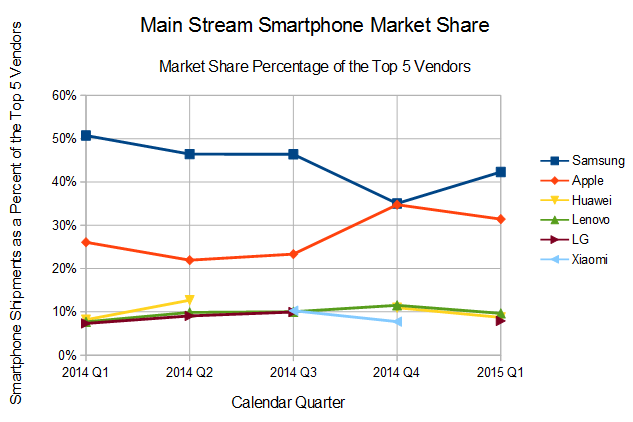 Note that some of the lines are discontinuous because the membership of the top five vendors changes from quarter to quarter. For instance, Xiaomi didn't make it into the top five in Q1.
There are a couple of important takeaways from this chart. First, even though Samsung posted a sequential share increase this quarter and Apple a sequential decline, Samsung's market share declined y/y from 50.7% to 42.3%. Meanwhile Apple's top five share rose from 26% to 31.4%.
In terms of absolute shipments, Samsung's actually declined y/y by 3%, while Apple's rose by 40%. In the chart below, I show y/y unit shipment changes.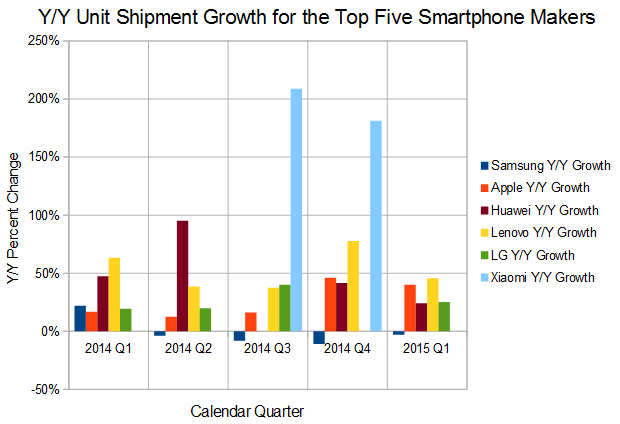 Note that Lenovo's y/y growth for Q1 was partially fueled by the Motorola acquisition. It's not clear what Lenovo's growth would have been without Motorola.
Still Winning the Profit Share Race
Many point to the greater profitability of Apple's iPhone business as proof that market share doesn't matter. There's no question that Apple is still winning the smartphone profit battle, but it's hard to tell exactly by how much, because neither company reports a clean, definitive smartphone operating profit. Apple doesn't break down operating profit by product line at all, and Samsung only reports operating profit for the IT and Mobile segment, which includes all their telecom and Internet related equipment sales, including feature phone handsets.
Based on Apple and Samsung's earnings reports for the March quarter, I've estimated operating income and margin for each company's mobile device business. For the case of Samsung, that business includes feature phones, as there's no way to separate the smartphone component.
| | | |
| --- | --- | --- |
| Company | Apple | Samsung |
| Mobile Operating Income ($billions) | 14.4 | 2.46 |
| Mobile Operating Margin (%) | 31.5 | 10.5 |
Even though Apple makes more profit from its phones, it isn't absolutely clear that it confers a competitive advantage. It probably does, but there are some headwinds.
For Apple, the main problem is how to spend the money it makes. Much of it is offshore, and is simply accumulating in Apple's cash pile. Apple has had difficulty finding ways to put that cash to use to compete more effectively, so it piles up quarter after quarter. As of the March quarter, cash, short-term securities and long-term securities equaled $193.5 billion. No wonder the EU is chomping at the bit to slap Apple with a bill for back taxes.
Samsung isn't making nearly as much money from its handset business. But Samsung is a very diversified electronics manufacturer capable of shifting resources around in order to make significant investments for its mobile device business.
One of the most important investments Samsung has made is in the area of its foundry business. Samsung invested heavily in its 14 nm FinFET process and is the first manufacturer to be in mass production of FinFET ICs outside of Intel (INTC). This is a huge achievement, and Samsung has been able to use the process to confer a speed advantage for its Galaxy S6 smartphone.
The S6 uses Samsung's Exynos 7420 processor, which Chipworks has verified is built using Samsung's 14 nm FinFET. Some have questioned whether this is a "true" 14 nm process (including Intel management). Once again, this isn't really productive for our purposes. Samsung's process is still a considerable advance over the best that has been available in the ARM foundry world up until now. Samsung's use of its own chip has made the S6 the fastest Android phone available, while maintaining reasonable battery life. By most tests, it's also faster than the iPhone 6 as well, although not by much.
My point here is that Samsung has a fairly straightforward way to deploy its capital to gain advantage in smartphones, whereas it's more difficult for Apple.
Long-Term Outlook
Samsung started shipping the S6 toward the end of the quarter, so it's not clear how much of an impact it had to Samsung's results and market share. The jury is definitely out as to the future market impact of the S6. I believe Apple investors should brace themselves for some near-term impact, especially in the June quarter, as we see the first full quarter of S6 sales, while iPhone sales taper off in anticipation of the next iPhone.
There will be plenty of pundits ready to declare the S6 the victor in the smartphone wars based on next quarter's results. The key takeaway for Apple investors is that short-term fluctuations in unit sales and market share are not as important as the long-term trend.
What's important is whether Apple's iPhone business is growing faster than the overall smartphone market. In general, if iPhone grows market share, then it also grows faster than the market. This is what I look for in the market share numbers.
In the face of the challenge of the S6, the long-term trend is debatable, and Apple bears and bull can reasonably disagree over this point. Here's how I think the race will play out in the next few quarters:
In June, Apple will preview its next release of iOS at WWDC. This will serve to spur interest and anticipation for the next generation of iOS devices. When Apple releases the next gen devices, these will almost certainly feature the more advanced Samsung 14 nm FinFET process, at least initially. It's thought that TSMC will get about 30% of the business, but I expect this to occur later in the year as TSMC (TSM) ramps up production of their own 16 nm FinFET process. Thus, Apple will have closed the process gap with the S6 and will feature its new version of iOS.
Since Apple designs its own CPU cores on its systems on chip (SOCs), Apple's next generation devices won't just achieve parity with the S6, but will pull ahead in speed and energy efficiency. This will position Apple for another spectacular December quarter.
It's clear that the two competitors will keep trying to leapfrog each other, and with major smartphone introductions by the two staggered about 6 months apart, each has a window in which to enjoy a measure of superiority.
Ultimately, I expect Apple to pull ahead of Samsung in sales and market share by virtue of its investments in chip design and operating system, but it may take several product cycles for this to become apparent. Apple is an investment for those with a long-term outlook.
Editor's Note: This article discusses one or more securities that do not trade on a major U.S. exchange. Please be aware of the risks associated with these stocks.