Markets in the United States are down once again, with the Nasdaq appearing as though it will add another down day to its recent run. We are once again seeing the market pay more attention to the bond market after the FOMC's rate decision and commentary yesterday, and we suspect that the speculation on the actual rate hike date will only grow as we get further into the year. Many of the big names in the bond market have publicly stated that they do not see how the Fed can move in June and think that September is the earliest date that a hike could be implemented.
Today's economic data is a mixed bag, but if one looks beyond the claims data and instead focuses on the personal income and personal spending, then it becomes obvious that there is still weakness in this recovery. Readers need to remember that the Federal Reserve wants to see unemployment low, but it is also important for them to see wage inflation so they can confirm that the job market is in fact strong. We believe that income data is the key to figuring out when the Fed will, or can, move to increase interest rates.
Chart of the Day:
Personal Income and Spending go hand-in-hand. Weakness in one is generally followed by weakness in the other, and vice-versa. The Fed is concerned about income and wage inflation right now as well as how gasoline savings are being spent.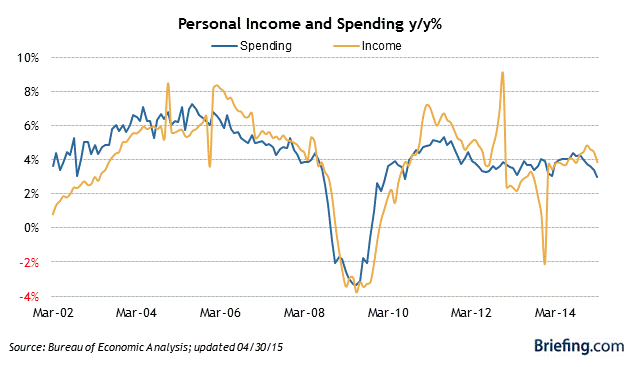 Source: Briefing
We have economic news today, and it is as follows:
Initial Claims (8:30 a.m. EST): Est: 290k Act: 262k
Continuing Claims (8:30 a.m. EST): Est: 2318k Act: 2253k
Personal Income (8:30 a.m. EST): Est: 0.2% Act: 0.0%
Personal Spending (8:30 a.m. EST): Est: 0.5% Act: 0.4%
PCE Prices - Core (8:30 a.m. EST): Est: 0.2% Act: 0.1%
Employment Cost Index (8:30 a.m. EST): Est: 0.6% Act:0.7%
Chicago PMI (9:45 a.m. EST): Est: 50.0 Act: 52.3
Crude Inventories (10:30 a.m. EST): Est: N/A
The Asian markets are lower today:
All Ordinaries - down 0.83%
Shanghai Composite - down 0.76%
Nikkei 225 - down 2.69%
NZSE 50 - UNCH
Seoul Composite - down 0.72%
In Europe, markets are higher today:
CAC 40 - up 0.31%
DAX - up 0.87%
FTSE 100 - up 0.10%
OSE - down 0.50%
Salesforce.com For Sale?
Everyone in the market was caught off guard during yesterday's session when news broke that there was a potential buyer checking out Salesforce.com (NYSE:CRM). The company's founder and CEO, Marc Benioff, has never really publicly expressed an interest in selling the company, however after being approached by an unnamed party the company did hire financial advisers to help field bids. There is no guarantee that a deal does get done, and when one looks at the number of potential acquirers the chances seem less likely due to the size of the field.
Salesforce.com is no longer an easy target as it sports a market capitalization above $40 billion. After the news yesterday the market capitalization now stands at about $48 billion, and an acquirer would most likely have to pay even more than that to purchase the company. While many are looking at price as a factor, valuation should not be forgotten either. If someone does purchase Salesforce.com a rich price is going to be paid, so it only makes sense that a company with a huge pile of cash is going to be the buyer. We doubt that Google (NASDAQ:GOOG) (NASDAQ:GOOGL) or Apple (NASDAQ:AAPL) is the buyer as some have speculated, but Microsoft (NASDAQ:MSFT) or Oracle (NYSE:ORCL) would be much likelier candidates as the business would actually fit within their current product offerings. However, it is still hard to fathom either software company paying the multiple required to purchase Salesforce.com as the deal would not provide a big boost to earnings and could hamper further large distributions to shareholders.
Looking at some of the other rumors, we certainly do not think that Amazon.com (NASDAQ:AMZN) is a buyer because this is precisely the type of deal that the company has shied away from over the years. Amazon is interested in breaking into new businesses that possess rich margins with their own offerings, while providing those goods and services at a considerable discount. Paying a huge premium to break into an industry and destroy margins does not really fit into their model, and we have already seen the company refrain from purchasing Blackberry (BBRY) when everyone was calling for that deal.
Apple's Component Problem
With the Wall Street Journal now reporting that Apple found an issue with the taptic engines manufactured by one of its suppliers, the delay in shipments and the company's decision to not have customers line up outside stores makes sense. Apparently the issue only affects the watches which had a taptic engine manufactured by AAC Technology Holdings, a Hong Kong traded company, and not Japanese based Nidec Corporation's taptic engines.
The report initially sent shares of Apple lower, but the defect was caught during testing and limited supply that the company could sell. These defective watches apparently did not make it out the door and were not sold to customers. The story is not all that surprising to us, as you expect these types of issues to arise when dealing with devices on the cutting edge and integrating so many different technologies and manufactured parts. We have had an iPhone which needed to have parts replaced due to a recall, so the fact that Apple has had an issue with a new product in a new category is not surprising at all. It seems that this is just being used as a reason for some to sell.
Disclosure: The author has no positions in any stocks mentioned, and no plans to initiate any positions within the next 72 hours.
The author wrote this article themselves, and it expresses their own opinions. The author is not receiving compensation for it (other than from Seeking Alpha). The author has no business relationship with any company whose stock is mentioned in this article.
Additional disclosure: AAPL has previously been recommended.