A company's potential to make or lose money for its shareholders is often related to the amount of press it receives. Sleepy companies like Proctor & Gamble (NYSE:PG) or Dominion Resources (NYSE:D) receive very little press, and slowly but surely generate returns for shareholders. Companies with a lot of coverage such as LinkedIn (LNKD) or Amazon (NASDAQ:AMZN) can generate huge returns for investors, but also carry much more risk. Today we would like to highlight one company that has recently generated a great deal of press coverage, and one that we think is tremendously undervalued in the long term.
Clearwire (CLWR) is a company that provides wireless services to both retail customers and wholesale customers. The company is majority owned by Sprint (NYSE:S) and covers 130 million people with its 4G network. Without a doubt, Clearwire is one of the most volatile stocks we have ever come across. In the past month alone, shares have soared over 24%, trouncing the S&P 500 (NYSEARCA:SPY), which is largely flat for the month.
(Click charts to expand)

With shares rising so sharply in the past month, how can we recommend the stock? We recommend Clearwire because if readers examine a chart of Clearwire stock year to date, they will see that the shares have been needlessly pummeled. Since the start of 2011, Clearwire has fallen over 54% while the S&P 500 is just slightly negative.

Let us be clear. In the short term, Clearwire shares can, and most likely will be volatile, and it is possible that investors will lose money. We are examining Clearwire not as a short-term trade, but as a long-term investment. Clearwire has been battered by concerns over its relationship with Sprint, funding issues, operational & financial concerns, and bankruptcy rumors. But at current levels, we think the stock is pricing in a worst-case scenario, one that will not happen. Below we examine the issues surrounding Clearwire and why investors should buy the stock at these levels.
The first issue is Clearwire's relationship with Sprint. Since the beginning, this has been one of the most convoluted and bizarre partnerships in the wireless sector. But recent events have shown that Clearwire benefits from this more than Sprint. In our previous article recommending Sprint shares, we criticized the structure of the company's relationship with Clearwire. Sprint owns 54% of Clearwire stock, yet controls only 49.7% of the voting power. Sprint may be able to block a takeover, but it cannot compel the Clearwire board to do anything. Given that Sprint's 4G strategy is currently dependent on Clearwire, we see this as a positive for Clearwire. On December 1, Sprint and Clearwire announced a new agreement in which Sprint will provide Clearwire with at least $1.6 billion, in return for unlimited use of the WiMax network in 2012 and 2013. In addition, the company committed to paying Clearwire $350 million if it achieves certain network targets relating to its LTE network buildout. Since the beginning of 2011, Clearwire shares have been battered by worries that Sprint will abandon the company. Yet we have seen that it is Clearwire that is in control of this relationship. Sprint cannot yet compete effectively with AT&T (NYSE:T) and Verizon (NYSE:VZ) on its own. It needs Clearwire to offer 4G service to its customers. Given the dynamics Sprint faces in the markets, we do not think that it will abandon Clearwire. Sprint's spectrum, while extremely valuable, is on its own not enough for the company to effectively compete in the wireless market. It needs Clearwire, and the ownership structure, originally designed to ensure a Clearwire default would not be Sprint's problem, has come back to bite it. A default would mean that Clearwire's spectrum would no longer be available to Sprint, and we think the cost of absorbing Clearwire's debt is less than the potential cost of losing access to its spectrum. Even though Sprint has signed a 15-year deal with LightSquared for LTE access, we think Sprint will need both partners to succeed, given that its own spectrum will not be enough.
Even though the fact of the matter is that Sprint won't abandon Clearwire, the stock has still fallen on worries over funding. Clearwire is indeed burning cash, but we know there will always be a source of financing available to the company: Sprint. For the foreseeable future, Sprint will always be Clearwire's lender of last resort, and the only way that will change is if the dynamics of this relationship change. For better or worse, Sprint has entangled itself too deep with Clearwire to leave at this point. The only way to go is to increase its stake in Clearwire even more. The new deal with Sprint, struck on December 1, includes provisions for Sprint to invest up to $347 million in equity if Clearwire raises anywhere between $400 and $700 million from outside investors. On November 2, in discussing the company's quarterly results, Clearwire CFO Hope Cochran spoke of the company's need for capital. She stated that the company will balance equity and debt, and secure vendor financing as well. In addition, she said the company is fielding offers for its spectrum. As SR Capital noted, a $500 million equity offering at $2/share would dilute shareholders by 20%. But that is a small price to pay when the true value of Clearwire's spectrum is far above where the company currently trades. The fact is that capital must be raised. Even the $1.6 billion deal with Sprint is not enough to cover all of the company's costs. The company has stated it needs $1 billion to upgrade its network to LTE, and splitting that equally between debt and equity means the company will raise $500 million of each. This funding, while possibly painful in the short term, is what Clearwire needs for long-term success. LTE will be the industry standard going forward, and Clearwire must be on board. And if Sprint must finance a part of that upgrade, it is clear that it will. And on Monday, December 5, this was confirmed, for Clearwire announced it is selling $300 million of common stock, with an option to purchase $45 million more. Sprint is participating in this offering, as it had indicated in its announcement on December 1.
We have seen that funding concerns for Clearwire are overblown. The company has proven that it can hold Sprint hostage, getting the cash it needs to keep operating, since Sprint cannot afford to lose access to the company's spectrum. Still, Clearwire shares have fallen due to concerns about its balance sheet & operational results, but a closer look at both would indicate that the company is not as troubled as it seems.
| | | | | | |
| --- | --- | --- | --- | --- | --- |
| | Q3 2011 | Q2 2011 | Q1 2011 | Q4 2010 | Q3 2010 |
| GAAP EPS (Diluted) | ($0.54) | ($1.01) | ($0.93) | ($0.81) | ($0.58) |
| Revenue | $332.177 Million | $293.713 Million | $258.106 Million | $180.669 Million | $146.964 Million |
| Net Subscriber Additions | 1.893 Million | 1.543 Million | 1.765 Million | 1.542 Million | 1.227 Million |
| Subscribers | 9.541 Million | 7.648 Million | 6.148 Million | 4.384 Million | 2.842 Million |
| Wholesale Churn | 1.5% | 1.3% | 1.3% | 1.4% | 1.3% |
| Retail Churn | 4.2% | 3.9% | 3.3% | 3.8% | 3.5% |
| Wholesale ARPU | $6.20 | $6.18 | $6.37 | $3.52 | $4.46 |
| Retail ARPU | $47.05 | $47.59 | $46.32 | $45.10 | $42.74 |
| Cash & Cash Equivalents | $711.375 Million | $847.968 Million | $1.246994 Billion | $1.751129 Billion | $1.394131 Billion |
| Debt | $4.019326 Billion | $4.018062 Billion | $4.025170 Billion | $4.017019 Billion | $2.801170 Billion |
| Spectrum | $4.311917 Billion | $4.325840 Billion | $4.386750 Billion | $4.417492 Billion | $4.440404 Billion |
Looking at Clearwire's fundamental metrics, things are improving. Losses are narrowing, and revenue is soaring. In the third quarter, Clearwire grew revenue by over 126% from a year ago, and subscribers increased by over 235% from last year. Clearwire bears will look at this data and say that the company cannot continue operating like this, burning cash every quarter. They say bankruptcy is looming. And we say that bankruptcy is not a meaningful threat to shareholders.
How is it that we can say that bankruptcy is not meaningful? This is the case for 2 reasons. The first is that Sprint would never allow a Clearwire bankruptcy. Sprint has dug itself into a hole with its Clearwire ownership structure. Sprint can block any takeover of Clearwire, yet does not control the board. In every negotiation, Clearwire can have its finger on the bankruptcy button, threatening to file if Sprint does not give it the terms that it wants. Clearwire knows that Sprint would lose access to its spectrum in the event of such a bankruptcy, since it would go to Clearwire's creditors. Sprint will never allow Clearwire to go bankrupt.
But let's play the bearish side for a moment and assume that something goes terribly wrong and Clearwire is forced to file for bankruptcy, thus liquidating the company. A look at the balance sheet will tell us that even after accounting for the effects of Monday's announced stock offering, Clearwire's book value per share is $3.56.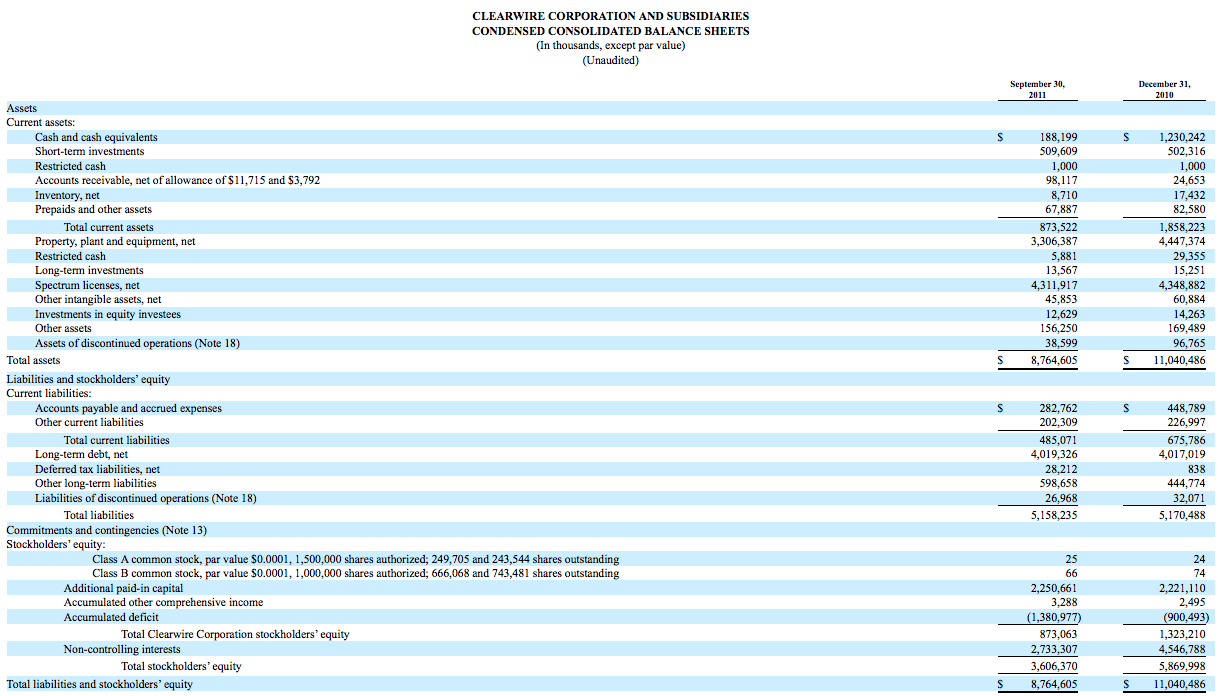 At $3.56 per share, Clearwire is worth 58% more in bankruptcy than it is currently worth. Clearwire trades as if it will go bankrupt soon, yet bankruptcy would be a cause for shares to soar. We think this is absurd. A company that has a partner unwilling to let it go bankrupt is a great investment. A company that is worth MORE in bankruptcy that at the present is an even better investment.
Ironically, filing for bankruptcy would unlock even more value, as Clearwire would be able to auction off its valuable spectrum to the highest bidder. Clearwire's board is free to do as it pleases, and filing for bankruptcy would allow the company to realize its full value, if Sprint does not accept Clearwire's terms. This is why Clearwire made no secret that it thought of skipping its December 1 interest payment, since it knows Sprint will always come to the table
Looking at Clearwire's spectrum, the numbers on the balance sheet do not reflect its true value. Verizon paid $3.6 billion for spectrum from Comcast, Time Warner, and BrightHouse. This shifted the wireless landscape in several ways. Most notably, it affects Clearwire because it pushes the company closer to Sprint. Clearwire had hoped to diversify away from Sprint, but Verizon's partnership with the cable companies makes this unlikely. Still, this is not a negative, because Sprint will always come to Clearwire's rescue. Furthermore, this auction shows just how valuable Clearwire's spectrum is. Collins Stewart broke down the value of this spectrum, calculating that Verizon paid 68 cents per MHz/POP.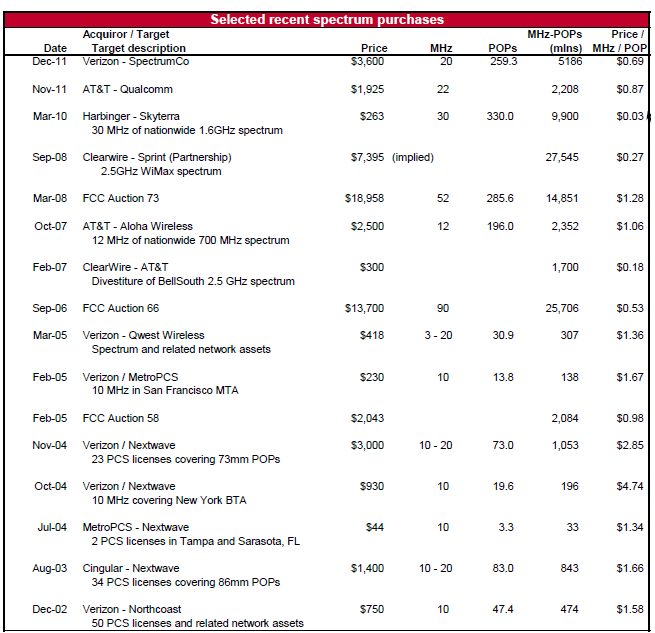 According to the latest 10-K, Clearwire owns about 46 billion MHz-POP's of spectrum. Even a conservative valuation of 34 cents per MHZ/POP, or a 50% discount to what Verizon paid, would value the company's spectrum at $15.64 billion. Should Clearwire decide Sprint is not serving its best interests, there are a number of deep-pocketed buyers ready and willing to unlock the value in Clearwire's spectrum.
Clearwire is a company that is in a unique situation. It has a larger partner (Sprint) that will do as the company says, and ironically bankruptcy could serve to unlock more value than is presently in the stock. The Reuters average price target for Clearwire is currently at $7.28, more than 223% above the current market price. Clearwire has a number of catalysts going for it. Revenue and subscribers are soaring. Sprint has committed itself to Clearwire, and the shares are clearly undervalued. Given all of these factors, we think that investors will do very well over the long term by investing in Clearwire.
Disclosure: Long Sprint and may initiate a long position in CLWR over the next 72 hours.