Netflix (NASDAQ:NFLX) CEO Reed Hastings spoke at the 39th Annual UBS Global Media and Communications Conference on Tuesday.
Hastings provided no answer to the question of when he expects Netflix to return to profitability, focusing instead on his mantra that streaming and "smart TV" is the future.
Strangely, Hastings noted that he's most scared of Time Warner's (NYSE:TWX) HBO GO as competition. This new stance contrasts somewhat with what he told All Things D back in June: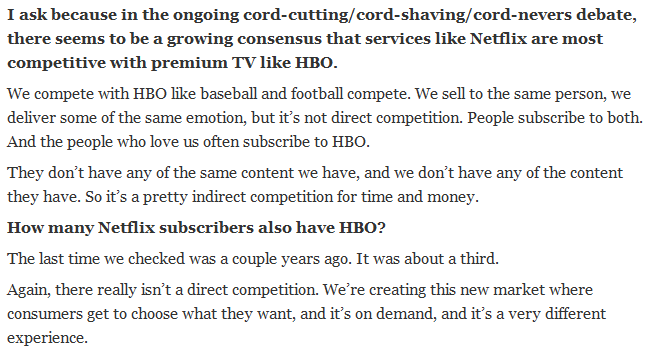 Hastings explained that Netflix and HBO GO still do not compete directly, but they could. He used to consider TV Everywhere his company's stiffest competition, but the landscape must have shifted over the last few months.
I guess I should not be shocked that so much has changed in six months, considering that Netflix's most recent about-faces often took mere weeks to complete. Arguing that Netflix and HBO GO are beginning to look a lot like one another, Hastings blew off the notion of competition from cash-flush companies such as Amazon.com (NASDAQ:AMZN) and Google (NASDAQ:GOOG). Somehow, Hastings still has quite a bit of hubris left.
He sent out a salvo of sorts, noting that to compete with Netflix, companies better be prepared to spend between $1 to $2 billion a year on content. In the next breath, he explained away his company's recent $400 million round of financing, stating that he did it so that suppliers would not worry that Netflix might not be able to live up to its contractual obligations. Hastings' ho-hum attitude regarding the fundraising and subsequent dilution stunned me. Here he is telling people he needed to do something to stave off the perception that the company could not pay its bills in the same breath as asserting that liquidity "probably" never was as an issue anyway and will not be one for the foreseeable future. And, yes, "probably" is a direct quote. He said that, without the $400 million, Netflix "probably" would have had adequate cash.
I won't get into how Hastings joked and laughed his way through much of his presentation, even the serious parts. Instead, I will toss out kudos to my colleague, Jeanine Poggi, at TheStreet.com for writing an excellent artilce on Hastings' presentation which took that angle. She beat me to a great title: Netflix CEO Finds This All Funny.
In what I think might be the most telling part of his talk, however, Hastings seemed to shift gears quite a bit on Netflix's DVD business when asked for closing thoughts:
DVD will do whatever it's gonna do. We're gonna try to, ah, not hurt it, but we're not putting a lot of time and energy into doing anything particular around it.
Here's what Hastings and CFO David Wells wrote, back in July, in Netflix's Q2 letter to shareholders:

Obviously, things change really fast at Netflix. Morale must be high at the "dedicated DVD division," as the DVD team plans "some great improvements for the DVD service" without the "time and energy," presumably, of most of the Netflix staff, including its CEO.
I do not have to do much editorializing here (OK, just a little). I'm just the messenger. The CEO spoke. I relayed the gist of what he said. Objectively speaking, strategy at Netlfix truly is a moving target. And Hastings' answers about profitability and liquidity come off as uncertain at best and hard to believe somewhere slightly north of at worst.
Disclosure: I am short NFLX.
Additional disclosure: I am short NFLX via a long position in June 2012 $40 puts.