By Paul Quintaro
Some market participants may have seen this year's Black Friday sales figures as a bullish catalyst for Wall Street.
Certainly, the market has been on a rally path since the end of the Thanksgiving week.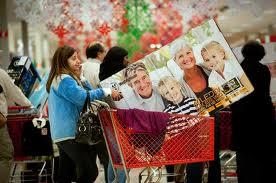 That rally may have been motivated more so by events concerning Europe than sales in the U.S., but many market participants were trumpeting the success of Black Friday after various reports indicated that shoppers were more aggressive in their purchasing this year.
According to the National Retail Federation, 2011′s Black Friday lead to a sales increase of 16%, while the average shopper spent almost $35 more on Black Friday than the prior year.
Still, data released on Monday may indicate that the hype was ultimately for nothing.
A survey of consumers indicated that over a third of U.S. shoppers has already finished their holiday shopping for the year. Given that Christmas is nearly three weeks away, this may come as a wake-up call for retailers hoping for a brisk holiday season.
Ironically, strong sales on Black Friday may actually be more of a predictor of a negative economic environment than a positive one.
Discounts have appeared to become more aggressive in successive years, and stores have increased their hours. This year, some stores even opted to open at 10pm on Thanksgiving night, upstaging prior years when consumers woke up before the sunrise to get to 5am openings.
The deals offered on Black Friday may have been on low, or even negative margins.
Nintendo (OTC: NTDOY.PK), for example, stated that Wal-Mart's (NYSE: WMT) offering of its Wii game console for less than $100 came at a cost to the retailer. While Wal-Mart may have hoped to recoup the losses on game and accessory sales, the offering may demonstrate the lengths retailers went this season to generate demand.
Also notable was that 2008—at a time when the global economy was in an even more precarious state—was a tremendous year for Black Friday.
It may make intuitive sense. Many consumers may derive a sense of excitement from Black Friday shopping—but, after all the horror stories of ravenous crowds, those going out on Black Friday may do so at a cost to their own well being.
All things being equal, would the average consumer prefer to forgo sleep and fight the crowds on Thanksgiving night, or fall into a food-induced coma and sleep in on a day many American workers have a day off from work?
If the rest of the holiday season proves to be anemic, perhaps future positive Black Friday figures should be interpreted as a bearish sign. Rather than capping off a tremendous sales season, maybe consumers are doing nothing more than taking advantage of sales to get their holiday shopping season done early and on a discount—using the sales to stretch their holiday dollar.
With weeks away, it could be too early to make a call one way or the other. Still, Monday's survey results may be alarming to retailers.