Dex Media has seen massive selling pressure in 2015, with declines accelerating after the company reported 4Q14 results. The carnage has been limited to the equity of Dex, as its bank debt/bonds are down a modest 1% YTD (4% total return, given the coupon), compared to a 72% decline in the equity price.
4Q14 was good on EBITDA and does not explain stock collapse…
4Q14 reported results do not explain the collapse in the share price-in fact, from a leverage and EBITDA perspective, the company actually had a decrease in leverage in 4Q14, because its debt paydown exceeded its EBITDA change (EBITDA actually rose q/q in 4Q14, the first time in 6 quarters).
…it's the lack of communication from the new CEO…
Rather, it seems the company's change in communication policy has considerably worsened forward visibility. That is, the new CEO, Joe Walsh, has limited his communication with all stakeholders in DXM, both equity and debt holders - adding to a dramatic increase in anxiety and speculation around the company's progress. In the absence of guidance and communication from the company, two things have happened:
Investors are placing greater reliance on market signals-that is, the price movements of the stock and the price movements of the bank debt; and
Investors naturally de-risk in the absence of visibility.
The recent free fall in the stock in heavy volume is a down move not confirmed by the bank debt…
The equity declines have accelerated in the past few weeks and under rising volume and this has raised concerns that someone knows something about the quarter-while this is possible, we have not seen this corroborated by the bank debt, suggesting that:
An equity holder has "inside information" that bank debt holders do not-highly unlikely, as we know the company has not communicated to any holders of debt or equity at DXM.
Investors are nervous into 1Q15 results given the stock's reaction last quarter and the lack of communication from the company.
We expect 1Q15 results to positively surprise on EBITDA, reversing the slide in the stock…
2015 is a critical year for Dex Media, a year of transition with the new CEO and given that its bank debt is due at the end of 2016 (which needs to be refinanced before December 2016). Talking to both equity and debt holders, the key question is whether Dex Media can stabilize revenues to a sustainable trough level, while maintaining the prodigious free cash flows.
We have already seen the company has most of 2015 to execute this transition and in the near term, significant progress has been made on cost cutting. And the company expects to reduce cash expenses by $150mm in 2015, which should stabilize EBITDA in 2015.
Silo results show that revenues are starting to reach "trough" levels in some units…
As for revenues stabilizing, when we look at the silo performance (4 units comprise Dex Media results), we see some evidence that revenue growth is stabilizing. Take a look below, note that the q/q revenue change for Dex Media East was down 1.6%, which is the best Q/Q level since 2013 and a sign of stabilization. Similarly, RH Donnelley saw revenue declines slow to 3.2% q/q, signaling improvement.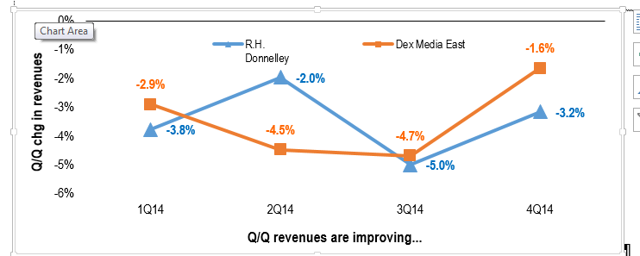 Source: Dex Media financials
So why is the stock a buy into 1Q15 results next week? 4 reasons…
Dex Media's shares are being liquidated in front of 1Q15 results on heavy volume, but there are 4 reasons we believe the stock will rise on the heels of 1Q15 results:
We expect a positive surprise on EBITDA again. DXM managed to grow EBITDA q/q in 4Q14 to $173mm, the first sequential rise in EBITDA since 2013 and a definite positive development. And 3 of 4 silos posted higher Q/Q EBITDA - another impressive gain, showing that cost cutting gains are widespread. The company initiated $150mm in additional cost costs, which should drive improving EBITDA throughout 2015.
The bank debt has been a lot more stable than the equity, even the junior subordinated debt is trading at $31-$35, a level which while weaker than the start of the year, was a level seen when DXM shares were $25.
The stock has seen such a sustained sell-off that its weekly RSI is now 22, an extreme oversold level. In fact, the 4 other times the stock was this oversold on a weekly basis was 9/10/10, 11/26/10, 9/30/11, and 11/8/13-as shown below, on average the stock rallied 40% in the following month (4 of 4 times it was higher with gains ranging from 20% to 110%).
The short in the stock has soared to 5.22mm shares (through 4/15), nearing an all-time high and 1.2mm higher from the start of the year.
Bottom line, we believe the stock has sold off because fear and downward momentum have accelerated the selling. We don't believe any investor has an edge here-the company has not communicated to investors ahead of the quarter and this lack of communication, we believe has created a downward spiral of fear. 2015 is a critical year and we believe the company offers a value-added solution for small and medium businesses, which will ultimately play out in stabilizing revenues (as they shift their mix increasingly to digital). The company remains a big free cash flow generator, generating in excess of $400mm of free cash flow, after paying interest and taxes and all cash costs. This is $22-$25 per Dex Media equity share. Of course, the company needs to deliver results, but we expect 1Q15 to show decent operating results.
Dex Media EBITDA actually rose Q/Q in 4Q14… impressive
As shown below, DXM managed to grow EBITDA Q/Q in 4Q by 2% to $173mm. This is the first increase since 2013 and as shown, 3 of 4 silos posted higher Q/Q EBITDA. We think this was easily overlooked by equity holders but explains why the bank debt has held up better than the equity.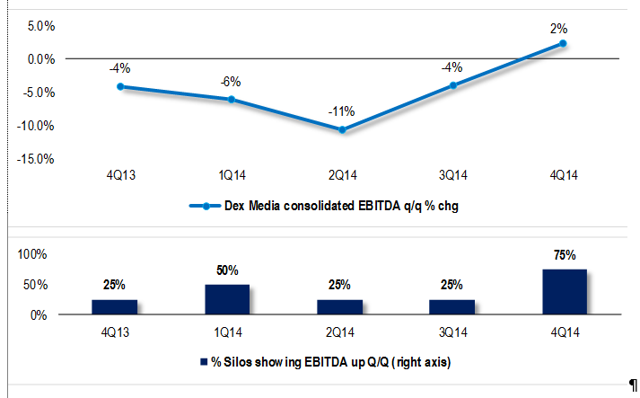 Source: Dex Media financials
Bank debt has been flat while the stock is down 72% YTD, a massive divergence.
As shown below, the stock and the bank debt have historically traded in tandem and the current composite bank debt price argues the stock should be closer to $10.
Source: Dex Media financials and Bloomberg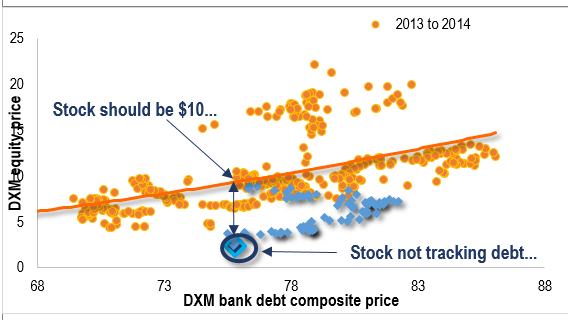 Source: Dex Media financials and Bloomberg
The stock is severely oversold… the most since 2010…
As shown below, the weekly relative strength index for the company (weekly RSI) has fallen to 22, an extremely oversold level. Take a look below and note how the stock's weekly RSI has gotten this oversold at key junctions in the stock price. Again, the point is bad news is largely getting baked in.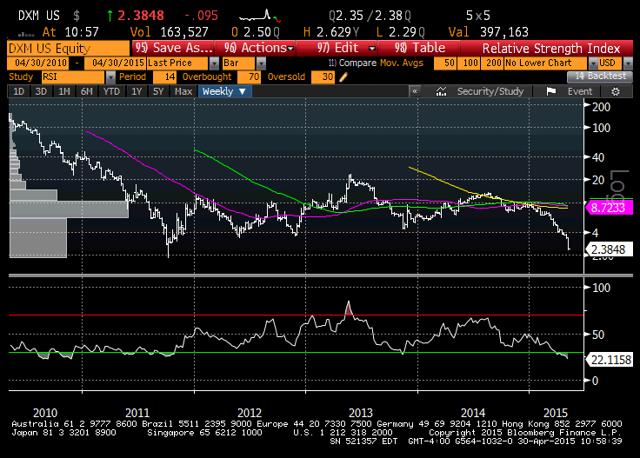 Source: Dex Media financials and Bloomberg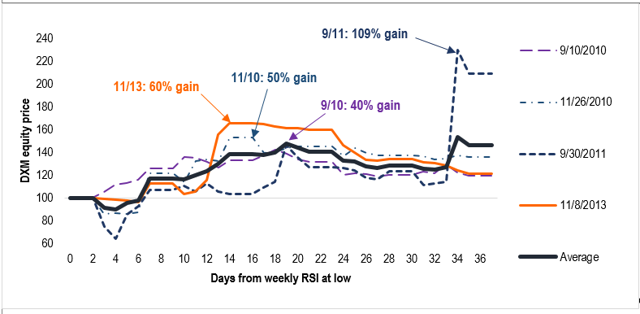 Source: Dex Media financials and Bloomberg
Short interest at 5.2mm shares is up 1.2mm shares from the start of the year.
We believe the stock also can benefit from the fact short interest is so high on DXM. As shown below, the level of short interest is near all time highs and dramatically up since the start of the year.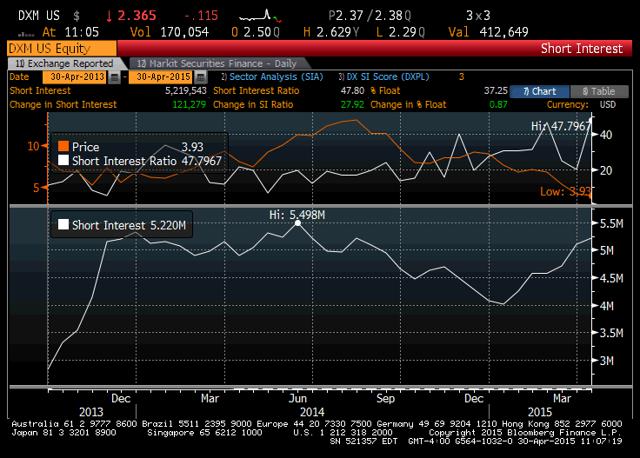 Source: Dex Media financials and Bloomberg
Disclosure: The author is long DXM.
The author wrote this article themselves, and it expresses their own opinions. The author is not receiving compensation for it (other than from Seeking Alpha). The author has no business relationship with any company whose stock is mentioned in this article.
Editor's Note: This article covers one or more stocks trading at less than $1 per share and/or with less than a $100 million market cap. Please be aware of the risks associated with these stocks.