If you are one of the unfortunate investors still holding onto Sears Holding Corporation (NASDAQ:SHLD), sell now. The company and its leaders are destroying the remaining value. Luckily for current investors, the market has not priced where this stock is headed.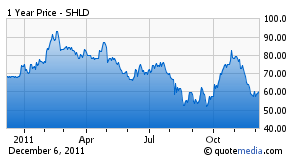 It seems that there are opposing points of view on the stock. There are many institutional types who share our point of view that this company is imploding (e.g. Credit Suisse report dated Nov 17, 2011). There is another group who seem to resist the fall of one of the great names in American retail history (e.g. Morningstar report dated Nov 17, 2011). (Standard & Poor's cites poor results offset by strong brands in their stock report dated Nov 18, 2011.)
The case against Sears is simple.
• The company has lost market share against its competitors. In the past 4 fiscal years, Sears' cumulative sales has decreased 15%. Over the same period, softline, hardline, and broadline retailers have had generally moderate to strong revenue growth over the same period. Again, this year, Sears is on pace to have lower sales while the competition is showing improved sales. After a Thanksgiving weekend when other retailers were tallying their most impressive results ever, Sears dove into deeper discounts in a number of product lines. This is further bad news for sales and margins.
• Management's - not least the chairman's - priority has been stock buy backs through debt and operating cash flows, not investing in the company's operations. The company has made share purchases consistently over the last 3 years. During that period, cash could have been allocated to shareholders or to operations. The company's leadership chose to put the cash into share repurchases. Over the same period, the stock price has decreased. The share purchases have been a consistent loser for Sears and shareholders. Money was squandered.
• The share repurchases have taken away from investment in stores. Capital expenditures have been embarrassingly low for Sears since at least 2008. While other retailers have been investing in new stores and maintaining existing stores, Sears has significantly cut back. Based on public financial filings, between 2007 and 2011, average capital expenditure for a sample of retailers was over 3%. Sears average capex was below 1% over the same period. This is particularly striking for Sears, which owns around 20% of its locations. Currently capital expenditures are about half of depreciation (the accountant's measure for how much fixed assets are used during the period). Capex is necessary with such a large real estate portfolio. With Sears, it is just not happening. As a result, the physical stores are suffering.
• In addition to cutting back on capital expenditures, overhead costs have been cut to barebones. Operating margins are as low as any retailer should go. (See our previous article on movements in retailers' margins.) Cutbacks have two major impacts. First, once margins are as low as they can be sustained, there is no more room for margin improvement. In fact, if anything, costs will increase. Second, cutbacks lead to poor customer service. Fewer sales people make fewer sales. Poorly maintained stores are undesirable to customers. Poor monitoring creates opportunities for theft. Lacking warranty service spawn fewer warranty sales. These impacts build an environment that repels customers. Operating margins are already around 2%, by far the slimmest in the industry. They do not have room to go down, and with the existing operating structure they cannot go up.
• Management is quick to blame poor sales on the macroeconomy. However, who wants to shop at a store that is not maintained? Who wants to buy an appliance (one of Sears' mainstays) when warranty service has been cut back? As management continues to cut back support, sales will continue to slide. The only way to bring in customers then will be to lower prices (and margins, which the company can barely afford).
Further, poor sales and cash flows (including many stores which have negative cash flow) have put the company is a bad cash position for the future. The company has short term debt that will need to be refinanced in 2012 and anticipated pension contributions of $74 million in Q4 of this year. The company had cash of $624 million at the end of October. For any retailer, Q4 is a huge cash inflow period, so there is some room to breathe. But Sears will be struggling to stay afloat through the inventory purchases in Q3 of next year.
In effect, Sears is run like a company being liquidated over the next 10 years. A poor 2011 holiday and bad cash flows in the short term could accelerate the liquidation to big downsizing and sell-offs in 2012 which will continue over the next few years. Investors must ask what, if anything, will reverse this trend. So far, nothing has been done to fix the problems. The new CEO cannot make a change as long as the largest shareholder and chairman of the board has a vice grip on the company. Based on the recent sales figures, unfortunately, the company's historic image has already shifted in the eyes of consumers.
Continued poor financial performance will tip the markets further against Sears. It is not clear how fast or how far down the share price will go. However, it is clear that the price will go down. In twelve months, the possible range is between $25 and 55 per share. The midpoint of the range, $40, is a most likely candidate. This represents a roughly 30% decline from the current price. If the company continues on the current track, the price will continue to zero. The best thing for an investor is to get out now.
Disclosure: I have no positions in any stocks mentioned, and no plans to initiate any positions within the next 72 hours.