As 2011 draws to a close, many investors are looking back on the year and checking their investments. This year is definitely a year to forget. The S&P 500 is flat for the year, although many active equity portfolio managers are down for the year due to the relatively large swings in the stock market this year.
Most investment strategies are down for the year, led by Emerging Markets and Distressed Securities strategies. In addition, the Global Macro and Managed Futures categories of hedge fund strategies are down slightly during 2011. A few of this year's standouts include Bonds, Fixed Income Arbitrage and Merger Arbitrage – which are all up in 2011. In this article, we focus on the Managed Futures industry.
Managed Futures Performance
The performance of the Managed Futures industry and CTAs (Commodity Trading Advisors) is generally uncorrelated to the stock market and other hedge fund strategies. The year 2011 has seen most CTAs flat- to-slightly down, along with most other investment strategies and asset classes.
Here is a sampling of several Managed Futures industry benchmarks through the end of November:
Barclays CTA Index -3.1%
Barclays BTOP 50 Index -4.0%
NewEdge CTA Index -4.7%
NewEdge Trend Sub Index -8.4%
Investable Managed Futures Index 0.0%
Although CTAs would have loved to achieve positive returns this year – to further its diversification arguments – the Managed Futures industry has already proven its diversification mettle in 2008, when CTAs produced double-digit returns during the start of the financial meltdown. In particular, the Barclays CTA Index was up 14.1% and the Investable Managed Futures Index was up 25.5% in 2008, when the S&P 500 was down -37.0%.
Managed Futures and S&P 500 Annual Performance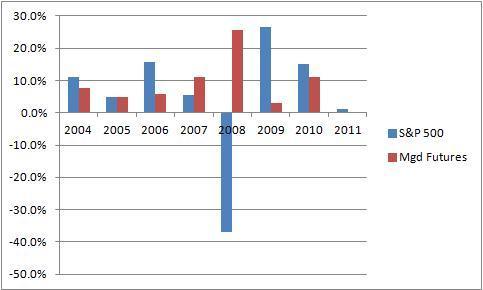 Notes:
Annual returns for S&P 500 and Investable Managed Futures Index.
2011 Returns are year-to-date as of

November 30, 2011.
Performance of Other Asset Classes
As a comparison, here are several other asset classes and hedge fund benchmarks, also through the end of November:
S&P 500 1.1%
Intermediate Govt Bonds 8.0%
Barclays Global Macro Index -3.6%
RICI (Rogers International Commodity Index) -6.6%
Liquid Commodities Index -5.2%
Growing Interest in Managed Futures
Managed futures and commodities have been some of the fastest-growing sectors within the hedge fund industry because of their diversification benefits. Although performance has been flat-to-down for the CTAs this year, an increasing number of investors are recognizing that these asset classes offer solid diversification benefits due to profit opportunities in a wider set of investment vehicles.
For instance, Managed Futures can be carved into several major market sectors, including financials (such as currencies, interest rates and stock indices) and commodities (which include metals, energy, softs, meats, and grains). The ability to buy and sell these markets during various stages of the economic cycle can help diversify a traditional portfolio of stocks and bonds.
Managed Futures Characteristics
Professional futures traders have shown that positive returns can be earned in the futures markets. Interestingly, many of the approaches used by professional traders are not very easy for small investors to follow. For instance, some futures traders might say, "Buy high, sell higher," rather than "Buy low, sell high."
Here are some other notes on Managed Futures, diversification and its typical return profile:
Most futures strategies attempt to capture "fat-tails."
As a result, these strategies have small losses, but large gains.
The return distribution for futures programs sometimes requires patience while waiting for large trends to be captured.
Futures strategies typically capture "black swans" and outliers.
Similar to a strategy of being "long options," while hopefully minimizing costly option premiums.
Managed Futures returns are generally uncorrelated to stocks.
Professional futures and commodities traders – as well as the existence of managed futures indices – have shown that long-term positive returns can be earned from the futures markets. We note, of course, the regular disclaimers:
AN INVESTMENT IN FUTURES CAN RESULT IN LOSSES.
PAST PERFORMANCE IS NOT NECESSARILY INDICATIVE OF FUTURE PERFORMANCE.
Previous Periods of Underperformance
Although 2011 has been a lackluster year for CTAs and Managed Futures, it is notable that this comes after a solid year in 2010, when the Barclays CTA Index was up +7.1% and the Investable Managed Futures Index, up +11.2%. In addition, this follows 2008, which showed many investors the value of Managed Futures as a solid alternative asset – and a hedge fund category that potentially offers the most diversification.
As with any asset class, there will be periods of underperformance and outperformance. For instance, in 2005-2006, the Managed Futures industry offered positive, but relatively low returns. The Investable Managed Futures Index earned +4.8% in 2005 and +5.8% in 2006, before turning in +10.9% in 2007 and then making a name for Managed Futures with a solid positive year in 2008.
By the nature of successful futures trading strategies (such as "being long options" or "dynamic option replication"), there will be periods of lackluster performance. However, the "black swans" and "tail events" eventually come along – and help Managed Futures programs earn positive returns and shine in the area of diversification. Another example is 2000-2003: during this period, the S&P 500 had three consecutive negative years totaling about -40% while Managed Futures (Barclays CTA Index) earned about +20%.
Outlook
The Managed Futures industry has been hit hard by the MF Global bankruptcy. We expect – and hope – that this will be resolved in a timely manner that is good for all industry participants. In the meantime, what is the outlook for the industry and the key futures markets moving forward?
Managed Futures and CTAs are among the fastest-growing sectors within the hedge fund industry. We expect this trend to continue.
We also expect the typical cycle of investing to continue within the Managed Futures industry. That is, the pendulum will swing back and forth from "flattish performance to positive returns."
On a fundamental scale: with the global economy hanging in the balance, several markets have been in a consolidation pattern. However, these periods of consolidation are often the precursor to larger movements.
For instance, after years of weakness, the U.S. dollar has been showing signs of strength.
As the appetite for risk picks up, high-yielding currencies will regain interest as well.
Both gold and energy had sharp declines over the past several months due to economic uncertainty. Recently, however, both markets have been regaining strength – and may be able to lead CTAs to gains in the coming months.
January 2012 crude oil hit a contract high of $114 per barrel in April, before falling to $76 in October. Since October, crude oil has trended upwards once again and is trading in the $101 range.
February 2012 gold continued a long-term trend upwards and hit an all-time high of $1900 per ounce in September, before a steep reversal took gold down to $1550 in just three weeks. Gold is currently trading in the $1725 range.
Interest rates are a major sector within the Managed Futures arena – and will play a major role when the global economies eventually turn around.
The future is uncertain, but we have seen Managed Futures strategies "manage the turns" through several market cycles in the past – and expect this pattern to continue. CTAs and Managed Futures traders will be poised to capture the returns that the futures and commodities markets offer – while managing downside risk. Here's to a happy and healthy 2012!
Disclosure: I have no positions in any stocks mentioned, and no plans to initiate any positions within the next 72 hours. Long Managed Futures and alternative assets.