Marathon Patent Group (NASDAQ:MARA) will be releasing Q1 2015 earnings within the next two weeks. MARA has recently been disclosing more settlement agreements, which they previously kept mostly undisclosed. This is very common in the patent licensing world. Nearly all patent licensing agreements are kept confidential in the patent sector. MARA continues to be my best investment idea in the patent sector for 2015.
Q1 2015 revenue estimates broken down by announced deals during the quarter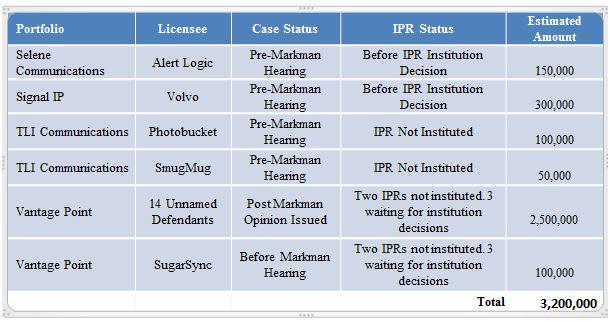 Selene Communications - Announced an agreement with Alert Logic on February 2, 2015. I view the deal likely as being very small as Alert Logic is not a significant defendant in the portfolio and it was before the scheduled Markman Hearing.
Signal IP - A deal with Volvo (OTCPK:VOLVY) was announced on March 2, 2015. The deal was with one of the smaller defendants before the March 31, 2015 Markman Hearing in California. I do think there could be some upside and the could be in the $300K-$600K range. I prefer to model the low end of my range.
TLI Communications - Signed deals with Photobucket and SmugMug before the Markman Hearing was held in Virginia. The Markman Order was issued, which had an adverse ruling against MARA. I view both deals as very small.
Vantage Point - Signed deals with 14 unnamed defendants along with SugarSync. The agreements with the 14 unnamed defendants were after a favorable Markman Opinion was issued for MARA along with two Inter Partes Review challenges were not instituted at the patent office. I expect the deal to be in the range of $2.5mm - $3.0mm. MARA purchased this portfolio for $600,000 on September 25, 2013, which should put this portfolio well into the black for its monetization program.
Q1 2015 significant events
The first event in Q1 was a Markman Hearing and subsequent Markman Opinion back in January in the TLI Communications portfolio. The opinion came back in favor of the defendants and found the patent invalid due to Alice 101 issues. MARA has filed an appeal to the Federal Circuit and subsequently filed new litigation versus Apple (AAPL), Facebook (FB), and Yahoo (YHOO), in Germany where this jurisdiction is not affected by the Alice software patent issue.
The next significant event was the $50mm long term financing arrangement MARA entered into with Fortress (FIG). I expect the new funds to be used to acquire significant new portfolios in order to be monetized, which the company has shown in their early stages to be very good at doing. What the company plans to acquire is currently unknown, but I expect it to be a needle moving event based on recent history of acquiring strong portfolios as they did in Q4 2014 with their Medtech acquisition.
Third, MARA had a favorable Markman Opinion issued in their Vantage Point portfolio. The majority of terms were in favor of MARA, which the company used their legal position to negotiate a settlement with 14 unnamed defendants. The Markman is serving as an important catalyst for MARA and appears to be where they are signing the majority of their important deals.
Last, MARA had a Markman Opinion issued, which was mostly positive in their Signal IP portfolio. Volvo was able to settle before the Markman hearing and likely received a discount in doing so. A docket notice also indicates that Jaguar has reached a settlement in principle. I expect a number of agreements to be signed over the next 3-12 months that could be material settlements to MARA's bottom line. With added leverage and a willingness to negotiate MARA should see an excellent ROI on this portfolio.
Q2 2015 events that I am watching
MARA's Medtech portfolio is currently enforcing an injunction against Stryker (SYK) in Germany with initial rulings proving very favorable for MARA. A nullity (validity) hearing is scheduled for June 18, 2015 in Munich. The Medtech portfolio is in a very advantageous position for MARA and I expect negotiations to be ongoing in order to resolve the litigation outstanding. A deal in this portfolio could be material to MARA as the company spent $10mm to purchase the portfolio in October 2014. I expect a deal to be north of $20mm if they are able to negotiate successfully.
The next event in Q2 that I am watching closely is the Markman Hearing in the Andrulis v. Celgene (CELG) portfolio. The hearing was originally scheduled for April 30, 2015, but was moved to May 27, 2015 due to a scheduling conflict per the docket. I plan to attend the hearing in Delaware personally. The case revolves around Celgene's Revlimid and Thalomid drugs. A favorable Markman Opinion for MARA in this portfolio could lead to a successful trial result in 2016 and/or a significant settlement beforehand.
Dynamic Advances v. Apple (AAPL) is currently in the Summary Judgment phase with ongoing briefing in the docket. The documents for the most part are sealed. A corresponding hearing is scheduled for June 26, 2015 in Syracuse, New York. I also plan to attend the hearing. The case relates to Apple Siri infringement on a patent developed at Rennselaer Polytechnic Institute. MARA's position in this portfolio is currently very strong with a favorable Markman Opinion issued last year and the patent office denying Apple's three requests to challenge the patent. MARA needs to continue winning important legal decisions in this portfolio, which will hopefully be settled before it goes to trial. A trial should be scheduled in the September to November 2015 time frame.
In the smaller portfolios, MARA has a Markman hearing in their E2E Processing portfolio versus Cabela's, Crocs, Nordstrom (JWN), and Hallmark on May 8, 2015 in Texas.
Conclusion:
Marathon had a busy Q1 2015 and should report a reasonably good quarter. The upside for the company is if they are able to land new material licensing agreements in the eight figure range in their premier portfolios. Quarters without these deals I see as a bridge to finally land these agreements as they did in Q3 2014 in their Clouding IP portfolio. I prefer to evaluate the company's results on a yearly basis as most patent companies that rely on one time agreements will have lumpy quarters. MARA recorded over $21mm in revenue 2014 and based on MARA's current position/deal flow to see a major jump in 2015 over 2014's great results.
Editor's Note: This article covers one or more microcap stocks. Please be aware of the risks associated with these stocks.