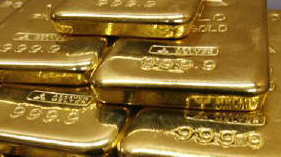 Investors poured more than $3 billion into the world's largest gold exchange traded fund last month as the amount of bullion held in ETFs lingers near record highs.
SPDR Gold Shares (NYSEArca: GLD) saw net cash inflows of $3.1 billion in November to lead all ETFs, according to National Stock Exchange data.
The $71 billion gold ETF gathered its biggest monthly flow so far this year, the Financial Times reports. Holdings in exchange-traded products backed by gold reached a record 2,356 tons on Nov. 30, according to Bloomberg.
Gold ETFs are up more than 20% this year although it's been a bumpy ride.
Gold and other precious metals could see big moves this week as European leaders meet to address the region's debt conflagration.
From a chart standpoint, gold ETFs seem to be dealing with trendline resistance.
Commodity exchange traded products gathered the most global assets of any category for November, with investors "strongly favoring" gold, ETF manager BlackRock said in a report Wednesday.
Gold ETPs have gathered $12.1 billion so far this year, far outpacing all other commodity categories, which have collectively seen net outflows of $1.7 billion.
"Price volatility in global commodity markets has not dampened the market's enthusiasm for gold, particularly among both central banks and ETP investors," said Kevin Feldman, managing director at BlackRock. "Ongoing speculation about significant future global monetary easing has been favorable for the commodity, as investors recognize that central banks have the capability to expand the global money supply rapidly, and gold provides a potential hedge for this scenario."
SPDR Gold Shares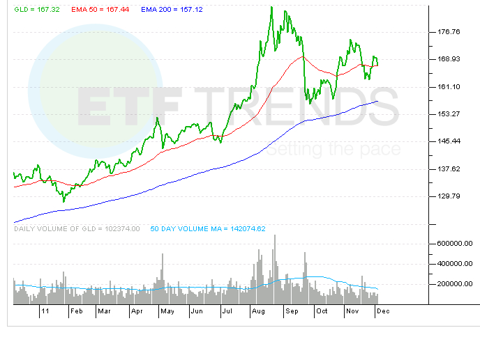 Disclosure: Tom Lydon's clients own GLD.