The robotics sector just experienced its best quarter in six years after a great 2010. Last year saw a 94% increase in North American shipments of multi-purpose industrial robots, rising to a total of 16,356 new shipments. This only slightly lagged the 2010 worldwide industrial growth of 97% to 118,337 units shipped.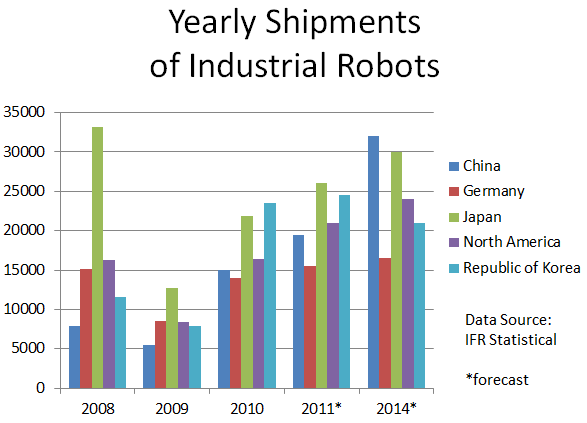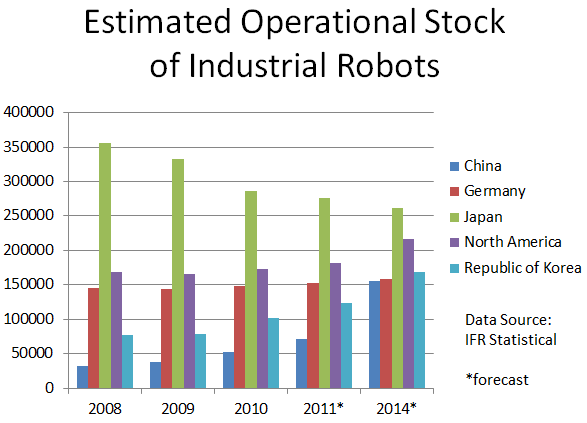 As of today, Japan is the robotics leader with 285,800 operational multi-purpose industrial robots, but many believe that title will be challenged by China after 2014.
The Fukushima Daiichi nuclear disaster of 2011 has thrown a wrinkle in Japan's position as it repairs and diversifies, spreading production geographically. Increasing pay and living standards relative to robotic costs are forecasted to change the dynamics of today's industrial robotic sector.
Growth in robotics is not isolated to industrial applications alone. Machines have been increasingly adopted in and out of the industrial sector as they continue to lower employee costs, improve precision of workers, and take over dangerous jobs. Investors may very well see a benefit in taking a position in this sector, which has already been embraced by multiple facets of business.
Robots Lower Employee Costs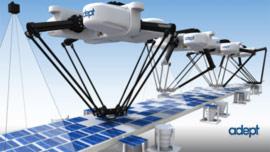 The power of machines in mass production cannot be underestimated. Machines can do monotonous, grueling jobs really well. On certain manufacturing lines, one robot can take over the job of ten individuals. Adept Technologies' (NASDAQ:ADEP) Quattro robot combines vision with automation to inspect solar cells. Lower manufacturing costs have already taken many jobs to China. As labor costs increase in China and elsewhere, world labor will likely move and those who embrace robotics increase their chance of being the manufacturing winner of the future.
Machines Protect Against Downturns
When inventory is low, machines run 24 hours a day. If the opposite occurs, machines are easily shut down. While businesses are concerned about the risk of oversupply and downturns in business, hiring new workers may be perceived as a risk even when an increase in demand occurs.
Keeping an individual employed adds to healthcare and other costs. Getting rid of workers may have severance or legal costs. While some individual manufacturing jobs may be lost in the short term, corporations and investors can gain by embracing the robotics sector, which provides labor tailored to market demands.
Robots Can Do Dangerous Jobs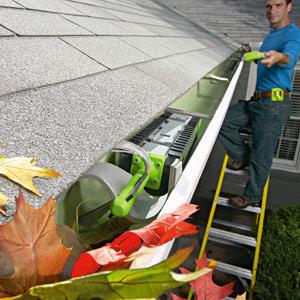 iRobot (NASDAQ:IRBT) produces many machines for military applications. These robots make the battlefield a safer place for humans by applications such as bomb disarmament. Around the home, the iRobot Looj® takes away much of the danger behind cleaning gutters. Its ability to travel the length of gutters, flipping out leaves, allows individuals to avoid much of the reaching and trips up and down a ladder which may lead to falls and injuries.
Robots Improve Human Precision
Robotic assisted da Vinci surgery from Intuitive Surgical (NASDAQ:ISRG) facilitates complex surgery making it more minimally invasive. Minimally invasive surgery involves less blood loss and quicker recovery time, a plus for those selecting both elective and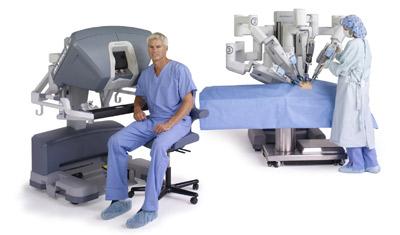 emergency surgery alike.
Robotic surgery has been FDA approved for urologic surgical procedures, general laparoscopic surgical procedures, gynecologic laparoscopic surgical procedures, general non-cardiovascular thoracoscopic surgical procedures, and thoracoscopically assisted cardiotomy procedures.
A Few Public Robotics Companies In America
Adept Technologies is the largest U.S.-based manufacturer of industrial robots. Adept provides robots to packaged goods, life sciences, disk drive/electronics and semiconductor/solar industries. Revenues for the fiscal year ended June 30, 2011 grew 11 percent to $57.5 million, compared to $51.6 million for fiscal 2010.
iRobot provides robots for the consumer, government, and industrial markets. They are famous in the consumer market for their Roomba vacuum cleaner which has been a hit during the Christmas season. Revenue for the first nine months of 2011 grew 17 percent to $334.7 million, compared to $287.0 million last year. Revenue for the full year 2010 was $401.0 million, an increase of 34 percent over 2009.
Intuitive Surgical is the global leader in robotic-assisted minimally invasive surgery. Revenues for the first nine months of 2011 grew 23 percent to $1,260.5 million, compared to $1,023.7 million last year. Revenue for the full year 2010 was $1,413 million, an increase of 34% over 2009.
MAKO Surgical (NASDAQ:MAKO) is another company in the robotic-assisted surgery arena. Their MAKOplasty® uses robotic arm technology to assists an orthopedic surgeon. Revenues for the first nine months of 2011 grew 75 percent to $51.6 million, compared to $29.5 million last year. Revenue for the full year 2010 was $44.3 million, an increase of 29% over 2009.
Disclosure: I am long ADEP.