As my Seeking Alpha article history shows, I tend toward focusing on a company's competitive position when deciding where to land on the bullish-bearish spectrum. While I sprinkle my analysis with quantitative data - as with Netflix's (NASDAQ:NFLX) implosion - the story ultimately wins out. Generally, if a company can execute a sound model and leverage strategic opportunities, everything falls into line.
As we head into 2012, here's what I expect from the following stocks that experienced notable pops and/or drops in 2011.
FedEx (NYSE:FDX) and United Parcel Service (NYSE:UPS): Both stocks fell off a cliff around summer's end, only to turn in impressive performances since.
Click to enlarge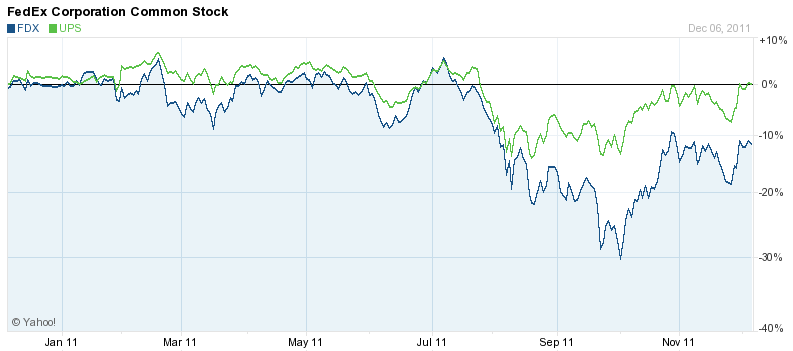 On its last conference call, FedEx stopped short of expressing concern over the U.S. Postal Service's woes: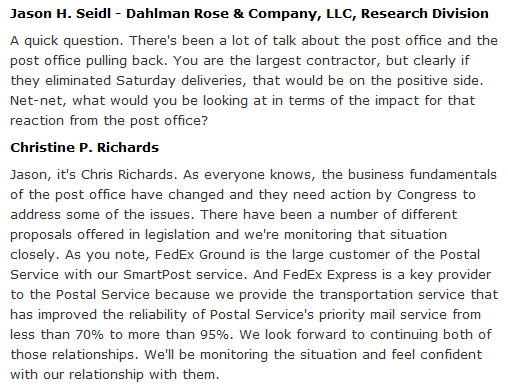 I've got to think that FedEx - and UPS, for that matter - is not merely sitting around waiting for Congress and consumer preference to determine the fate of the Postal Service. If I'm either company, I'm heading straight to the nation's top e-tailers, starting with Amazon.com (NASDAQ:AMZN), and talking about inking a deal that makes (FedEx or UPS) the "exclusive shipping partner" of ...
Bottom line - with the postal service out of the picture, considerable opportunity exists for both FedEx and UPS. There's enough to go around and I fully expect both to seize it.
FDX and UPS will continue to pop throughout 2012.
Sirius XM (NASDAQ:SIRI): This stock pops and drops with such frequency, it's difficult to classify it as one or the other. It all depends on the time frame you look at.
SIRI 1-year chart
Click to enlarge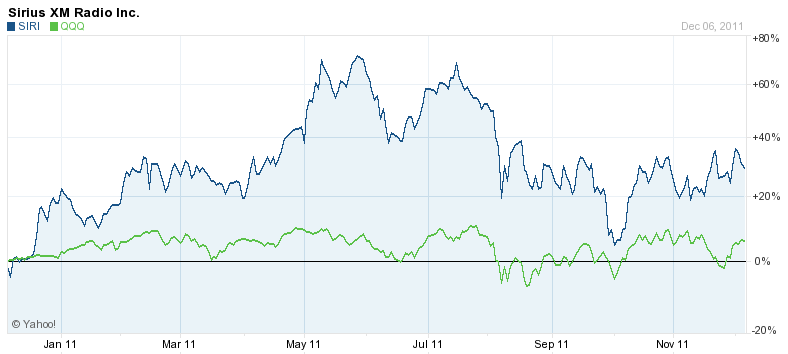 SIRI 6-month chart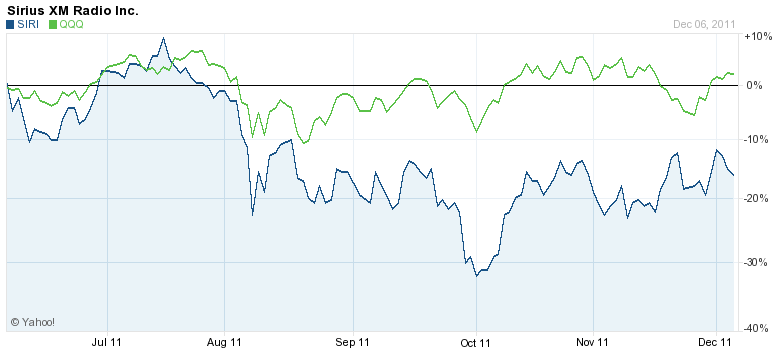 Obviously, the stock had a nice run during the first half of 2011 only to crater during July, stagnate for a while, recover considerably and stagnate some more, save the bagholder's dream - momentum from NY Post-fueled takeoever rumors.
For months, I've outlined my long-term bear case on Sirius XM. And, as the year winds down, very little, if anything, has changed. Satellite radio 2.0 was supposed to be a game-changer. It's slow and boring release rivals Research In Motion's (RIMM) inability to create a ruckus around a product. This receiver will generate, for all intents and purposes, somewhere slightly north of zero sales at the retail level. Buying a physical radio, along with a "car kit," and taking it to the local body shop to have it installed in your Camaro has 1980 written all over it. It's just not going to happen, especially when you consider the types of products vying for consumer spending this holiday season and beyond.
To that end, Sirius XM has married itself to in-auto listening and a dead retail channel at the expense of where the real opportunity lies - online and mobile. As the company's competitors aggressively leverage this multi-platform future, Sirius XM rolls headfirst into the inevitable wall inherent in subscription-based models. Diversify, synergize or die. While Sirius XM will not die in 2012, its static approach in a dynamic space renders it little more than a $1.00 to $1.50 throughout most of the new year.
Research In Motion: Speaking of RIM, things in Waterloo continue to go from bad to pathetically worse. Now, a U.S. court rules that RIM cannot use the name "BBX" to define its new operating system. On its own, this would not be that big of a deal. Combined, however, with RIM's litany of other embarrassments, it makes you wonder if RIM actually employs people to plan the details of product launches that never seem to come.
Enter BlackBerry 10 as well as the continuation of takeover rumors.
I get a good chuckle out of watching analysts come on CNBC and connect the quantitative dots as they attempt to determine the price somebody will buy RIM at. First off, if it happens, it won't be a buy-out, it will be a bailout. RIM's CEOs will hold on as long as they possibly can. When they finally cave, the buyer will be able to name its price under the guise of committing an act of mercy.
Like Nortel, the only sale we'll associate with RIM is a fire sale on its patents and Maple Leafs season tickets (assuming Balsillie did not get them revoked during the circus he put on to bring the NHL to Hamilton). We live in a world where Facebook or Amazon could develop a smart phone tomorrow and instantly come in third place behind Apple (NASDAQ:AAPL) and Android. No need exists for anybody to go through the time, trouble and resources to bring a bungled organization into its fold. RIMM is doing a good enough job on its own of giving its consumer and corporate customers to the competition anyhow.
If you thought the teens were unthinkable, get ready to see RIM's stock drop to the single digits in 2012.
*Charts courtesy of Yahoo Finance
Disclosure: I am long AAPL.
Additional disclosure: I am short NFLX via a long position in NFLX June 2012 $40 put options.