If looking at the past was all to there was to successful investing, then the richest people would be historians.
Yet, analysts and investors continue to comb through historical market information looking for some recurring pattern that would support their investment thesis. Sometimes it works, sometimes it doesn't. And that's the downside to computer algorithms. The key ingredient will always be judgment and perspective.
CEF Dogs: This is true for the CEF Dogs. The thesis behind the CEF Dogs is to buy the CEFs in a particular sector that have lagged during the past year as a result of the fund type or sector falling out of favor.
The Thinking Goes: Those CEFs in a lagging fund type would be better positioned to generate superior relative price appreciation the subsequent year through a combination of: 1) price appreciation "catch up"; 2) the likelihood an out-of-favor fund type would rotate out of last place. (See, "What Color is Your CEF?")
Testing the Thesis: We decided go back and test this thesis. We did this for the years 2007 to 2011. We went back to the end of December of 2007 and calculated the percentage share price change for all the CEFs in our universe (550 plus) to the end of the subsequent year, i.e., calendar 2008. (The exception being, of course, 2011 where we used the November 30 shares prices.) We then segregated those CEFs into two 10 stock groups: 1) those stocks with greatest annual appreciation, and 2) those that experienced the greatest price depreciation.
Results: As the chart below indicates, the results were mixed. For those CEF stock prices that clocked the best and worst performance during the calendar 2008, those top 10 performers were on average up 29.2% in 2009 versus the average 10 worst performers, which appreciated 71.7%. This validated the thesis.
(Click charts to expand)

However, this was not consistent for calendar year 2010. The average price appreciation for the 10 top performing CEFs the previous year (2009) rose 15.0% in 2010, while the worst performing CEF stock prices average a materially lower 2.7%.
During the 11 months in 2011, the CEF Dog rule was again in effect: the previous year's (2010) 10 worst performing CEFs did better than the relative top 10. However, it was by virtue of not dropping as much as the average of the top 10 CEFs with regards to price appreciation. This was a small consolation prize.
Closer Look: In looking through the CEF Dogs' performance in 2010, the exception to the rule, there were two stocks that cratered the performance of the previous year's 10 worst CEFs. The first was Equus Total Return (NYSE:EQS). It was was down over 21.9%. EQS is a small BDC that trades 11,000 daily. The second CEF dropping anchor for this group was Eaton Vance Risk-Managed Diversified Equity Income Fund (NYSE:ETJ) which cut its distribution 29% midway through the year. This action caused the stock to plunge over 20.3%.
This is why when looking at the CEF Dogs for speculation we have a tendency to look at the group as opposed to an individual stock or the group as a whole for purchase under this thesis.
This Year's CEF Dogs: This year the winners and loser have a much clear profile. YTD, the muni funds have ruled the roost. Of the 10 winners, generating an average 37.1% price appreciation (taking out the one upside outlier, 17.8%), 7 were muni related CEFs and speak to the defensive nature investors sought to achieve during a volatile and frightening market since mid-year.
For those 10 worst performers, 6 were WrldEqFnds—with India CEFs putting in a particularly ugly performance.
Easier Trade: I think this year it may be an easier trade. Munis are feeling toppy. There may not be much incremental capital appreciation in these stocks—although for yield investors they remain a portfolio anchor. Additionally, Munis have gone on average to a premium and since they are generally leveraged, any increase in rates would have a negative impact.
Recommendations: WrldEqFnds equity funds have the potential to "run" if we can get past the Euro crisis and begin to operate in a normal investment environment.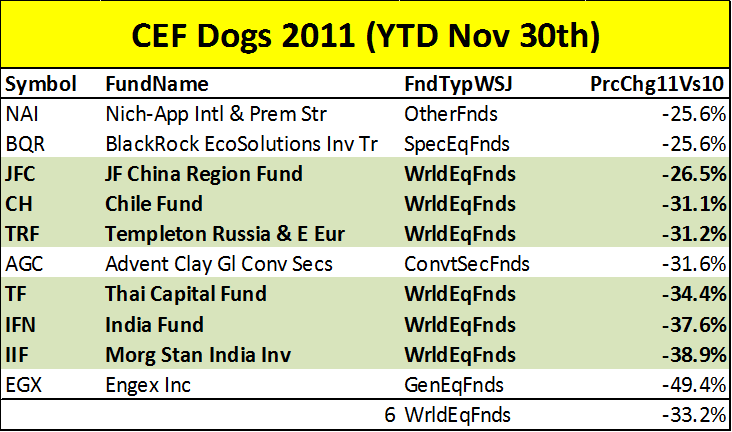 Only for the Brave: For those who have a higher degree of risk tolerance, putting some of these WrldEqFnds in the speculative portion of your portfolio, to hold for the next six-to-twelve months, may make sense. CEFs are known to swoon as tax losses are realized at year end for poorly performing CEFs, and some of these CEFs are making their year-end capital distributions. (See, "CEF Dogs 2011 (YTD Nov 30th)" table)
Caveats: As investors we are currently at an important tipping point. If the eurozone debt crisis gets at least "teed up" for resolution, then we can begin to operate in a reasonable investment environment. Additionally, 2011 calculations are for 11 months.
Mice & Men: However, as we've seen this year—which was painted by most as a year of nascent recovery—plans of mice and men...
"Gang aft a-gley, [often go awry]
An' lea'e us nought but grief an' pain,
For promised joy."
Disclosure: I am long JFC, CH, TRF, TF-OLD, IIF, IFN.
Disclaimer: CEF Dogs is a speculative strategy and is only recommended for those investors who can sustain loss of stock value without impacting lifestyle.