Natural gas continues to be mired in oversupply. That's not new. What is new is the degree to which prices are trying to "solve" the problem, by discouraging supply and encouraging demand.
The December 2011 NYMEX contract expired last week at $3.36 / MMBtu, 21% lower than last December and the lowest December contract expiry in 11 years. Perhaps more noteworthy, this was the lowest-priced expiry for any contract in 2011, the first time in the 22-year history of NYMEX NG futures where DEC was the lowest-priced month for the year.
The remainder of winter pricing appears staged to make 11-year expiry lows as Q1 currently trades $3.47, some 60 cents lower than the existing 10-year expiry lows, which were set last winter. An abrupt and dramatic shift in weather patterns could alter this, but there's a bigger problem for the bulls.
Last Winter's Storage Usage
A key metric in the US natural gas market is how current storage levels compare to where they were a year ago, called the year-over-year (YoY) surplus or deficit. To wit: back in June of this year, storage levels reached their maximum deficit to year-ago levels on June 11, and prompt-future NG pricing reached its peak for the year at $4.98 on June 9.
Since that nadir on June 11, when storage levels were 273 Bcf lower than June 11, 2010, we've erased the YoY storage deficit and began building a small YoY storage surplus in the second week of November.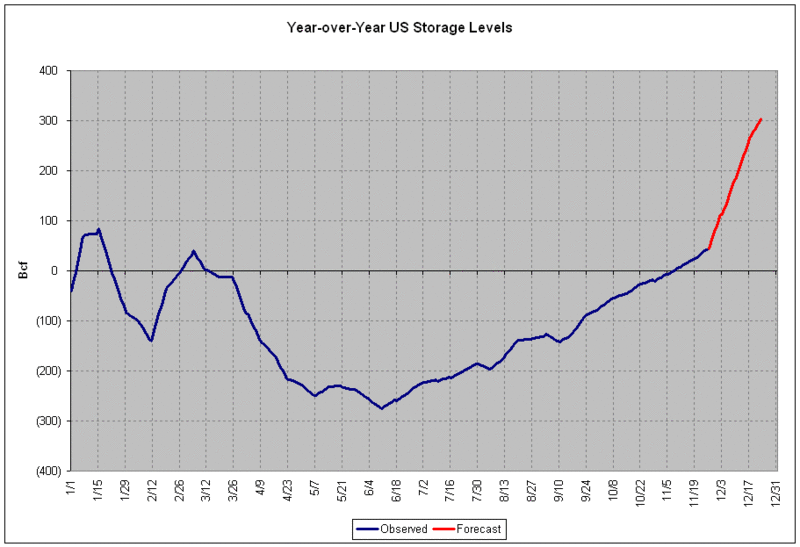 The primary problem for the bulls isn't that we've restored a YoY storage surplus, which has been driven by US production averaging a whopping 5.5 Bcf/day higher YoY over the past 6 months, it's that current weather forecasts support a massive increase in the surplus over the next 4 storage reports. Why?
Because last year over the next 4 weekly storage reports, we drew 573 Bcf from US storage, the second-largest draw over the period since weekly storage reports began in 1994, owing to enormously-supportive weather east of the Rocky Mountains, where the vast majority of natural gas demand exists, last December.
So the mild conditions of the past week and the normal to slightly-warmer than normal conditions forecast over the next 3 weeks aren't in and of themselves extremely bearish, rather it's how they compare to what happened last year that drives the not-seen-in-a-decade pricing we have now.
The Other Edge Of The Previously (Relatively) Bullish Sword
And given that we've got production averaging 5.5 Bcf/day higher over last year, it would take more supportive weather than last year to generate a storage draw over the next 4 reports to match last year's 573 Bcf pull. This is why pricing is so low, as the market is anticipating not only a production glut as we go through winter, but a robust storage surplus, which if maintained through the winter (and the YoY draw comps into January and first-half of February are brutal) will drive concerns for the coming storage-build season next April-October.
If weather comes in as forecast in the chart above, and January proves mild, the market will move quickly to discounting the need to shut in production in the late summer/early fall of 2012, as the risk of storage congestion next October would be quite real. Remember, markets look forward, and would see quite a need to discourage supply.
The potential for large, sustained price gains in natural gas for January-March delivery, appear very remote, and the risk of sub-$3.00 pricing in the February and March contracts is more material than I had thought even 2 short months ago. Not only because its mild now, but because it was so cold then.
Disclosure: I have no positions in any stocks mentioned, and no plans to initiate any positions within the next 72 hours.