Attractive yields are not easy to come by in the current market. Ever since the Federal Reserve lowered interest rates to near 0% several years ago, investors have been left with relatively few options to achieve high income from securities that also provide high quality and liquidity from a trading perspective. Fortunately, a handful of securities in the market place hit the mark.
The preferred stock market is a logical place that many have migrated toward in seeking higher yields. But the preferred stock market is undermined by one key fundamental flaw. This is the fact that it is heavily concentrated in the financial sector. Overall, three major preferred stock ETFs exist that provide a broad representation of the market. These are listed below, along with their percentage allocation to financials:
iShares S&P U.S. Preferred Stock Index (NYSEARCA:PFF) – 83.4% financials
PowerShares Preferred Portfolio (NYSEARCA:PGX) – 87.5% financials
SPDR Wells Fargo Preferred Stock (NYSEARCA:PSK) – 82.1% financials
This heavy concentration to financials is problematic, of course, because these are the same companies that were on the brink of collapse just a few years ago during the 2008/2009 crisis. And many of these same financial institutions have seen their preferred stock prices come under heavy pressure during the ongoing European sovereign debt crisis in recent months. The following is a chart of just one of many examples of the financial holdings within these ETF products and how it has been impacted in recent months from the European crisis.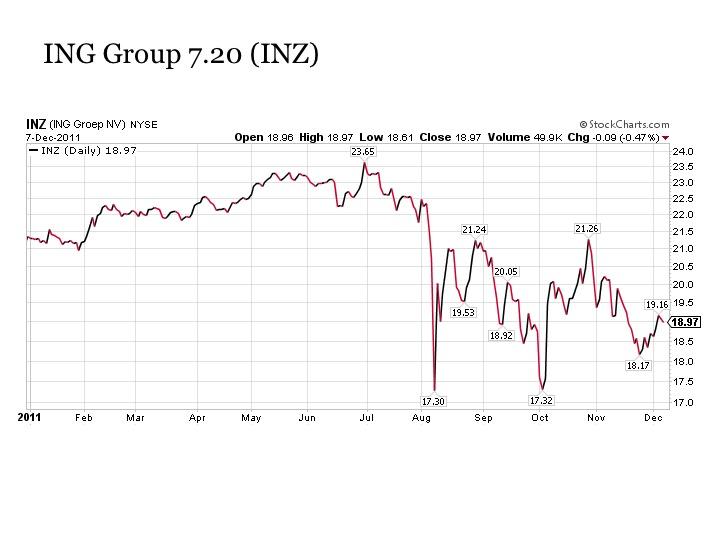 The chart above is for ING Group 7.20 (NYSE:INZ) and provides two key takeaways. First, financial preferred stocks are not immune to extreme price volatility. Over the course of three trading days in early August, INZ lost -23% of its value. And the price volatility in the months since has been a violent roller-coaster ride. Certainly not for the faint of heart, including risk-averse income investors.
But the second point about this holding may be even more notable. ING is not a U.S. financial. Instead, it is a European financial. And European financial preferred stocks just like this can be found in all of the three Preferred Stock ETFs above. Some investors may be aware of such exposures and have factored this into their risk considerations. But for many investors, they may be better served to take a different approach in trying to capture opportunities in the preferred stock market.
While a vast majority of the preferred stock universe is concentrated in the financials, a select group of securities come from outside the sector. And these are some of the highest quality and most stable income producers in the investment universe. Most come from the Utilities sector, which are generally financially sound and benefit from stable and predictable cash flows.
The following are five individual preferred stocks that may be of interest to income-oriented investors that would also like to protect against the potential for a major loss of principal value for an extended period of time. And all of these preferred stock offerings can be purchased on an exchange, just like a common stock.
Before introducing this list, it must be noted that these positions should be viewed not only for income, but also from a capital gains perspective. Just as we periodically buy and sell common stock securities to capture pricing opportunities and lock in gains, so too should we apply the same thinking when dealing with other securities including preferred stocks.
In addition, these preferred stock positions must be managed around their call risk. They are not currently callable, but will be callable at some point in the future. Thus, these positions should be sold well in advance of their call date in most cases since all are trading at a premium to their par value. I will illustrate how this strategy can be executed in greater detail at the end of the article.
Xcel Energy 7.60 (XCJ)
Par Value: $25.00
Current Price: $27.39
Current Yield: 6.9%
Call Date: 1/16/2013
Other than a very brief pullback during the early August stock market correction, XCJ has been a consistent performer and solid gainer throughout the year. It is callable in January 2013, however, so any positions in XCJ should be viewed with potentially as short as a six to nine month time horizon.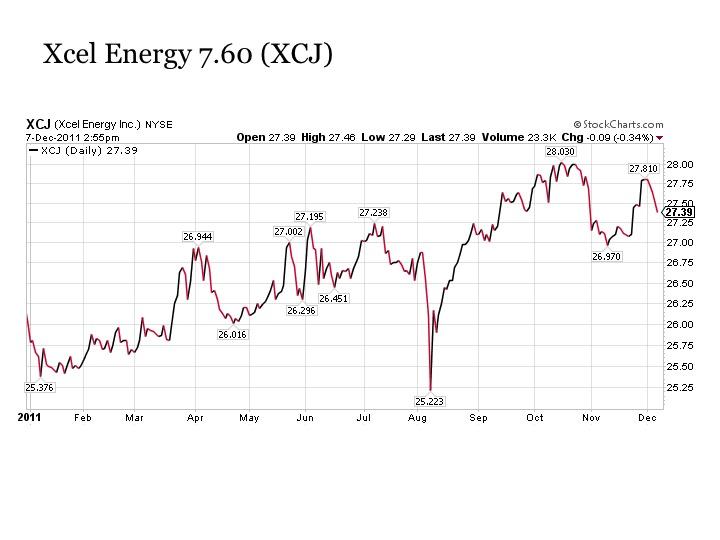 Dominion Resources 8.375 (NYSE:DRU)
Par Value: $25.00
Current Price: $29.44
Current Yield: 7.1%
Call Date: 6/15/2014
Much like XCJ, DRU has been a steady performer throughout much of 2011, barring a very brief pullback in early August. It is not callable until June 2014, so a longer time horizon of at least two years can be considered for this position.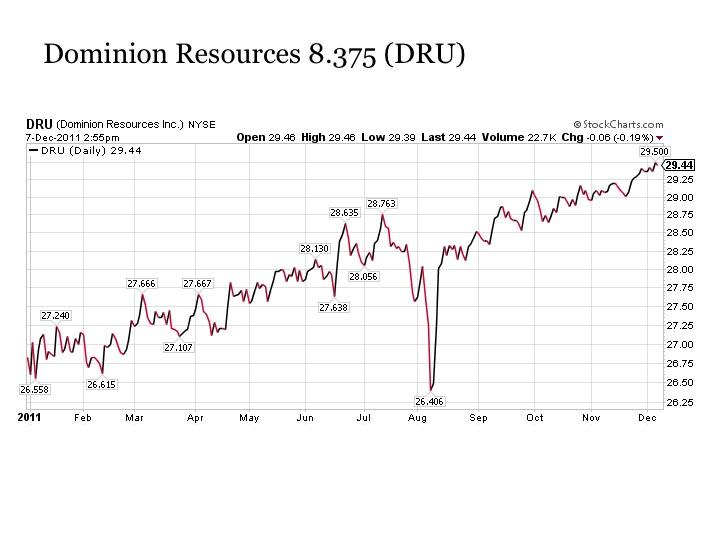 Scana Corporation 7.70 (NYSE:SCU)
Par Value: $25.00
Current Price: $28.70
Current Yield: 6.7%
Call Date: 1/30/2015
It should be noted that SCU has a slightly lower credit quality than some of the other utilities preferred stocks listed in this article. But the yield is still attractive and the overall quality still generally sound. And the time horizon for holding this position can stretch as long as two and a half years if desired.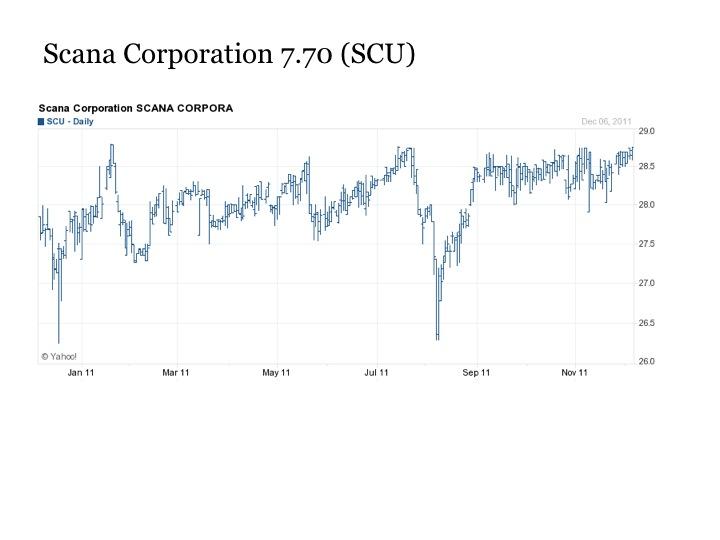 Entergy Louisiana 5.875 (NYSE:ELA)
Par Value: $25.00
Current Price: $27.11
Current Yield: 5.4%
Call Date: 11/23/2015
While the current yield for ELA is a bit lower, it is accompanied by a higher underlying credit quality. Also, it may also be held for a reasonably long time horizon of just over three years if desired.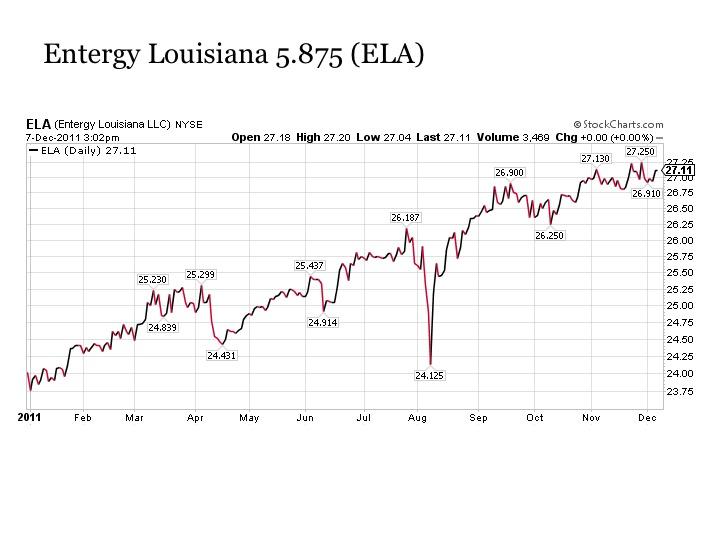 Gulf Power 5.75 (NYSE:GUA)
Par Value: $25.00
Current Price: $28.09
Current Yield: 5.1%
Call Date: 5/18/2016
GUA is one of the many of the preferred stocks offered under the Southern Company (NYSE:SO) corporate umbrella. It boasts the highest credit quality of the five preferred stocks on this list and also has the longest time until call, providing an available holding period of roughly four years if desired.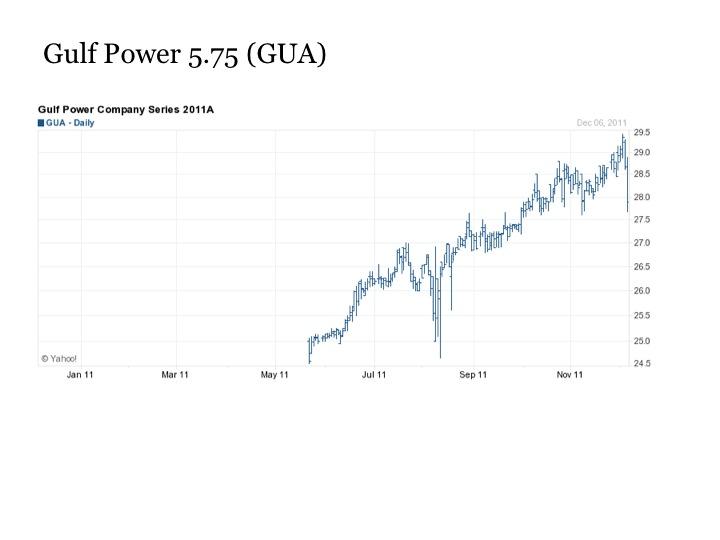 GUA also helps illustrate how these preferred stock positions may be owned from both from an income and a capital gains perspective, while also managing the call risk associated with these securities (special thanks to a reader for raising this question in a recent article comment).
As mentioned above, the intent is not to hold any of the above listed positions anywhere close to the time that they become callable. Instead, they should be held with a finite time horizon in mind that usually will end in advance of the call date by as much as several months.
The predecessor to GUA on the above list was Alabama Power 5.875 (NYSE:ALM), which is also part of the Southern Company family and is callable on 4/1/2012. My most recent purchase of ALM occurred back in early June 2011 at $25.56. I held this position for several months before selling it in October 2011 at $26.51. During the holding period, I was able to collect two dividend payments at $0.367 per share. Thus, through this position in ALM, I was able to generate a +6.59% return that represents a solid gain over a five month time period both on an absolute basis as well as versus the S&P 500, which was down over the same time period.
Now since ALM is callable within the next six months on 4/1/12, I chose to sell the position and used the opportunity to transition into GUA, which is not callable until 5/18/16. The reason for this transition is the following. Once these preferred stocks become callable, the issuing company can buy these shares back at the par price ($25 for the holdings listed above) at any time.
And if they are still trading at a premium to par when they are called, the price will quickly move toward $25 per share plus any remaining dividend payments still outstanding. Thus, unless a preferred is already trading at a discount to par, it is prudent to exit these positions well ahead of their call dates to mitigate this risk.
Bottom Line
Although the preferred stock market is heavily weighted to financials, selected preferred stocks that reside outside of the financial sector continue to offer high income with quality and price stability. These include several utilities preferred stocks.
In terms of managing these holdings, it is important to remember that yield is not the only way to generate returns when investing in preferred stocks. Just as with common stocks, you can also invest in preferred stocks with the objective of also generating a capital gain on your investment. And including such a strategy in an investment portfolio can help enhance returns while lowering risk through diversification.
Disclosure: I am long XCJ, DRU, SCU, ELA. I am also long GUA.
Disclaimer: This post is for information purposes only. There are risks involved with investing including loss of principal. Gerring Wealth Management (GWM) makes no explicit or implicit guarantee with respect to performance or the outcome of any investment or projections made by GWM. There is no guarantee that the goals of the strategies discussed by GWM will be met.