For investors looking to capitalize on sector trends, the Select Sector SPDR ETFs are a great option. Established and with significant volume, liquidity is not an issue for any of these ETFs. In order to find out how to best position our portfolios for 2012, I thought I'd break it down into three steps:
Take a look at Past Performance
Macro Discussion
Valuation of Holdings
Past Performance
XLY - Consumer Discretionary
XLP - Consumer Staples
XLB - Materials
XLE - Energy
XLU - Utilities
XLI - Industrials
XLK - Technology
XLV - Healthcare
Year-to-Date Performance :


10-Year Returns

First, we should remember what Graham said: "In the short term, the market is a voting machine, in the long term, it is a weighing machine." Therefore we should take the 10 year return to be meaningful and the year-to-date provides us with buying/selling opportunities. (For a similar analysis, please see my previous article recommending CNOOC.)
A few key takeaways and macro discussion:
Investors have spent the past decade running into energy stocks. This reflects supply concerns in the arab world as well as a recognition of lower quality (oil sands) and less desirable (natural gas) options. Hedge funds are very bullish on the price of oil, and concerns in the middle east provide more than enough justification for anyone to be bullish on the sector.
Post tech bubble the sector has been the weakest of the decade by a wide margin. The SPDR performed in the middle of the pack this year, but there is a continuing debate between large cap "value" tech and small cap "growth." I think there is money to be made in both over the next decade. Technology is a sector that will benefit greatly from emerging markets growth.
The Consumer Staples ETF has done nothing over the past decade, no volatility, but performed very nicley this year. The only implication to be had here is that we are still very much in a longer term bear cycle with the risk trade off.
Although the second best long term track record, Materials (NYSEARCA:XLB) are the worst performer year-to-date, with the ETF getting crushed down 25% by October. This is a very bullish technical reading off these two charts. Don't listen to the China concerns; for the most part, they're overblown. China will soon be a great story just as it was earlier in the decade.
Healthcare has been very stable. The debate over ObamaCare, the patent cliff, etc. has kept the ETF stuck in a tighter trading range. I think the performance this year shows that if you make smart picks, you can do well in this sector. I would say that medical devices and equipment providers are going to have much easier time just based on the supply/demand profile. Don't speculate on pharmas, the only one that has a good story right now is Teva (NYSE:TEVA) - the largest generics maker. It has massive growth over the past decade, a great team, and it will benefit hugely as branded drugs loose their patents in a big way next year. It's one everyone should look at and consider.
Valuation of Holdings
These SPDRs have between approximately 30 and 85 holdings each. The highest weighting in any of them is Exxon Mobil (NYSE:XOM), with over 18% weight in XLE. The majority of them, however, are well diversified.
The only valuations that are universal across these sectors are dividend yield, P/E, and discounted cash flow . Price to book is important, but the metric can often be useless for larger comparisons. For example, tech companies where software/hardware are completely different business models but in the same sector. This shows the dividend yield (%) and Price to Earnings (P/E) for the ETFs.
On an earnings basis, Energy (NYSEARCA:XLE) is the only noticeably discounted sector. This contrasts our original performance analysis which has shown Energy as the strongest performer of the decade. From a dividend perspective, you have to pay heavily for both XLP and XLU, but you get a better deal from Materials (XLB).
The more laborious task was running DCFs on all the holdings in all 8 ETFs. To save myself some sweat, I just did the holdings that constituted 75% weighting of the ETF. If 75% of the holdings are undervalued, it's likely that the ETF as a whole is a good buy. Here are is an example of my method for the Consumer Discretionary sector (NYSEARCA:XLY):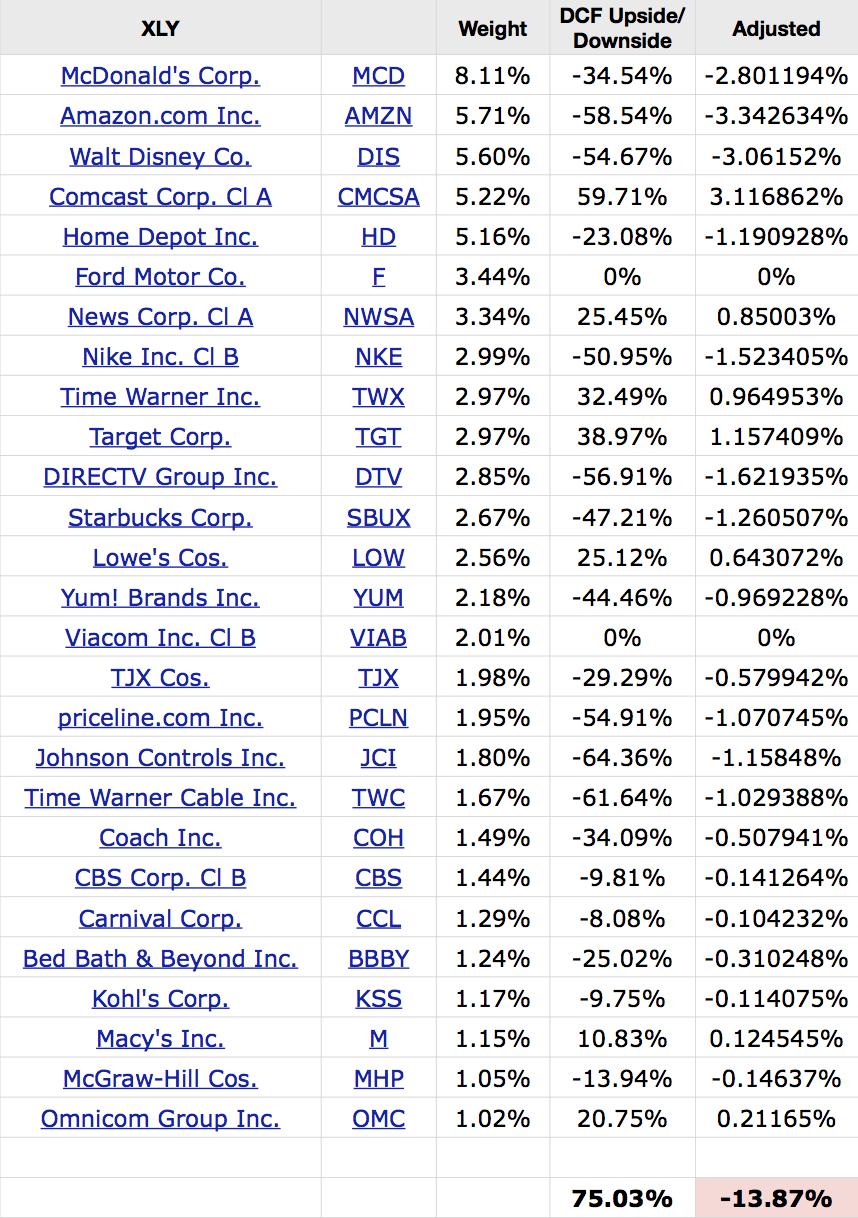 I continue to use Vuru for quick and accurate DCFs. The 15% discount rate combined with a reverse 10 year (to find out projected growth rate) is a conservative practice. As you can see, when you're conservative, the market is not showing gems everywhere as some money managers believe. The figure in red means that for this ETF, 75% of the holdings, adjusted for weighting, are 13.87% overvalued based on their future free cash flows. That's great to know. So what do the other sectors look like?

Just a note that I did a technical analysis of XLF and picked 11.1 as the lowest support it could try again. That gives a -15.59% drop from current levels. The only sectors that still have upside are tech and healthcare, with industrials trading at fair value. I still like energy a lot, but you have to be careful with your picks, a lot of the big weights in the S&P are not well-run companies. But don't let that stop you from investing in well run, profitable, oil (avoid gas plays) companies with growing free cash flows and fat dividends. Another interesting observation is that Technology still commands the highest weighting in SPY. Are we still in a longer term spillout from the internet bubble?
I believe that today the S&P 500 is fair value at 1175. And while that makes me a considerable bear to the majority of targets (seeing a lot of stuff in the range of 1400-1450), I'm comfortable with it. I would advise any short-term investors and traders to be careful around 1410 - 20% above my target. This is a range-bound market.
Good luck to everyone in the new year. Please get in touch if you have any questions.
All figures are from Vuru and Yahoo Finance, as of Dec. 7, 2011.
Disclosure: I have no positions in any stocks mentioned, but may initiate a long position in TEVA, XLB, XLK over the next 72 hours.
Disclaimer: The opinions expressed are solely my own and not reflective of the strategy of any firm I have worked for, past or present. As always, speak with your broker before making any decisions.