By David Urani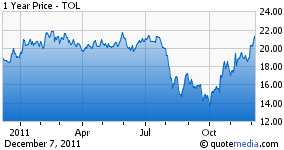 On December 6, Toll Brothers (NYSE:TOL) reported its fiscal fourth quarter 2011 earnings results. The company recorded revenue of $427.8 million, representing an increase of 6.3% year over year. The result exceeded the $417.6 million consensus estimate. Home closings were up 8% year over year, and the average price per unit of contract signed increased to $606,000 from $565,000.
On the bottom line, Toll Brothers reported net income of $15.0 million, or $0.09 per share. The result exceeded the $0.06 per share consensus estimate. Gross margin (excluding impairments) increased to 19.2% from 16.3% year over year. Meanwhile, SG&A expenses decreased as a percentage of revenue due to the increased revenue.
Sales Trends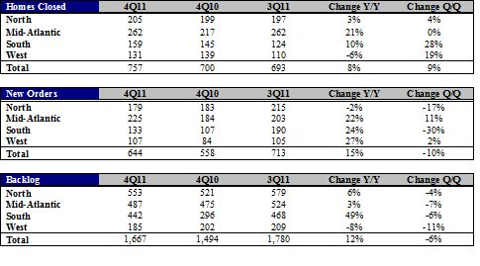 Economic Trends
October new home sales increased by 1.3% month to month, annually adjusted with sizable gains in the Midwest and West offsetting a decrease in the South and flat sales in the Northeast. That brings sales to the highest level since May, but still represents a very low rate, historically speaking. Meanwhile, prices continue to look vulnerable as the seasonally adjusted September Case Shiller index fell by 0.6% month to month to a new low for the cycle.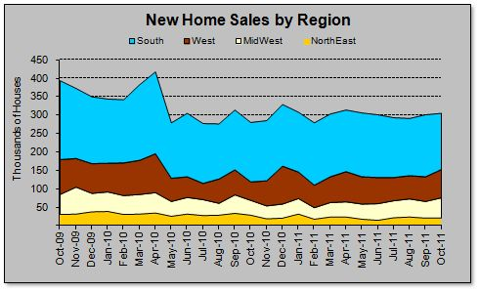 Opinion and Conclusion
Toll Brothers' fourth quarter results were better than expected, although there were some clues along the way as national home sales data have generally been improving. Home closings were up 8% year over year, resulting in a better than consensus revenue result. In addition, new orders were up 15%, yielding a 12% increase in backlog, boding well for the quarter ahead. Signed contracts per community increased by 3% year over year to just over 3, while the cancellation rate fell to 7.9% from 8.8%.
On the bottom line, Toll Brothers was able to produce its second quarter in a row of profits before tax. Excluding write downs and debt retirement charges, it would have reported pre-tax earnings of $33.9 million. Meanwhile, its highest revenue result since 3Q10 allowed overhead costs to come down as a percentage of sales. The company's distressed real estate investment subsidiary Gibraltar added $1.7 million to income for the quarter, and Toll Brothers currently holds approximately $100 million in the portfolio.
Toll Brothers also continues to maintain a strong balance sheet, and as a result has been able to make an effort to increase its community count. It increased its lot position to 37,500 from 34,700 year over year, with almost 60% of them focused in the Northeast. It also added 1,300 lots (200 optioned) in Seattle with the acquisition of CamWest LLC. It expects its community count to rise by 9% to 19% in fiscal 2012. Compared to last year, Toll Brothers ended the quarter with $97.0 million less cash and marketable securities, but with $53.1 million less in senior notes, and with $175.0 million more inventory.
Toll Brothers' fourth quarter results looked better all around from sales, to gross margin, to expenses, to its balance sheet. The company has once again hit a rate of sales where it can remain consistently profitable (assuming no significant deterioration in gross margin), and its cash position has allowed for investments into future sales growth. We do note that gross margin pressure remains a threat as home values look weak on a national level. Nevertheless, Toll Brothers' operations took a step forward during the quarter and its strategy going forward looks solid. The company has made an effort to increase its exposure to the Northeast, where economic factors are relatively favorable.