Dividend stocks are great investments in times of low interest rates. Dividends give investors that extra cushion that will help stabilize your returns in this volatile market. Coca-Cola (NYSE:KO) fits my predictable dividend strategy that looks for companies with a healthy business and a stable growth rate.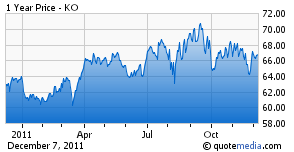 The company's main business is the manufacture and distribution of non-alcoholic beverages around the world. Coca-Cola has a very stable business and currently has a nice dividend of 2.8%.
The company recently gained global volume and value share in nonalcoholic ready-to-drink beverages. The company's Global Sparkling Beverage portfolio keeps growing, up 4% for the quarter and 5% year-to-date. This growth was mainly driven by the Coca-Cola brand, which was up 3% in both the quarter and year-to-date numbers. The Global Still Beverage portfolio is also performing well, up 9% for both the quarter and year-to-date. In 2009 and 2010, the nonalcoholic ready to drink market grew by $35 billion in retail value, Coca-Cola represented 50% of that total growth. This is great performance especially when you consider there is so much economic uncertainty around the world.
Here are more points I like about the Coca-Cola story:
- Coca-Cola is planning to continue its 2020 Vision. This plan consists of three key factors. First, investing in consumer marketing and sales and distribution with the mission of becoming the leader in every market in every category of value to the company. Second, focus on the marketplace and ensure that the company has the right packages and price points for every occasion, including affordable entry packs for every consumer. Finally, never let short-term considerations cloud the company's view of its long-term business. This should continue the company's growth as its continues to implement its plans.
- The company reported comparable earnings per share of $1.03 in its most recent quarter, up 12% versus prior year. That brings year-to-date comparable earnings per share growth to 10%, ahead of the company's long-term growth target.
- Coca-Cola delivered comparable net revenue growth of 45% this quarter, including a 5% increase in constant rate sales and a 5% currency benefit. For the quarter, comparable operating income was up 21%, including a 6% benefit from currencies and higher commodity cost. This increases the year-to-date comparable operating income growth to 17%, including a 5% currency benefit offset by commodity headwinds.
I'm bullish on Coca-Cola and will look to buy a pullback to the $64 area. This is the lower part of its six month trading range. Coca-Cola has a stable business with some nice growth prospects. The dividend is relatively safe with its dividend payout ratio at only 35%.
Disclosure: I have no positions in any stocks mentioned, but may initiate a long position in KO over the next 72 hours.