One of my favorite strategies is investing in companies looking to spin-off divisions. Large companies often look for ways to unlock value for shareholders. In many cases, companies with multiple divisions don't get properly valued by the market. That discrepancy allows those companies to sell or spin-off divisions which will allow investors the opportunity to fully realize the value of the investment.
A good example of this was my article, Fortune Brands: Value Is About To Be Unleashed. I wrote about Fortune Brands in August several months before the spin-off. Fortune Brands planned to separate into two different companies that will both be publicly traded. Fortune Brands Home & Security (NYSE:FBHS) will focus on home products and Beam (NYSE:BEAM) will focus solely on spirits.
There are several ways to play this strategy, but I prefer to buy after the split occurs. That way, if there was a company I didn't want to buy, I could just buy the company I liked. The spin-off took place on October 4, 2011 and produced the following results.
Fortune Brands Home & Security (FBHS)
The green arrow indicates the day of the spin-off. This trade has increased as much as 40% since spin-off day.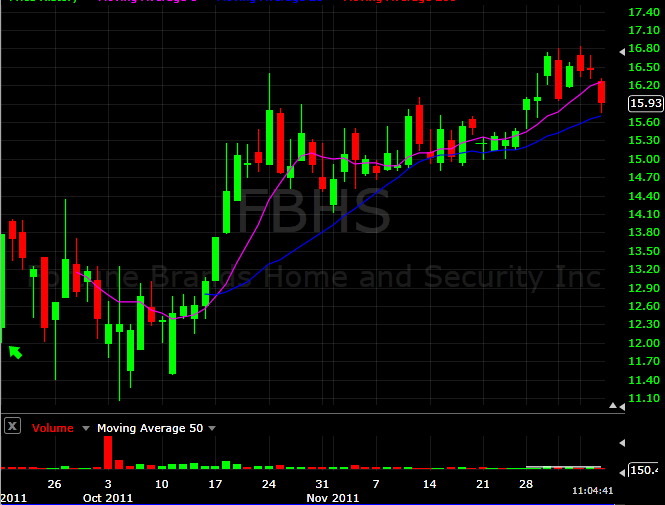 Beam (BEAM)
The green arrow indicates the day of the spin-off. This trade has increased as much as 21% since spin-off day.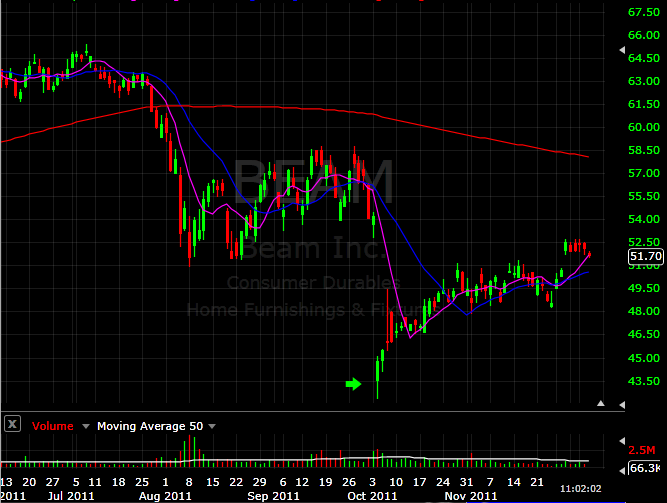 Now, I'm not recommending that you buy every spin-off you see. You have to carefully select your targets after doing your due diligence. I have found two potential companies that are great targets for my spin-off strategy.
Kraft (KFT) - Kraft is the world's second largest food company and has revenue of over $49 billion a year. More than 80% of its revenue is generated by brands in which Kraft is number one in each category. The company is looking into unlocking shareholder value by splitting into two separate companies; both companies will be publicly traded. One company will focus on global snacks, which will be focused on Europe and developing markets. The other company will focus on the North American grocery segment.
I like both businesses and will look to buy both companies once the spin-off occurs. I usually wait for a sell-off after the separation because many investors sell shares in the company they do not want to own. That gives me an opportunity to enter the trade at a better price.
Sears (NASDAQ:SHLD) - Sears is looking to spin-off Orchard Supply, a small home improvement retailer. Sears feels that Orchard Supply is not a core asset and would like to spin-off the company to focus on its Craftsman business. Orchard has been in business since 1931 and has performed well despite a weak economy. Orchard reported a profit of $8.7 million on $660.7 million in revenue in fiscal 2010.
I will look to buy Orchard once the spin-off occurs. Orchard targets a different market than Home Depot (NYSE:HD) or Lowe's (NYSE:LOW) and could be a great acquisition target down the road. Instead of focusing on do-it-yourself customers or contractors working on large scale projects, Orchard focuses on fix-it shoppers looking to make smaller home repairs.
Disclosure: I have no positions in any stocks mentioned, but may initiate a long position in KFT, SHLD over the next 72 hours.