The world of private company investing is a largely opaque one, and one that is unavailable to most investors. Investors in private companies are usually venture capital funds or angel investors, something the average investor rarely has access to. Secondary exchanges like SharesPost and SecondMarket only accept accredited investors. According to the SEC, an accredited investor must be someone with a net worth of $1 million, excluding their homes, or income of at least $200,000 annualy. So how can an average investor invest in private companies?
GSV Capital (NASDAQ:GSVC) is a publicly traded investment fund that holds stakes in some of the world's most famous private companies. GSV stands for Global Silicon Valley--and there is good reason for this. GSV Capital holds stakes in leading technology companies like Facebook, Twitter, Zynga, and Chegg, and focuses almost exclusively on technology companies. The firm began trading on the NASDAQ in April 2011, and since then has outperformed the S&P 500, rising over 5% compared to the S&P 500's 7.5% drop. The company now has a market capitalization of just under $83 million.
Click to enlarge

We must caution investors that this stock is extremely volatile, rising and falling with the perceived valuations of the companies in its portfolio. Unless you are prepared to hold this stock for years, possibly accumulating large unrealized losses in the process-- this stock is only suitable for risk-tolerant investors. It is better suited for investors willing to speculate on the valuations of private companies, for that is largely what this stock trades on. Not everyone is willing to invest in a company with such little transparency. But for those looking to invest in Facebook, Twitter, and other private companies, we think this is the ideal way to do so.
GSV Capital has a number of catalysts going for it. GSV's management outlined these catalysts in its third quarter earnings release and presentation.
Click to enlarge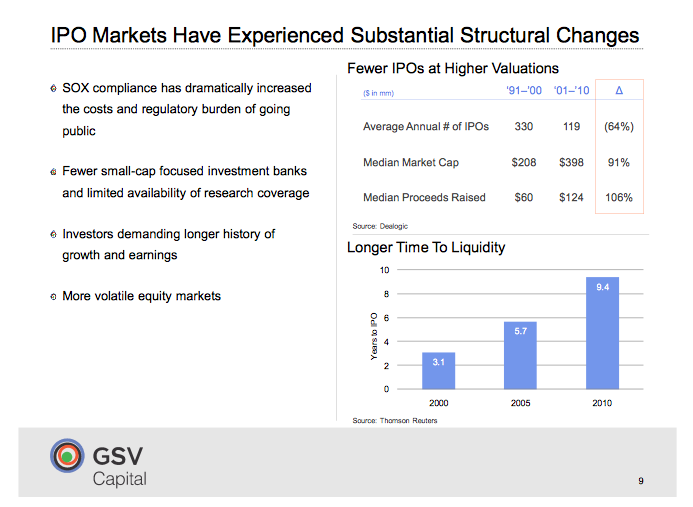 Sarbanes-Oxley has made it much more expensive to go public, and for smaller companies, there is a dearth of research coverage on Wall Street. Indeed, GSV Capital itself has almost no coverage on Wall Street. Ladenburg Thalmann is the only firm we have heard of that covers GSV Capital, rating it a buy with a $17.25 price target, a 12% premium to current prices.
Consolidation in the securities industry has shifted the focus to larger companies. Furthermore, the days when a company could be founded and go public-- as in the dot com bubble-- are gone. Investors demand to see revenue and earnings for years before they are willing to invest in a company. The time it takes for a firm to IPO has grown to 9.4 years on average in 2010. GSV Capital provides retail investors with a truly unique way to invest in them.
Private companies are notoriously difficult to value, and GSV Capital is not immune to this. The net asset value of its portfolio can fluctuate dramatically from quarter to quarter. As of the most recent quarter, the company's net asset value per share was $13.26 per share, and it currently trades 16% above its net asset value. But GSV trades below its net asset value just as often, highlighting the difficulty in valuing the stock.
In its third quarter earnings release, GSV Capital broke down its investments since the IPO in April. While this is transparent, the inherent nature of private companies is that their valuations fluctuate wildly, and are outside of GSV Capital's control.
Click to enlarge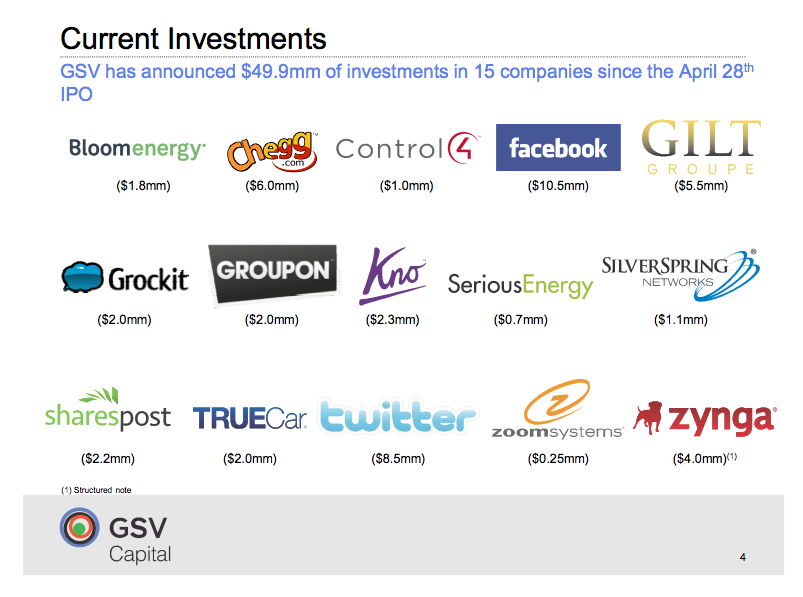 On November 28, GSV Capital announced an additional investment in Facebook. The company bought 125,000 shares, bringing its total stake to 350,000 shares, or 14.3% of the fund. Facebook's most recent valuation, according to SharesPost, was $66.6 billion. According to Trefis, Facebook currently has 2.333 billion shares outstanding, implying a value of $28.55 per share. Thus, GSV's stake is worth $9,999,250. If that equals 14.3% of net asset value, the company's entire net asset value is $69,877,622.58. When dividing it by GSV Capital's 5,520,100 shares outstanding, this all means the company has a net asset value per share of $12.66, a drop from its prior value of $13.26.
The math above shows just how difficult it is to value GSV Capital, for we had to use data on only Facebook to value the rest of the portfolio. Finding valuation and financial metrics for the rest of the companies in GSV's portfolio is virtually impossible. We will know more on the company's next quarterly report, scheduled for sometime in January.
We once again remind investors that GSV Capital is not for the faint of heart. The stock is extremely volatile, and its net asset value can and will fluctuate based on valuations. IPOs-- such as Groupon's-- will help determine the company's true value. GSV Capital is a very risky company, but for those willing to stomach that risk, the stock could be a compelling investment.
Disclosure: I have no positions in any stocks mentioned, and no plans to initiate any positions within the next 72 hours.