Long: Xylem Inc (NYSE:XYL)
Current share price: $24
Reward/Risk: $6 to $8 upside in medium term with short term downside of $2 - $3
Market Capitalization: $4.5B
Cash: $200M; Upcoming debt: $1.2B; FCF: $300M
Shares Outstanding: Approx 184M
Sector: Industrial; Industry: Diversified Machinery
Trading timeline: 18-24 months
Situation – Recent Spin-off from ITT (NYSE:ITT)
Main Catalyst: Regular dividend announcement; conclusion of successful negotiations in India for irrigation equipment; greater opportunities within the existing alliance with GE; exposure to Gas (fracking) and Mining industries; growth in Analytics; growth in emerging markets; change from current revenue mix towards services
Issues to keep an eye out for – Too much M&A leading to increased leverage; Structure of the new executive compensation arrangement – the old one's matrix, according to FORM 10, were based on total revenue, FCF generation, ROIC and overall Enterprise Performance.
On January 12, 2011, ITT announced a plan to separate its water equipment and services business (XYL) through a pro rata distribution of common stock. Why do I believe this is a good business to look at and invest in? It's due to the changing global landscape and heavy urbanization of the most populated emerging economies of the world, namely India and China, home to 33% of the world population!
Rapid and unstructured growth of these economies has lead to scarcity and increased need for both drinking and industrial water. Adding to this demand is rapidly increasing need for water solutions within the rapidly growing mining and gas (fracking) industry. This need has become an opportunity for firms such as XYL whose presence into every stage of the water cycle globally, especially in emerging markets, in addition to its large presence in US and Europe, makes investing in the firm at the right price very attractive for medium- to long-term investors.
Historical Performance of ITT's Fluid/Xylem Segment – Best of the Three
Before Jan, 2011, ITT reported its results into three separate segments. The segments were: Defense; Fluids and Motion control. Xylem spinoff represents the fluid segment. Analysis since 3Q-08 suggests that of the three segments, fluids has so far reported the best performance. What do the numbers tell us about the fluids segment? Despite constituting 33% of the total ITT revenue, fluids reported 37% average operating income for the firm. Furthermore, of the three segments, fluids reported the highest operating margin of 12.7% Vs 12.3% for Motion and 11.8% for Defense. Fluid also reported the highest gross margin of 36.5% Vs 31.6% for Motion and 23% for defense. On the EBITDA basis, fluid constituted approx. 42% of the total EBITDA of ITT. The numbers shed some light on my Xylem might be the better of the three assets to own. Now the question is – what is Xylem?
Understanding Xylem (Its Segments and Major Business Drivers):
Xylem is a complete solutions provider within the water industry. To understand XYL, it's important to understand the water cycle and the role XYL plays in it. The key processes of the water cycle begins by extracting raw water using pumps from natural resources and transporting this water through pipes to a treatment facility. Water treatment can be done using filtration, disinfection or desalination, to remove solids, bacteria, and salt. A network of pipes and pumps again transport this clean water for use in Irrigation, for Industrial usage, or to be used in residential or commercial buildings. After usage, the wastewater, via pipes is transported to a facility and again treated. Once treated, analytical instruments test the treated water to ensure regulatory requirements. The water is then discharged back to the environment, thereby completing the cycle. XYL plays a major role in all segments of the described water cycle thus become one of the largest pure water plays. XYL's transport segment provides pump systems to transport water from lakes & rivers while, XYL's filtration, UV and ozone systems provide treatment, making the water fit for use. After use, XYL's "pump lift stations" move the wastewater (used water) to treatment facilities where XYL's mixers, biological treatment, monitoring, and control systems provide the primary functions in the treatment process.
Throughout each of these stages, XYL's analytical systems test and ensure water quality, allowing the water to be consumed and returned to nature. XYL provides boosting systems for farming irrigation (70% of global water usage), pumps for dairy operations, and rainwater reuse systems for small scale crop and turf irrigation. XYL's Industrial Water applications (20% of global water usage) consist of pumps, heat exchangers, valves and controls provide cooling to power plants and manufacturing facilities, as well as circulation for food and beverage processing. The remaining 10% of global water use resides in human and building consumption, where XYL delivers water boosting systems for drinking, heating, ventilation and air conditioning (HVAC) and fire protection systems to Residential and Commercial Building Services.
The chart below breaks down XYL by segment, market opportunities and how much each segment constitutes of total XYL revenue.
Click to enlarge.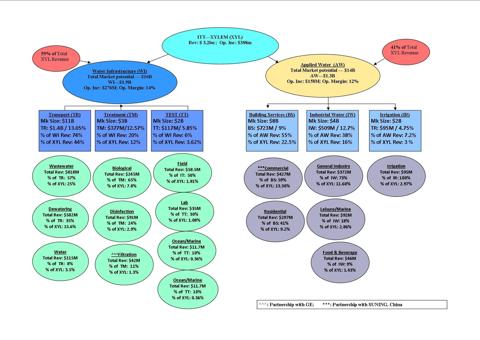 Understanding the Drivers of Individual Sub-Segments of XYL
As can be seen from the chart below, it speaks to individual drivers of different sub-segments. Of these, I believe, both residential and commercial construction demand may undergo a decline in the next 12 months:
| | | | |
| --- | --- | --- | --- |
| Segments | Sub- Segments | % of XYL | Drivers |
| Transport | Wastewater | 25.42% | Chinese B cities; Utilities (Spend growth is 6%+ since 65'), Demographics; Industrial facilities. |
| Transport | Dewatering | 15.61% | Chinese B cities; Demand in mining economies such as South Africa & Australia; exposure to oil & gas (Fracking); Utilities, flood response |
| Building services | Commercial | 13.32% | Commercial & residential construction; population growth & Urbanization |
| Industrial water | General Industrial | 11.60% | India; Industrial and nuclear plants; Data centers; demographics |
| Building services | Residential | 9.26 | Residential construction |
| Treatment | Biological | 7.84% | China, other emerging markets; Industrial; utilities |
| Transport | Water | 3.57% | Utilities; water parks; unplanned urbanization |
| Irrigation | Irrigation | 2.97% | Demand in agricultural economies; ongoing negotiations to sell products in India |
| Treatment | Disinfection | 2.89% | China; High population density regions; Utilities; Pulp& Paper; Food industries |
| Industrial water | Leisure Marine | 2.86% | OEM's for cruise liners; Aftermarket channels |
| Test | Field | 1.81% | Utilities; Govt agencies; Environmental researchers; Process engin. |
| Industrial water | Food & Beverage | 1.43% | Wine, Pepsi; coco-cola; Demand for Pumps |
| Treatment | Filtration | 1.33% | China, India; Utiltiies; Desalination plants |
| Test | Lab | 1.08% | QA/QC labs; Food & Beverage sector; Environmental |
| Test | Ocean/Marine | 0.36% | Government; Environmental agencies; Oceanographers |
| Test | Online | 0.36% | Utilities, Engineers |
Potential Catalysts
Benefit from Major JVs with Suning, GE (NYSE:GE) and Ongoing Negotiations in India
With water consumption doubling every 20 years and Chinese & Indian water markets growing at 20%, potential JV's in India, and an ongoing partnership with Suning in China should create upside for XYL shareholders in the medium term. Furthermore, XYL's alliance with GE will generate immediate revenues to XYL without major capital expenditure adding to XYL's bottom line. The strategic alliance is within the water treatment segment – important growth area of XYL. Under this alliance, XYL will distribute GE's advanced membrane filtration products within 8 countries for public utilities market. The alliance is expected to further expand in Europe and Asia creating cross selling opportunities for XYL.
Another JV is within the building services segment with Suning of China. Suning is the biggest appliance retail chain and one of the largest real estate developers in China. XYL stands to benefit from governmental push into green building projects where XYL can provide energy efficient products. In addition to the governmental push is Suning's commitment to build 100 commercial complexes in the next 10 years in China. This creates revenue opportunity for XYL in the long run. My current EPS calculations however assume a 10% decline in the building services revenue within the next 12 months due to expected slowdown in Chinese economy. In contrast, India, where XYL is currently negotiating with several distributors to sell its irrigation related products presents a high growth segment for XYL. India where majority of the economy is still agricultural - irrigation (3% of XYL Rev) should create a substantial revenue opportunity for Xylem. XYL has also established small partnerships with organization such as Singapore national water agency. These JV's and ongoing should create upside for shareholders in the medium term.
Upside From Exposure to Oil, Gas and Mining Sector, and XYL's Foray Into Analytics
Not obvious is the benefit that companies within the water industry can draw by having exposure to Mining and Oil & Gas sector. For mining firms, it's important to dewater the mines to create safe working conditions, reduce wear& tear of machinery, reduce earth moving costs and avoid hazard. XYL makes dewatering possible by supplying effective pump systems. XYL has exposure to countries within Africa, such as South Africa, and other mining economies of the world where mining has become a major growth engine. Another opportunity is within the Gas & Oil industry where XYL provides dewatering services in addition to analytics. According to recent WSJ article, 23% of all natural gas in the US is produced from fracking which is suppose to go up to 42% by 2020. XYL has 35% exposure to US market but only 16% of XYL revenues are generated from dewatering services.
In addition to dewatering, the industry requires strict standards to maintain water quality due to governmental and activist push, especially those extracting gas using fracking technology. Here XYL's analytics comes handy. For example, XYL has stations in Marcellus shale where fracking is used. Here, XYL monitors to provide spill alerts and validate groundwater and surface water supply. Both the sectors have been growing at a rapid pace and XYL has benefited from it. Dewatering services reported 40% YoY growth while analytics has doubled over the last 12 months. Currently at 16% and 6% of the total XYL revenue, dewatering and analytics are poised for rapid growth.
Growth in Emerging Markets
Water demand in emerging economies, such as India and China, has seen substantial increase in the past decade. Industrialization and urbanization without proper environmental laws has led to depletion and scarcity of water resources. However, this has created opportunities for a company such as XYL, especially within segments such as dewatering, Industrial water, testing & treatment, water pumps used for irrigation - segments where XYL has significant presence and proven technology. Unlike the mining economies of Africa and Australia where dewatering is a high growth area for XYL, China and India have demonstrated a growing appetite for water used for drinking, Irrigation and Industrial purposes. These markets have exhibited a 20% growth YoY. According to XYL, Chinese government plans on spending $47B in 5 years within the water sector.
Major growth is expected to come from treatment systems, wastewater treatment and growth in second tier cities. In India, the growth will come from addition of 30+ power plants by 2017 and large demand within the irrigation sector. The two countries that alone represent 34% of the world population will create opportunities that will benefit XYL shareholders in the medium term. In addition, dewatering and analytics in emerging mining economies, in addition to exposure in Middle East will further add to the upside. XYL expects revenue growth of 8% to 10% from emerging markets.
Well Hedged Business Model Providing Downside Protection
XYL has a balanced business model that may provide earnings floor to shareholders who are long XYL's equity. On the revenue side, 40% of XYL's revenues come from public utilities which are mostly non-cyclical in nature due to regulated and sticky consumer base. Additionally, municipalities are another major market in the US (US Rev: 35% of total) and Europe (Europe Rev: 39% of total) that XYL caters to. In Europe, water spend by local governments has been very steady even in the economic downturns. In the US, according to US Census Bureau, growth rate in water & sewer construction spend has increased 6% since 1965, except in 1969 and 1983. Moreover as some may argue that budget cuts might heavily impact XYL, it should be noted that water & sewer budgets are usually ring fenced and cannot be used for anything else. Furthermore, according to some industry reports aging water infrastructure in the US will open additional opportunities for XYL to sell as ageing pipes and water systems need replacement and repair.
Adding to the utility exposure is XYL's 35% revenue exposure to Industrial sector, such as power plants, beverage industry to name a few. This sector in addition to commercial and residential sector also provides strong growth as well as aftermarket opportunities. Currently, aftermarket sales constitutes approx. 40% of XYL revenue (Parts & Services at 16% while replacement equipment at 22%). Aftermarket revenue stream may provide a floor to XYL revenue in a recessionary environment. Moreover, going forward, I believe that growth in analytics and irrigation will be major growth area that will provide substantial growth opportunities for the company. Furthermore, No single customer represents more than 2% of XYL's revenue and approximately 65% of XYL's 2010 revenue is derived from operations outside of the US, including 26% from Emerging & Asian economies, making XYL less vulnerable.
Declaration of Regular Dividend
The stock might get a pop after declaration of a dividend by the firm. Although XYL will only yield approx. 1% to 1.5%, the dividend comes in addition to the capital appreciation and growth opportunities the company presents.
SOTP Analysis Suggests XYL to be Undervalued
XYL after the spinoff will be left with $200M in cash and $1.2B in debt. According to XYL, it had $300M in FCF in 2010. In the medium term, the firm does not seem to have any liquidity constraints even though leverage is at 2.7x. It holds $200M cash and has access to a $600M credit facility. This is in addition to the FCF it generates every year. Moreover, XYL does not have any upcoming debt maturities giving it more room to maneuver. On the valuation side, XYL's Gross Margin (38% Vs avg. 34% for the comps) and Net Margin (12.1% Vs 12% for the comps) are better than median of its competitors.
Moreover, performing SOTP on water infrastructure and Applied water segments individually, the analysis suggests that XYL should trade closer to $28 - $30 a share. The multiples were calculated after performing comp. analysis on individual segments and then taking the weighted average of each. Using this method and Bloomberg numbers, EV/Ebitda for the firm comes to appox. 9x; P/FCF at 19x; P/Ex at 15.5x; P/Rev at 1.2x. My EPS calculations have assumed a further 10% slowdown in XYL's building services business in the next 12 months. This business is exposed to China and amount to 23% of total XYL revenue (table1). I have assumed 10% growth rate in Analytics, Dewatering and irrigation while a normal 4% -5% growth rates in other segments. If the building services segment performs better than expected in 2H-12, then XYL can trade at a higher price. On the downside, the stock price can go down to $21 a share in the short term.
Disclosure: I have no positions in any stocks mentioned, and no plans to initiate any positions within the next 72 hours.