November 2011 ended on a very positive mood for the US stock exchange, with the S&P index achieving, for example, one of its best results ever in the last trading day, a 4.3% gain.
Data center related stocks were mostly positive in the month, helped by this surrounding market euphoria and having delivered, on average, strong results for Q3 that were also reflected in positive moves after earnings. Having reminded that a few companies reported their numbers in October -- Akamai (NASDAQ:AKAM), Equinix (NASDAQ:EQIX), Digital Realty (NYSE:DLR) and Internap (NASDAQ:INAP) -- here is a complete view of data center stocks' performances post-earnings, that in several cases contributed to the sector's uptrend in November:
Click to enlarge.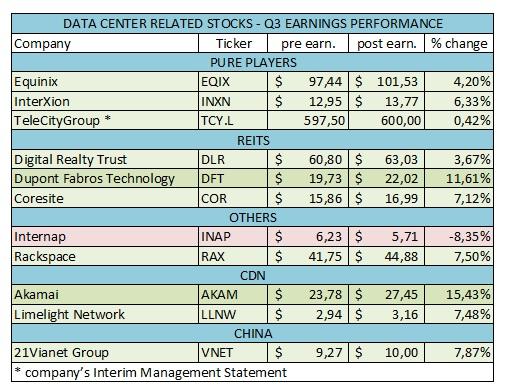 As anticipated, there were just a few losers in Novembers among the stocks under our coverage, namely Interxion (NYSE:INXN), dropping roughly 4% in the month, and Internap, losing about 9%.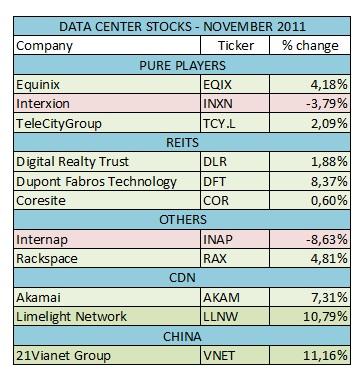 Two-digit positive performances were achieved by 21Vianet (NASDAQ:VNET) and Limelight Networks (NASDAQ:LLNW); both stocks that have been quite volatile in the last few months.
If we try to get a longer-term view of the sector, and look at year-to-date performances, we will notice that most stocks remain positive since the beginning of the year: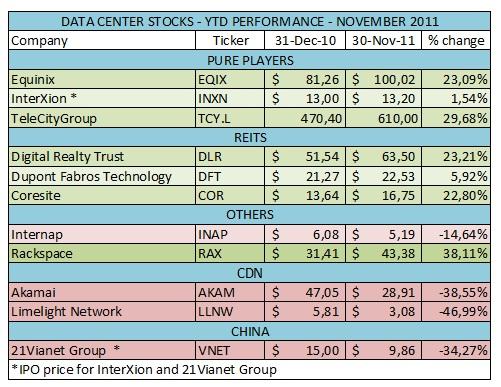 Most network neutral players and REITs achieved performances in excess of 20%, with InterXion (INXN) and Dupont Fabros Technologies (NYSE:DFT) representing the worst performers of their own category, but still positive YTD.
CDNs remain deeply in the red, in spite of a recent run up in price. 21Vianet Group is still trading well below its IPO price, which happened with perfect timing for the company, the peak of investors' interest for anything labeled both China and Internet.
Rackspace (NYSE:RAX) achieves the best performance in this small pack of companies, with a YTD increase of roughly 38%, as it keeps delivering solid growth in the cloud computing sector – on the other side, Internap lost about 15% YTD, while the company is trying to develop its own cloud computing strategy, leveraging its data center assets.
Both negative and positive results exceed index performances, that see the Nasdaq slightly negative and the Dow Jones slightly positive YTD – a reminder that technology is often either a big winner or a big loser in the market place, as expectations sometimes represent a large part of the stock price.
Disclosure: I am long EQIX, INAP.