A large number of investors are frustrated because Apple's (NASDAQ:AAPL) stock price continues to be range-bound. When there is good news, the stock does not break out of the range on the upside. When there is bad news, the stock does not break down from the lower band of the range. When the overall markets rockets, Apple stock still stays within the range. When the market tanks, Apple stock price does not move out of the range.
Investors accustomed to piling up gains on Apple find this price action very frustrating. An easy way to make money in these circumstances is to trade Apple derivatives. I will illustrate the point with an example of Skyworks (NASDAQ:SWKS).
Since the introduction of iPhone from Apple, Skyworks has benefited tremendously from its association with Apple. Skyworks produces amplifiers, attenuators, circulators, detectors, diodes, directional couplers, front-end modules, hybrids, infrastructure RF subsystems, isolators, mixers/demodulators, optocouplers, optoisolators, phase shifters, PLLs/synthesizers/VCOs, power dividers/combiners, receivers, switches and technical ceramics.
In recent years, Skyworks benefited from the move towards higher-end cell phones. In 2010, company's revenues crossed the $1 billion mark. The stock had become a Wall Street darling.
My call to short-sell Skyworks on October 15, 2011 is well documented, including an article on Seeking Alpha published on October 16. The call is shown on the chart below: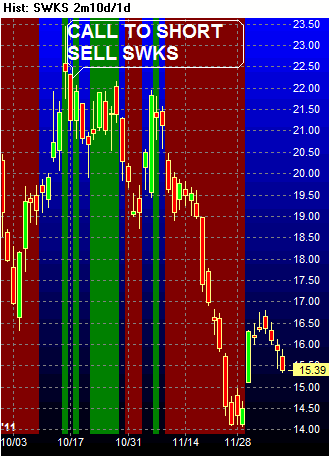 My call was based on the proven methodology that has made me a boatload of money over the last 30 years. It starts with knowing which company's components are expected to be in the next hot product. When the new hot product is introduced, the task is to quickly determine which company's components exceed the expectations and which company's components lag the expectations.
When iPhone 4s was first introduced, my analysis was that Skyworks lagged expectations; hence the call to short the stock. The call has been profitable. As shown on the chart, since the call to short Skyworks, the company has lost about one third of its value.
Now there are indications that Skyworks may also lose some of Apple iPhone 5 business. It appears that its competitors, RF Micro Devices (RFMD), TriQuent (TQNT), and Avago Technologies (NASDAQ:AVGO) are being more price-competitive, and also producing more technically advanced products.
HTC is a big customer of Skyworks. Recently, HTC reported a disastrous earnings report. HTC appears to be losing market share to Apple. Obviously this would hurt Skyworks.
A recent report shows that Media Tek (MTK), a fabless semiconductor company based in Taiwan is experiencing weakness in China. It appears that the trend in China is in favor of Apple iPhone, but the demand for cheaper smart phones is slowing.
Skyworks claims to derive 64% of revenues from China however it is believed that only about 25% of revenues are from China's local market.
Even though traditional fundamental data such as P/E and Book Value has never helped anyone to make money from tech stocks, I recognize that some investors will never give up the ghost of traditional fundamental data. Such investors may want to note that Skyworks has an intangible asset ratio of 40%.
The foregoing is a perfect example of how a decision by Apple can have a snowball effect on an Apple derivative. Although I have illustrated the Apple effect with Skyworks, opportunities both on the long side and the short side abound.
As an action item for Apple derivatives the readers may put on their watch list to short Skyworks, OmiVision (NASDAQ:OVTI), Cirrus Logic (NASDAQ:CRUS), and Nvidia (NASDAQ:NVDA).
On their long watch list for Apple derivatives, investors may consider Nuance (NASDAQ:NUAN), Qualcomm (NASDAQ:QCOM), Avago Technologies, TriQuent, RF Micro Devices, and Sharp Electronics (OTCPK:SHCAY).
Investors may consider using a method such as the ZYX Change Method that has a proven track record of making profits in technology stocks to time their purchases and short sells.
Disclosure: I am long AAPL.
Disclaimer: I am long AAPL from $131; we have taken profits on 50% of the position at $360. Subscribers to ZYX Buy Change Alert may have a similar position and may have taken similar actions. I may have also issued signals on the other stocks mentioned in this article to the subscribers of the four services of The Arora Report, and may take positions in such stocks without any further notice.