In this article we will discuss the following seven stocks: Exxon Mobil Corporation (NYSE:XOM), International Business Machines Corp. (NYSE:IBM), Microsoft Corporation (NASDAQ:MSFT), Chevron Corporation (NYSE:CVX), Wal-Mart Stores Inc. (NYSE:WMT), Procter & Gamble Co. (NYSE:PG) and General Electric (NYSE:GE).
Overview
The stocks discussed are Blue Chip U.S. Multinational stocks. According to the New York Stock Exchange, a blue chip is a stock in a corporation with a national reputation for quality, reliability and the ability to operate profitably in good times and bad. The most popular index that follows U.S. blue chips is the Dow Jones Industrial Average. The Dow Jones Industrial Average is a price-weighted average of 30 blue-chip stocks that are generally the leaders in their industries.
I posit these stocks have an extremely favorable risk/reward ratios coupled with significant upside potential based on macroeconomic, sector- and company-specific catalysts. These stocks have great stories and positive facilitators for future growth. However, many are trading at substantial values due to incessant negative macroeconomic headlines from the Eurozone and a lack of confidence from Main Street based on the ever-present deleterious employment picture.
When the eurozone gets its act together and the global economy achieves viable economic traction, you can kiss the current share prices goodbye. I envision a day in the not-too-distant future where we will look back at current market levels in awe of the amazing values currently presented.
We saw an inkling of positivity in the headlines out of Europe last week regarding the eurozone sovereign debt crisis as well as the U.S. unemployment situation which triggered a rally of epic proportions. Friday is a critical day for the eurozone and global markets. If things go well, this could be your last chance to pick up these stocks at this level.
Additionally, the FOMC minutes for the two-day November meeting suggest that under current economic circumstances the Federal Reserve will may engage in a third round of quantitative easing. The solution to the Eurozone's sovereign debt issues will inevitably lead to euro printing presses cranking up, allowing them to paper their way out of their solvency problems, which will only spur stock prices even higher.
Compelling Fundamental Statistics
The stocks discussed are S&P 500 Buy-rated large cap or better stocks with extremely strong fundamentals, performance statistics, earnings and dividends. Additionally, these stocks have great stories and positive catalysts for future growth. Moreover, most of these stocks are trading well below consensus analysts' estimates, have recent upgrades and positive analyst comments. Below are three tables with detailed statistics regarding each company's current summary, fundamental, performance and earnings information.
Summary Statistics (click to enlarge)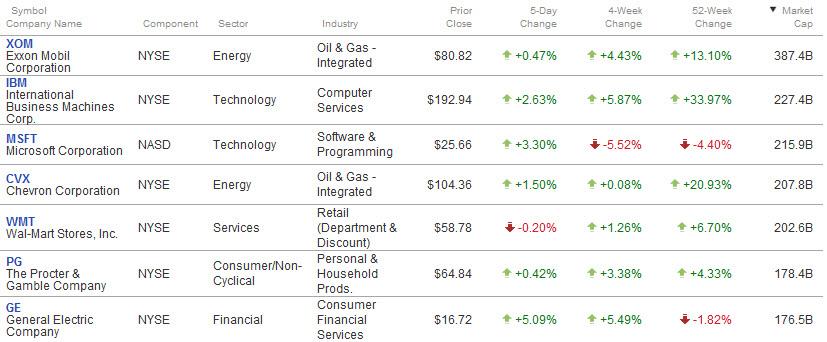 Fundamental Statistics

Performance Statistics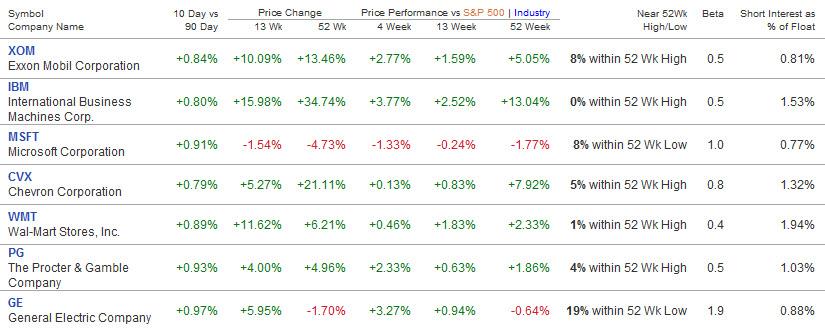 Earnings and Dividend Statistics

Charts provided by Scotrade.com.
Company-Specific Potential Catalyst
Exxon Mobil Corporation expects demand for energy will rise through 2040 as global economic output doubles and prosperity expands across a world where population will grow to nearly 9 billion people, Exxon Mobil states in its The Outlook for Energy: A View to 2040.
Extending its annual long-term energy forecast to 2040 for the first time, ExxonMobil said this year's Outlook reveals several trends that will influence how the world uses energy over the coming decades. The Outlook projects that global energy demand in 2040 will be about 30 percent higher than it was in 2010, led by growth in developing regions such as China, India, Africa and other emerging economies.
Major Points
Demand to be about 30 percent higher in 2040 versus 2010 as population grows and global GDP doubles; demand in developing nations rises nearly 60 percent.
Less-carbon-intensive fuels, particularly natural gas, gain market share, while coal peaks and begins a decline for the first time in modern history.
Gas from shale and other unconventional rock formations will account for 30 percent of global gas production by 2040.
Demand growth would be more than four times the projected 30 percent without expected gains in efficiency.
International Business Machines Corp.
IBM and DemandTec (NASDAQ:DMAN) recently announced that the two companies have entered into a definitive merger agreement for IBM to acquire DemandTec in an all cash transaction at a price of $13.20/share, or at a net price of approximately $440 million, after adjusting for cash. The acquisition of DemandTec will extend IBM's Smarter Commerce initiative by adding cloud-based price, promotion and other merchandising and marketing analytics to help companies better define the best price points and product mix based on customer buying trends.
Organizations are struggling to meet the demands of rapidly shifting customer buying patterns in the era of mobile and social networks. This new digital marketplace requires companies to be highly responsive to consumer demands on the fly. Whether it's setting and executing the right pricing strategy or the ability to automatically adjust pricing based on online and offline data, being able to rapidly shift to market changes has become a key competitive advantage for global businesses. IBM estimates the market opportunity for Smarter Commerce at $20 billion in software alone. Extending these capabilities to the cloud gives organizations immediate access to consumer information, providing instant return on investment.
Microsoft Corp., General Electric
General Electric, through its healthcare IT business, and Microsoft recently announced plans to create a joint venture aimed at helping healthcare organizations and professionals use real-time, system wide intelligence to improve healthcare quality and the patient experience. Upon formation, the new company will develop and market an open, interoperable technology platform and innovative clinical applications focused on enabling better population health management to improve outcomes and the overall economics of health and wellness.
Chevron Corp.
Chevron Corporation recently announced a $32.7 billion capital and exploratory spending program for 2012. Included in the 2012 program are $3 billion of planned expenditures by affiliates, which do not require cash outlays by Chevron. Total investments for 2011 are estimated at $33 billion, reflecting approximately $28 billion in capital and exploratory expenditures and $4.5 billion for the acquisition of Atlas Energy, Inc., which closed earlier in the year.
Chairman and CEO John Watson said:
We continue to develop an unparalleled project queue. Our 2012 capital program covers a number of multi-year projects currently in the construction phase, including two world-class Australian LNG projects and multiple deep-water developments. We believe these investments will yield significant production growth and reward our shareholders for years to come. By 2017, we expect our net crude oil and natural gas production to grow about 20 percent to 3.3 million barrels per day. This growth profile, along with our current financial strength, supports our priority of continuously growing our dividends.
Highlights of the 2012 Capital and Exploratory Spending Program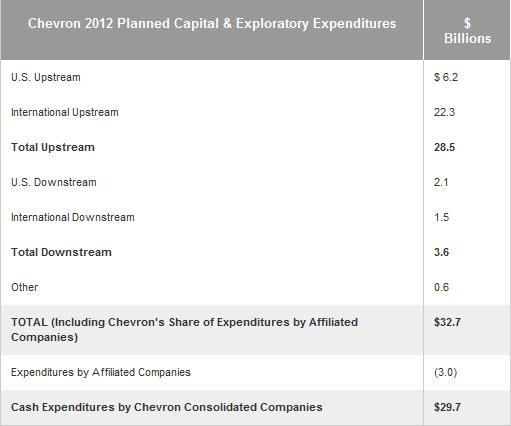 Wal-Mart Stores Inc.: Increasing Growth In Sales And Operating Income
Wal-Mart continues to grow and steadily increase EPS year over year. Income from continuing operations attributable to Wal-Mart for the quarter was $3.3 billion. Diluted earnings per share from continuing operations attributable to Wal-Mart for the third quarter of fiscal year 2012 were $0.97. Last year's third quarter EPS of $0.95 included a $191-million tax benefit, which was approximately $0.05 per share, related to a favorable adjustment to transfer pricing policies after negotiations with a foreign tax jurisdiction.
Mike Duke, Wal-Mart Stores, Inc. president and chief executive officer, said:
Every business segment is stronger today than it was a year ago, and we delivered solid earnings growth for our shareholders in the third quarter. Both Walmart U.S. and Sam's Club exceeded comp sales guidance, and I'm pleased that the sales momentum positions us exceedingly well for the holidays. We also are pleased with the growth in both sales and operating income for Walmart International.
Robust Share Buy Back Program
In the third quarter, the company repurchased $1.4 billion worth of shares, representing approximately 27 million shares. In addition, the company paid $1.3 billion in dividends.
Procter & Gamble Co.: Global Leader With Superior Management And Quality Brands
P&G is a global, publicly traded Fortune 500 company, and the largest consumer packaged goods company in the world. P&G's work is driven by a Purpose of providing branded products and services of superior quality and value to improve the lives of the world's consumers now and for generations to come. P&G's growth strategy, inspired by Purpose, is to touch and improve more consumers' lives in more parts of the world, more completely.
Brand Highlights
50 Leadership Brands, which are among the world's best known household names and which account for 90% of P&G sales and more than 90% of profits. Leadership Brands include 24 Billion-Dollar Brands (each generating more than $1 billion in annual sales).
Four billion times a day, P&G brands touch the lives of people around the world.
Consistently one of the world's top advertisers, investing more than $8 billion in 2010.
P&G has one of the largest and strongest portfolios of trusted brands, including Pampers, Tide, Ariel, Always, Pantene, Bounty, Pringles, Charmin, Downy, Iams, Crest and Olay.
P&G has outstanding leaders with a well-vetted understanding of its marketplace, which will allow it to continue to execute on a mature five-point program designed to keep P&G at the top of consumers' minds in regards to providing superior quality products at a tremendous value. P&G's five Core Strength Focus points: Consumer Understanding, Innovation, Brand-Building, Go-to-Market Capabilities and Scale.
Conclusion
I posit these equities are poised for a rebound once the eurozone crisis is put to bed and investors are able to focus on vast global and emerging market demand. Nevertheless, I suggest layering into these names as there may be a significant buying opportunity at the end of this week produced by the bumbling EU bureaucrats as they haggle over the final solution of their sovereign debt debacle. Use this information as a starting point for your own due diligence and research methods before determining whether or not to buy or sell a security.
Disclosure: I have no positions in any stocks mentioned, but may initiate a long position in XOM, IBM, MSFT, CVX, WMT, PG, GE over the next 72 hours.