Many new and/or small investors struggle with a very basic problem when they open a brokerage account - How do I spread around a limited amount of capital?
Most retail brokerages allow you to get around account minimums by sending a nominal amount of money their way each month. Outside of this option, most firms' minimums range from $500 to $5,000. In this article, I focus on the $5,000 number, but you can easily adjust things to suit smaller or bigger amounts.
The natural instinct to buy 100 shares of a stock psychologically ties the hands of many small investors. Instant gratification can come easier and faster from buying 100 or more shares of a single stock than from purchasing a modest or even small number of shares in several. But that formula does not always work out well.
Of course, you can cherry pick performance statistics to support any argument (that's what I do here), but this exercise is more about urging investors to be mindful of where and how they invest relatively small amounts of cash. Simply put, don't fall into the trap that more shares is necessarily better.
Consider the following five stocks and ETFs to build out a $5,000 portfolio as opposed to their lower-priced alternatives.
PowerShares QQQ ETF Trust (NASDAQ:QQQ). If you believe that the market, or a particular segment of it, will continue to go up, an index-tracking ETF makes perfect sense. The Qs mimic the return of the tech-heavy Nasdaq 100. By investing in the Qs, you get a piece of Nasdaq's biggest names, which includes a quarterly dividend payout.
If you invested $1,000 in QQQ at the beginning of 2010, you would have $1,331, as of intraday Friday, on just 23.6 initial shares. And this calculation does not include the impact of reinvested dividends.
Google (NASDAQ:GOOG). You can use any number of top-performing, high-price tag stocks in here in place of Google. Two years ago, as well as today, I'm sure plenty of small investors balked at the notion of spending $1,000 on 1.9 shares of GOOG. If you did, you'd have roughly $1,179 to show for it today.
There's a reason why Google sports a $600 price tag. It turns out monster revenue quarter after quarter, but, clearly, the sky's the limit. This might come as a surprise to some, but advertising revenue accounts for about 96% of Google's total revenue. Everything Google does powerfully drives that stream. It's one case where not directly having multiple revenue lines does not concern me. Google has the time, the idea pipeline and the flexibility to diversify.
McDonald's (NYSE:MCD). A thousand bucks would have purchased 17 shares of MCD at the start of 2010. Not accounting for reinvested dividends that grand equals about $1,653.
This piece from Investor's Business Daily tells you, concisely, much of what you need to know about McDonald's: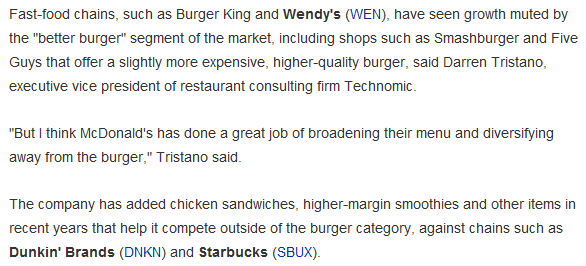 McDonald's saw the future and it knew it was not in a burger. Brands remain household names by evolving, while inferior fast food outlets did very little to effectively differentiate themselves away from the burger to the aforementioned chicken sandwiches, smoothies and, maybe more importantly, coffee. An equally as sound play, Starbucks (NASDAQ:SBUX), doesn't stand still either, as it diversifies its brand away from the perception that it solely focuses on coffee.
Public Storage (NYSE:PSA). Investors are always trying to follow the big money. You can make indirect plays on where the big money moves. High rollers continue to bet on apartments, particularly units located in affluent areas. It should come as no shock that the eccentric - and incredibly successful - Sam Zell badly wants a chunk of Archstone.
The notion of home ownership as the cornerstone of the American dream died a cold, hard death. Under many circumstances, particularly if you live in relatively expensive urban markets, you're better off renting. It struck me kinda funny that homeowners chided me for "throwing money away" every month on rent as they were taking out second mortgages on soon-to-be underwater first loans. But, I digress.
In addition to buying a REIT like UDR, Inc. (NYSE:UDR), which is rapidly shifting its portfolio to urban markets, you can take advantage of the segue to smaller places with Public Storage.
A $1,000 investment in PSA back at the beginning of 2010 snagged 13.4 shares and boasts a value of approximately $1,704 today. And, again, this does not take into account reinvested dividends on PSA's 2.9% yield.
Apple (NASDAQ:AAPL). Of course, no portfolio is complete without the quintessential buy-and-hold investment that does not pay a dividend, Apple. For most investors, regardless of trade size, Apple should probably finish the sentence, if I could only own one stock it would be ...
You would have "only" been able to pick up 5.2 shares of AAPL at the outset of 2012, but, as of intraday Thursday, those 5.2 shares would be worth $2,045. That's a double.
I do not include dividend-adjusted returns on QQQ, MCD and PSA for a couple reasons. First, the impact of the dividend on a relatively small number of shares takes a bit longer than two years to fully show itself. But, more than that, I don't believe in merely stacking the long-term time horizon portion of your portfolio with dividend-paying stocks merely because they pay dividends. This represents a good way to get yourself into slow-growth, stagnant stocks as opposed to the big movers that I listed here. If the company pays a dividend consider it icing on the cake until you're close to retirement, have a massive bankroll and can live off of the proceeds.
It's not crazy to think that you can get to that level. Imagine starting with this $5,000 initial investment (which would be worth $7,912 today, excluding dividend reinvestment) and adding $50, $100 or $250 to it each month, religiously.
All of this said, I am not arguing that no places exists in a portfolio, even a small investor's portfolio, for speculation or a more aggressive approach.
Buying OTM puts allowed me to double and then triple the $10,000 portfolio. And, for every QQQ, GOOG, MCD, PSA and AAPL success story, there's a stock like Sirius XM (NASDAQ:SIRI). Investors who bet on SIRI two years ago with $1,000, when it traded for $0.84, sit on a double today at $2,023.
Disclosure: I am long AAPL.