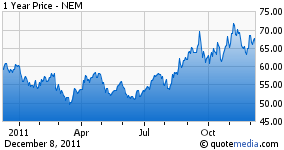 The third quarter for Newmont Mining (NYSE:NEM) continued to push the stock price higher as investors realize the value of the company's industry leading gold price linked dividend putting a floor under the stock price.
For the third quarter, revenues totaled $2.7 billion, up 6% year-over-year with operating cash flow of $1.3 billion. Gold sales during the quarter tallied an average realized selling price of $1,695 per ounce with gold and copper costs applicable to sales coming in at $622 per ounce and $1.10 per pound, respectively. Overall Newmont recorded a respectable gold margin of $1,073 per ounce during the third quarter.
According to the dividend schedule, the $1,695 selling price means that under the gold price linked dividend schedule the fourth quarter dividend will be $0.35 per share.
The balance sheet remains solid with cash and marketable securities of $3 billion.
On the development and exploration side of the business, Newmont has 100 drill rigs operating around the world and recently took a stake in Loncor Resources (NYSEMKT:LON) which is exploring for gold in the Congo.
Protests over water supplies have caused construction at a project in Peru to be suspended. Investors initially looked at this development as a negative but recent stories of protests spreading to mines across Peru have forced new President Humala to declare a state of emergency and crackdown on protesters.
One may see this as a negative but when President Humala won the Presidential election earlier this year, there were worries that he may take a leftist slant with regard to the mining industry. However, the crackdown indicates otherwise, which turns this into a positive.
Akyem continues to advance and Newmont has begun to hedge a portion of the cost structure as inflation is beginning to strain cost projections on major projects.
A feasibility study on the Merian project in Suriname has begun with an expected delivery date in the fourth quarter of 2012 and a target production date of 2015 at 300,000 ounces of gold per year.
Current gold prices indicate a real possibility of a $0.425 dividend for the first quarter of 2012 which at current prices would indicate an approximate 2.5% annualized dividend.
Volatility has increased across the global markets as uncertainties surrounding Greece, the European banking sector and the global economy have given stocks a very bumpy ride, making many gold producing stocks very volatile. Newmont escapes most of the volatility with the gold price linked dividend, effectively putting a floor under the price of the stock.
While growth may not be a strong part of the initial picture investors can take solace in the dividend which provides stability and safety in the current environment.
Disclosure: I have no positions in any stocks mentioned, and no plans to initiate any positions within the next 72 hours.
Additional disclosure: Source: Newmont website.