Yesterday Phillips 66 (NYSE:PSX) announced another quarter of excellent earnings - this time on the back of strong West Coast refining margins. Results from the refining segment were offset by weaker results in the company's other three business segments. Net-net, EPS of $1.79/share beat Wall Street estimates by $0.11. The company continues to perform very well and the long-term growth story - riding the wave of the "Shale USA" renaissance - is still firmly intact.
As can be seen by the graphic below, PSX's refining segment led the way in Q1:
Refining margins were the strongest in two years. Specifically, Phillips 66 benefited from refinery issues in California during the quarter that continue to affect West Coast gasoline prices to this day. These include:
An explosion at an Exxon Mobil (NYSE:XOM) refinery in February.
Flaring at the Chevron (NYSE:CVX) Richmond refinery. Chevron has also shut some units at the El Segundo facility for planned maintenance.
Unplanned maintenance at the Tesoro (TSO) Los Angeles refinery as well as minor issues at the company's Martinez facility.
As a result, California gasoline prices are sky high - as much as $4.89/gallon. Phillips 66 has three West Coast refineries that produce 360,000 bpd and is working diligently to increase the slate of advantaged crude feedstock to these refineries by rail: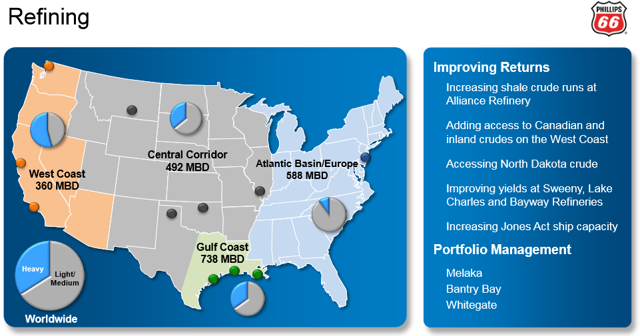 Quarter-over-quarter, this fundamental backdrop led to a huge spike in West Coast refining profits: up $212 million over Q4: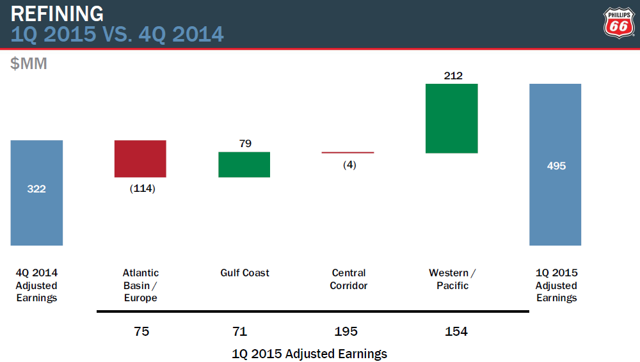 Unfortunately, strong refining results were somewhat offset by continued weakness in NGL pricing - both at DCP Midstream and the company's own NGLs business. In addition, lower polyethylene sales prices reduced earnings from the Chemicals segment. Marketing & Specialties results were negatively impacted by lower global marketing margins as compared to the strong margins realized in the Q4 FY14. First-quarter refined product exports were only 86,000 bpd, down 57,000 bpd from the prior quarter primarily due to refinery turnarounds in Q1. Yet despite these short-term issues, the long-term outlook for all four of PSX's business segments is bright. That said, the company reported that it, along with co-owner Spectra Energy (Pending:SE), is in the process of looking at a possible restructuring of DCP Midstream - one of the largest NGL processors in the US.
Shareholder Returns
Phillips 66 continues to reward shareholders for its excellent financial returns. During Q1, the company PSX paid out $272 million in dividends and repurchased 5.6 million shares of common stock for $399 million (an average of $71.25/share). The stock closed yesterday at $79.31.
Investors should expect a nice bump in the dividend at next week's annual shareholder meeting on May 6th. Last year at this time, PSX raised the quarterly dividend 28% to $0.50/share. Considering 2015 will be the peak of cap-ex spending due to some large organic growth projects, I am not expecting such a large increase this year. However, a 15-20% increase is certainly possible. At the upper end of that range, the dividend would rise to an annual rate of $2.40/share. That would equate to a yield of 3% at yesterday's close.
Growth Projects
Speaking of the large organic growth projects, PSX gave some updates on them in the Q1 EPS release. The Sweeny Fractionator One is over 70% complete and the Freeport LPG Export Terminal is about one-third complete. Both projects were reported to be on schedule and on budget with startup expected in the second half of 2015 and 2016, respectively.
In addition, PSX is engaged in two joint ventures to develop the Dakota Access Pipeline ("DAPL") and Energy Transfer Crude Oil Pipeline ("ETCOP"). DAPL is expected to deliver up to 450,000 bpd of crude oil from the Bakken/Three Forks production area in North Dakota to market centers in the Midwest. ETCOP will provide crude oil transportation service from the Midwest to the Gulf Coast, including Phillips 66's Beaumont Terminal. The DAPL and ETCOP projects are expected to begin commercial operations in Q4 of 2016. On the conference call, PSX President Tim Taylor said the company believes the combination of these two new pipelines will be
...one of the lowest cost options to get crude from the Bakken into the Gulf Coast.
Taylor also said the company is working on a solution to get this advantaged Bakken crude from Beaumont over to refineries in Louisiana. This is because Louisiana Light Sweet crude ("LLS") remains tight logistically (and therefore more expensive) because getting Bakken into Texas and Louisiana, either by pipe or ship, remains constrained.
Energy Transfer (NYSE:ETE) will own 75% of both pipelines. PSX will own 25%. Longer term, PSX's interest in both pipelines will likely end up at Phillips 66 Partners (NYSE:PSXP), the company's MLP. More on PSXP in a subsequent article.
Summary & Conclusion
The bullish fundamentals for Phillips 66 are still firmly intact:
Availability of low-cost advantaged crude feedstock for its refineries (WTI/WSC).
Low priced natural gas feedstock for refineries and chemicals.
Higher volumes of oil, NGLs, and natural gas feedstock for the midstream business - including PSXP.
Shareholder returns are robust and growing. Investors without a stake in PSX should take advantage of yesterday's sell-off and start a position before next week's dividend increase. With a P/E=9.5 and a current dividend yield of 2.6%, the stock is hardly expensive. Despite the sometimes volatile trading in PSX, this is not a stock you want to try and time your trades. Just buy it and hold it. Five years from now you will glad you did.
| | |
| --- | --- |
| Market Cap: | $43.01B |
| P/E ("ttm"): | 9.52 |
| EPS ("ttm"): | $8.33 |
| Div & Yield: | $2.00 (2.60%) |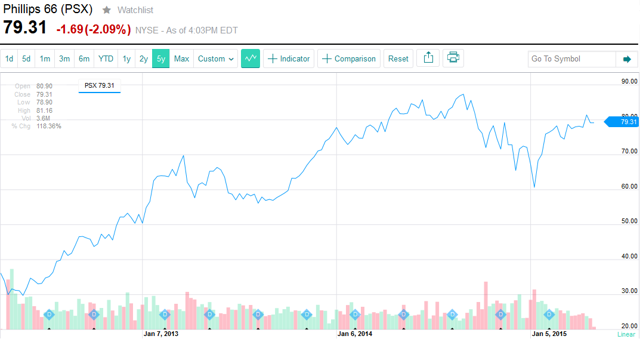 Disclosure: The author is long CVX, PSX, PSXP, XOM.
The author wrote this article themselves, and it expresses their own opinions. The author is not receiving compensation for it (other than from Seeking Alpha). The author has no business relationship with any company whose stock is mentioned in this article.
Additional disclosure: I am an engineer, not a CFA. The information and data presented in this article were obtained from company documents and/or sources believed to be reliable, but have not been independently verified. Therefore, the author cannot guarantee their accuracy. Please do your own research and contact a qualified investment advisor. I am not responsible for investment decisions you make. Thanks for reading and good luck!