La Nina as it pertains to climatology occurs when the waters of the east central Pacific Ocean are notably cooler than normal. Where as a result, global weather patterns are subject to shift, particularly within the tropical regions. Most notable are delayed seasonal rains, a higher than average or less than average rainfall and shifts in the equatorial air temperature. Coffee, sugar cane, cotton and cocoa all have optimal growing conditions, where excessive can destroy a crop as easily as not enough.
An October 2011 report from the National Oceanic and Atmospheric Administration (NOAA) states:
"NOAA expects La Niña, which returned in August, to gradually strengthen and continue through the upcoming winter.

With La Niña in place Texas, Oklahoma, New Mexico and parts of surrounding states are unlikely to get enough rain to alleviate the ongoing drought. Texas, the epicenter of the drought, experienced its driest 12-month period on record from October 2010 through September 2011."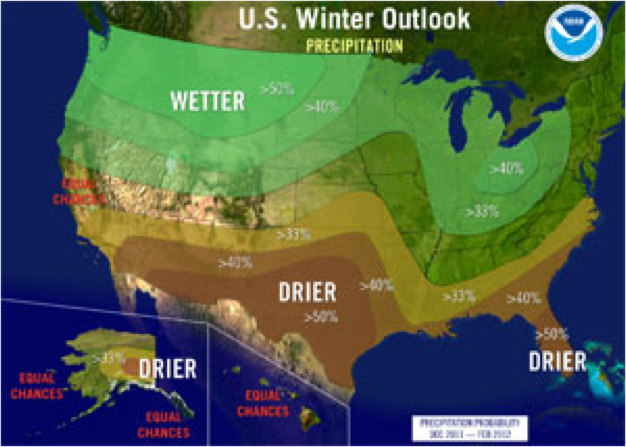 (Source NOAA)
Forecasts for the next two to three quarters (winter 2011 – spring/summer 2012) should mirror what was seen last year:
Heavier more destructive storms in the Pacific Northwest. Heavier than usual snowfall in the mountains may trigger spring floods within the Missouri River Basin into the Northern Plains.
The Southern Plains and Gulf Coast States are not expected to receive enough moisture (rain) to ease the drought conditions that have gripped the area.
The Ohio River and its tributaries will have a higher potential for increased flooding.
Hawaii could see an easing of the drought conditions across the state with Kauai and Oahu likely seeing full recovery.
Tropical growing regions bordered by the equator will be impacted around the globe by the strengthening La Nina conditions; from Central and South America (sugar cane, coffee and produce) to Africa (cocoa, coffee) to India and Asia (sugar cane, coffee).
IMPACT
Source: NOAA
The polar jet stream (purple) arches up into Alaska allowing the more variable pacific jet stream to bring stronger storms to the Pacific Northwest of the US. Of concern are the continued dry conditions from New Mexico, into Texas, and Florida. Two consecutive years of La Nina events are already credited for the worst drought in Texas history. The NOAA gives a 40% chance for a rare third year of La Nina events, which could add to the already $5.2 billion losses to Texas agriculture, where cotton farms and cattle ranches have been some of the hardest hit. The drought will also keep parts of Louisiana, Alabama, Mississippi, and Florida, without enough rain to produce a healthy sugar cane or citrus crop.
Globally, Australia has announced a bumper cotton crop while monsoon rains devastate parts of the cotton-growing region of India producing an 80% decline in exports.
The tropical growing areas of the equatorial region(s) around the globe will feel the impact as well. Coffee, sugar cane, banana, citrus, and agricultural production will see shortages.
The Ivory Coast, the world's largest cocoa exporter, has declared a bumper crop for 2011- 2012, which has puzzled many after years of fighting between political factions disrupted farming and exports of cocoa. Should another flare up occur cocoa prices could rise quickly. The effect would take some time to ripple down to the consumer level.
Indonesia has suffered longer and "unusual" wetness causing a 6.3% decrease in cocoa exports to a 14.7% decrease in coffee exports.
Uganda saw coffee exports decline by 15% in November. Heavy rains in Vietnam are now threatening to delay picking of their coffee crop.
Back to back La Nina events are not common with the last 100 years seeing only 10 occurrences and within that small group only 5 went on to produce a third year, the last time being in the mid 20th century.
The economic impact of La Nina has more of a ripple effect within the agricultural supply chain taxonomy. Growing regions outside of La Nina's grip will benefit from higher prices as supply and demand play out. China recently purchased 100,000 tons of Thai sugar. Chinese demand figures suggest an additional 1.9 million tons are needed thru 2013.
Heading into its third year the La Nina factor has been priced in to or out of the market(s) as quickly as the weather itself can change. The cycle of El Nino / La Nina is also at a turning point. Bear in mind though, the actual turn can take a year or more to occur as the pendulum swings from extreme to extreme.
Opportunities will be numerous as price volatility continues to govern the markets thru 2013. Taking a look at the agricultural supply chain revealed several conglomerate powerhouses. The individual "softs" supply chain(s), (cocoa, coffee, sugar and cotton) each have more "seasonal" opportunities.
Agricultural Conglomerate(s)
(Click charts to expand)
Technical Outlook for Agricultural Conglomerates
The three large conglomerates with roots in agriculture and branches across other industry sectors have a combined market capitalization of $91.36 billion and collectively employ just under 177 million people worldwide. Currently yielding (dividend) 2.05 % Hormel Foods Corporation (NYSE:HRL), 2.34 % Archer Daniels Midland Co. (NYSE:ADM) and 3.19% Kraft Foods Inc. (KFT).
I would not be looking for any to fail or be unable to meet financial obligations within the next 3 to 4 years. The possibilities for additional 2011 highs is not out of the realm of reality, but may not arrive until 2012 with the overall breadth and momentum not as robust as already seen. Or when weighed against the impact/effect of a third year of La Nina.
The market(s) may have already priced in the La Nina factor with other more "normal" cyclical forces again in play. In following the ripple across the supply chains I found pockets of opportunity in Ag Conglomerates (Part I), Cocoa, Sugar, Coffee (Part II), and Cotton (Part III).
Archer Daniel Midlands
ADM is one of the world's largest processors of oilseeds, corn, wheat, cocoa, and other agricultural commodities. ADM is also a leading manufacturer of vegetable oil, protein meal, corn sweeteners, flour, biodiesel, ethanol, and other value-added food and feed ingredients. ADM has an extensive grain elevator and transportation network to procure, store, clean, and transport agricultural commodities, such as oilseeds, corn, wheat, oats, and barley, as well as processed agricultural commodities.
ADM has significant investments in joint ventures. During the past five years, the company has grown its agricultural commodity processing and handling capacity through construction of new plants, expansion of existing plants, and the acquisition of plants and transportation equipment. ADM anticipates that approximately one-half of its proposed $2 billion investments will relate to non-U.S. operations and a significant portion of the U.S. investments will support ADM's ability to serve export markets.
Archer Daniels classifies itself into three reportable business segments: Oilseeds Processing, Corn Processing, and Agricultural Services. ADM's remaining operations, which include wheat processing, cocoa processing, and its financial business units, are not reportable business segments, as defined by the applicable accounting standard, and are classified as Other.
According to Revere Data, as of 6/30/2011 ADM's geo rev breakdown was as follows:
United States 52.5%
Switzerland 10.4%
Germany 7.7%
Other 29.3%
ADM falls into 4 Industry Sectors:
Consumer (Focused)
Finance
Healthcare
Industrial & Materials
And then into 6 subsectors: (respectively)
Consumer Products & Services
Banking (Finance)
Insurance (Finance)
Investment (Finance)
Nutritional Health
Materials (chemicals)
Over 75% of ADM's revenue is generated within Oilseeds Processing (38%) and Agricultural Services (39.6%).
The mid-term technical outlook for ADM does suggest follow through to the upside. Currently ADM trades just below $30. At this point, though I would not be looking for a move to carry prices above $42. Resistance begins at $30.85 to $32.30 and if this zone contains upside momentum the prognosis is gloomy at best for prices. A break with follow through should clear the path for a test of next resistance at $35.30 and should that level be broken with follow through the best upside scenario comes into play with the advance likely reaching into strong resistance at $39.40 to $41.90.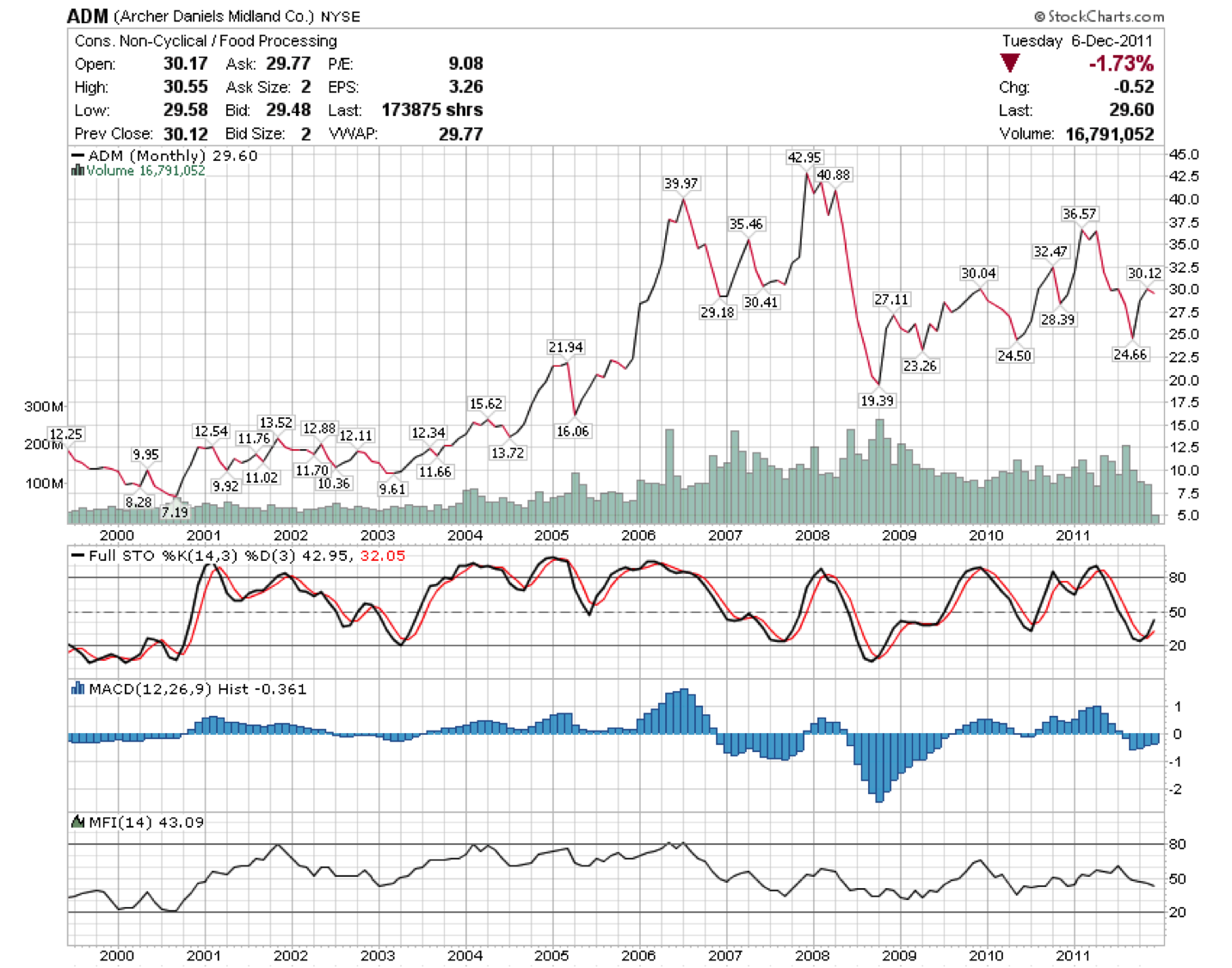 Long-term expectations include an additional down leg occurring. The severity and depth would be determined by which resistance zone contains upside momentum. ADM's "comfort" trading zone appears to be bound between 7.20 and 15.70.
The stochastic oscillator supports additional upside and is currently pointing higher just below neutral. The MACD is also rising from oversold readings. The caveat at the moment would be the MFI oscillator, which is pointing downward right below neutral, suggesting the sellers have the advantage at the moment.
Hormel Foods Corp
Hormel is primarily engaged in the production of a variety of meat and food products and the marketing of those products throughout the United States and internationally. Pork and turkey remain the major raw materials for its products, however, HRL has focused on the manufacturing and distribution of branded, value-added consumer items rather than the commodity fresh meat business.
Internationally, HRL markets its products through Hormel Foods International Corporation (HFIC), a wholly owned subsidiary. HFIC has a presence in the international marketplace through joint ventures in Australia, Canada, China, Japan, and the Philippines.
On October 26, 2009, Hormel completed the formation of MegaMex Foods, LLC a 50 percent owned joint venture, which markets Mexican foods in the United States.
Effective February 1, 2010, HRL also completed the acquisition of the Country Crock business from Unilever United States Inc.
Over 70% of Hormel's products are perishable meats and poultry. La Nina conditions may impact feed prices with the ripple effect pushing cattle and pork prices as well.
The technical outlook favors additional upside taking place before a more sustained deeper correction occurs. The current advance began off of the 2009 lows. So while the advance has "legs" it is best to view additional upside as the finishing moves to the uptrend.
A break back above $30.11 should re-establish a resistance zone at $32.25, $35.60 and $41 and at this juncture the lower to mid point of the zone is the more likely area to contain buying.
If though, $30.11 holds and prices drop back below $27 a support zone begins to form at $23.40 being the high point, $21.40 being the mid-point, and $19.30 being the low-point.
The stochastic oscillator remains in overbought readings (since late 2009) and has not turned lower yet, which favors additional upside.
The MACD has dropped back to neutral from overbought.
The MFI oscillator has formed a parallel line just below overbought and does not appear ready to falter.
HRL sits toward the lower end of the dividend yield range at 2.05%. Noticeable trading wise are volatility levels for mid- to long-term options contracts. Computer models are not expecting anything to "rock the boat," which in turn gives some opportunities via low volatility in the mid- to long-term options. Of particular interest would be the June 2012, 30/25 put spread (buy the June 30 put, sell the June 25 put) for a $1.95 debit or better. If the stock moves above $30.11 with follow through the spread should become cheaper – so I am keeping it on my radar screen for now.
Kraft Foods (KFT)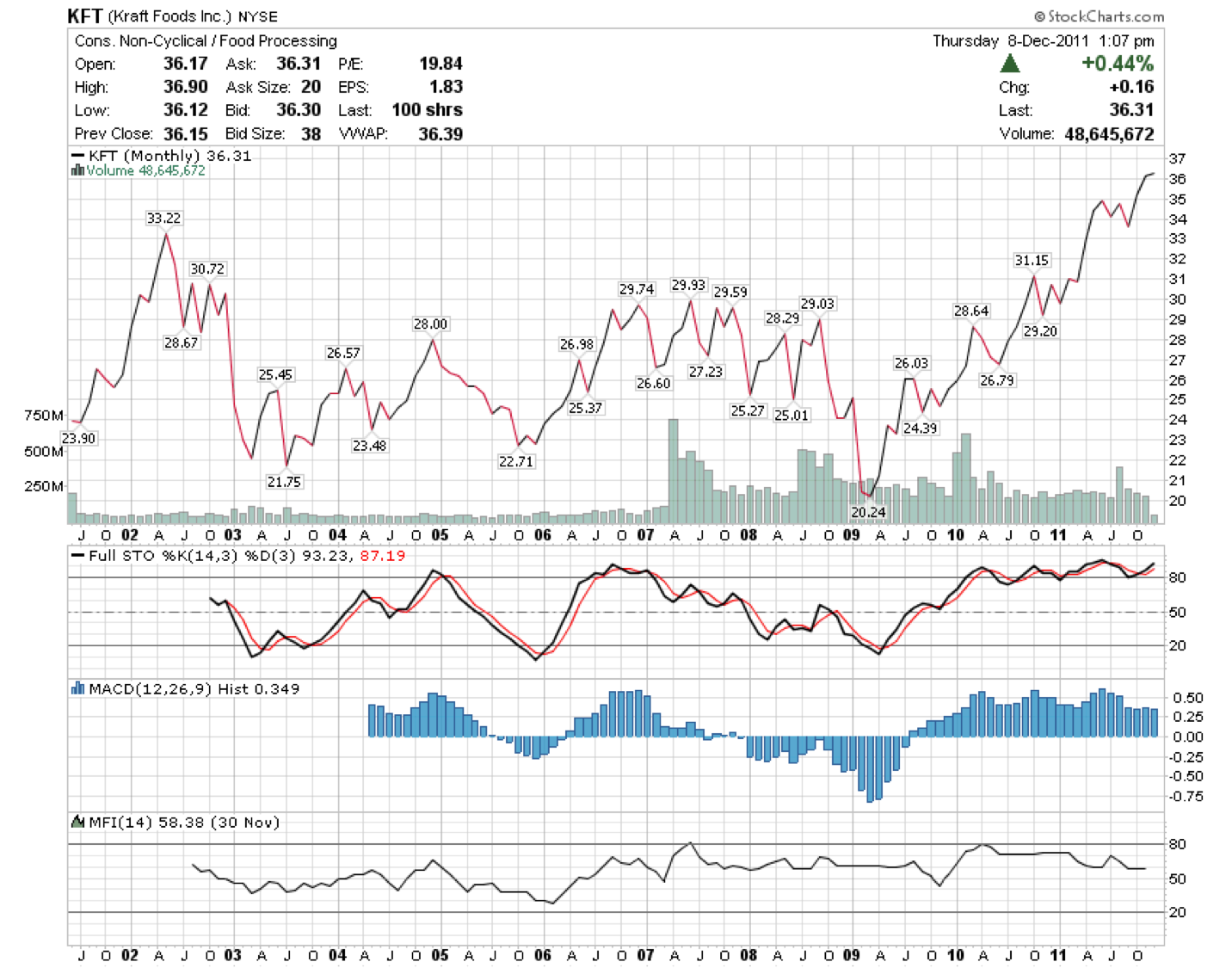 Kraft (KFT) manufactures and markets packaged food products, including biscuits, confectionery, beverages, cheese, convenient meals and various packaged grocery products. KFT operates in three segments: Kraft Foods North America, Kraft Foods Europe and Kraft Foods Developing Markets. Kraft has operations in more than 75 countries. Kraft major brands include Oreo, Nabisco; Cadbury chocolates; Trident gum; Jacobs and Maxwell House coffees; Philadelphia cream cheeses; Kraft cheeses, dinners and dressings, and Oscar Mayer meats.
The outlook for KFT is very similar to the balance of conglomerates. Off of the 2009 lows the advance appears to be in its finishing stages rather than picking up strong upside momentum. The next resistance zone appears to be clustered between $39.40 and $43. If the $37 level is not broken – mid- to long-term support would form a zone with $30.60 being the high point, $28.60 the mid-point, and $26.60 being the low point.
The stochastic oscillator has vacillated around the overbought line since 2010 and continues to point higher. The MACD is holding steady at neutral and the MFI oscillator is move parallel just above the neutral line.
The risk reward ratio appears to have turned in favor of a top being put in place as the market here as well seems to be factoring no change in the 'Status Quo.' Option volatility in the long-term options (Jan 2014) is under 24.
Due diligence is the responsibility of each trader to perform when adding to or adjusting any position. Not all stocks or sectors carry the same level of risk or meet the same investment objectives. Due diligence will prevent you from trying to put a round peg in a square hole.
Disclosure: I have no positions in any stocks mentioned, and no plans to initiate any positions within the next 72 hours.