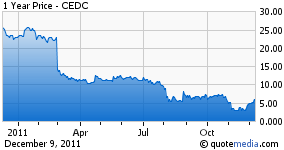 Russian Standard, one of Russia's top makers of premium vodka, first acquired a 9.9% stake in Central European Distribution (NASDAQ:CEDC) in late November then acquired an additional 19.9% stake. That means Russian Standard now owns 29.8% of the company. That seems suspicious, especially since it was over a short time span. Could Russian Standard want to buy the company or increase its stake further?
CEDC is still selling for 0.45 and 0.53 times sales and book, respectively. Trailing revenue is $825.89. Currently, shares have a market cap of $439.35 million, about half its trailing revenue. Forward PE is about 10. By these standards, CEDC looks cheap.
CEDC is one of the main distributors of vodka in Eastern Europe and has a 10% stake in the Russian market. By buying CEDC, Russian Standard gains a near monopoly of the Russian market for premium vodka with a strong foothold in Eastern Europe. Thus, buying CEDC or increasing its stake further seems in Russian Standard's best interest.
Disclosure: I have no positions in any stocks mentioned, but may initiate a long position in CEDC over the next 72 hours.