Semiconductors are the building blocks of everything in the modern world except food and clothing. Since integrated circuits are at the beginning of the supply chain they lead end-product sales by approximately 2 to 3 months. I always look at revenue rather than earnings when using the semiconductor industry as a tell for overall economic activity.
From Altera's (NASDAQ:ALTR) mid quarter update:
The company currently expects that fourth quarter revenue will be 13 to 16 percent lower than third quarter levels. Previous guidance was for a decline of 7 to 11 percent. The revenue outlook has deteriorated across all major vertical markets, including both large and small customers. With the exception of North America , which will benefit from rising military sales, all geographic regions will be weak. As the quarter has progressed, economic uncertainty, macroeconomic concerns, and, in some instances, lower than planned sales have resulted in customers reducing demand on Altera. Consistent with the third quarter, Altera believes it will continue to under ship customer end demand in the fourth quarter.
Texas Instruments (NYSE:TXN) also cut revenue guidance:
Texas Instruments Incorporated today narrowed and lowered its expected ranges for revenue. Revenue will be $3.19B - 3.33B (4% to 8% lower than 3rd quarter levels) from prior guidance of $3.35B to $3.54B. The reductions are due to broadly lower demand across a wide range of markets, customers and products, except for Wireless applications processors.
That leaves only Advanced Micro Devices (NASDAQ:AMD), Cirrus Logic (NASDAQ:CRUS), Qualcomn (NASDAQ:QCOM), Intel (NASDAQ:INTC), Nvidia (NASDAQ:NVDA), and SanDisk (SNDK) with a midpoint of sequential 4th-quarter revenue guidance that is not negative. One can make a case for Cirrus Logic, Qualcomn, and SanDisk for hitting their revenue guidance although I would suspect it would be at the lower end of the range. As for Intel and AMD, I am not sure as their primary business is processors for PCs and servers. Nvidia also participates in the mobile space with their Tegra processor but over 80% of it's revenue is from graphic processors that go into consumer, gamer, and professional market. Note: the 20 other semiconductor firms I track are providing negative sequential guidance.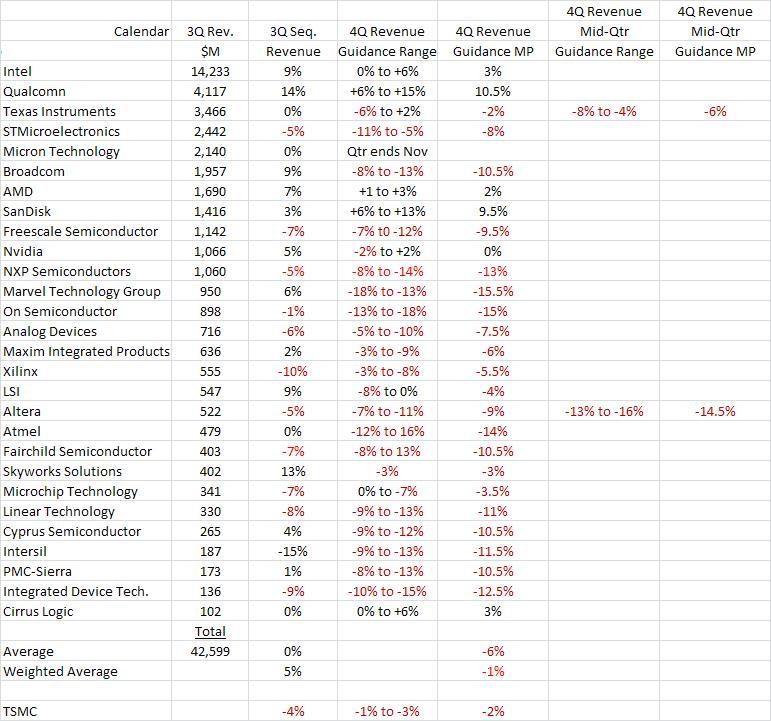 In conclusion, I look at the above 4Q revenue guidance for the semiconductor companies in aggregate and try not to single out any specific company for a short position. Perhaps an inverse short ETF such as (NYSE:SSG) or shorting the semiconductor ETF (NYSEARCA:SMH) is appropriate for some.
I feel a more appropriate way to play the world wide economic slowdown is by shorting the S&P 500 ETF (NYSEARCA:SPY) or inverse short ETFs such as (NYSEARCA:SH) or (NYSEARCA:SDS). I do admit to the headline risk this Friday and weekend about potential wonderful fixes of the European Debt problem. Most importantly, my call is based on the slowing economy world wide rather than any potential "Lehman Like" moment.
Disclosure: At the time of writing I have a 20% short position in the short S&P 500 ETF (SDS) along with 80% cash position.