When looking at the S&P 500 charts, I get that sick feeling in the pit of my stomach that I would get when the local fair came to town and I got aboard the Tilt-A-Whirl after an enormous feed on cotton candy. As investors watch their stock portfolios jump 10% one week followed by a 15% drop over the next two weeks, how can they smooth out the bumps for a calmer ride?
Diversification Holds the Key
Diversification is a broad concept that simply refers to having a variety of investments that are somewhat dissimilar. Financial advisors keep telling their clients to balance bonds, equity and cash. What about diversification within the stock market?
Finding low-correlation, publicly traded investment products is increasingly challenging as globalization ties international markets closer together. A deep recession in one country will see its citizens selling their equities - and many of these holdings are companies based in other countries. An increase in international trade can upset the apple cart when trouble strikes one of the participants.
Uncovering new diversification opportunities often means buying a product that has still not gained wide acceptance in the investment community. This may help the investment to trade with greater independence from the broad market. While this may run counter to our gut instincts, buying a wide selection of low correlation investment products that individually seem to carry higher risk can, in fact, smooth out portfolio volatility.
Small Cap Developing Markets
The paper International Equity Diversification: Small-Cap Versus Small-Market Effects highlights two keys to finding equity diversification: small stocks and small markets. Emerging markets, or better yet Frontier markets (pre-emerging markets), may make the average investor nervous – and this is good for our diversification tactic. Many investors still have doubts about foreign investments and prefer to stick closer to home.
Even if some investors do invest internationally, they may show a preference to large cap companies such as BHP Billiton Ltd (NYSE:BHP), based in Australia; Vodafone Group (NASDAQ:VOD), based in the UK; or the Royal Bank of Canada (NYSE:RY). The problem with this sort of international investing is that the UK, Australia, Canada, and the US are more highly correlated to one another - and even more so with large cap stocks with listings on many exchanges. The S&P 500 has constituents with headquarters from many countries, but we want far more diversification than what the market offers.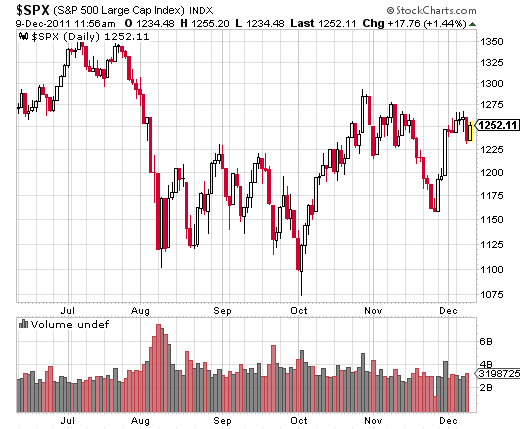 By investing in small-cap companies around the world with a focus on the smaller markets, we can gain that much needed diversification for a more balanced portfolio.
Gold Stocks and Diversification
With soaring gold prices, some question whether precious metals are still a good method to diversify with. A recent report by the World Gold Council focused on European investors but much of what was written can be applied to investors in general. Long-term investors should reconsider adding exposure to gold, not as a method of boosting portfolio performance, but to lower downside risk and to smooth out volatility. Studies have shown gold to be a long-term inflation hedge (although recent speculation has seen gold rise faster than inflation).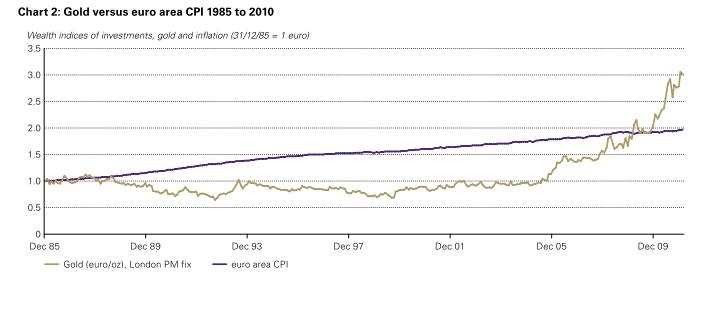 Despite fast-moving gold prices, adding a certain amount of exposure in your portfolio can actually dampen volatility. Having a minimum of 1 - 3% of your portfolio based in gold investments is recommended for low risk investors and some see a benefit up to 5%.
Small-Cap Gold Stocks in Africa
The paper On the Determinants of Foreign Direct Investment to Developing Countries: Is Africa Different? deals with some of the reasons for a lack of foreign investment in Africa. Part of it is tied to uncertainty in policy, and some is linked to fear of the unknown. Risk-rating agencies often view Africa as inherently risky despite strong underlying fundamentals. As well, foreign investors may lack knowledge of the various countries in the continent and treat the entire area like one big country.
Because of these fears and a perceived lack of transparency, investors wanting gold investments may instinctively gravitate toward well-known giants like Goldcorp Inc. (NYSE:GG) and Barrick Gold Corporation (NYSE:ABX) with primary exposure to the Americas and Australia.
While risk needs to be determined on a case by case basis for individual countries, the genuine ignorance of Africa in local markets could prove to be a benefit for investors seeking diversification. What are a few choice picks in the field of African small-cap gold stocks?
Loncor Resources (NYSEMKT:LON)
With headquarters in Toronto, Canada and with shares trading on the AMEX and TSX Venture Exchange, Loncor is a promising gold exploration company focused on the Democratic Republic of the Congo (see fact sheet here). This small company, with less than $80 million in market cap, has not gone without notice. The titan, Newmont Mining (NYSE:NEM) with a market capitalization of $32.87 billion, has a 16.87% interest in Loncor. I also find that high insider ownership (34%) helps management align their interests with shareholders. There is a lot that I like about this small company and it could be worth your time to investigate it further.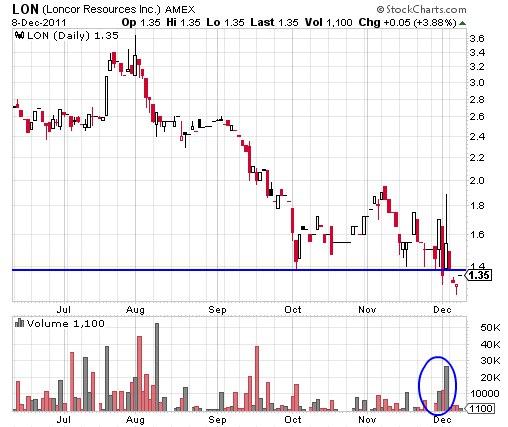 The stock is trading quite low at this point, which could be a good entry. It is trading on very low volume below support, perhaps as a byproduct of the voting results delay (although it now seems Kabila was re-elected). A cross above $1.39 on decent volume could provide investors with a good buying opportunity.
Banro Corporation (NYSEMKT:BAA)
While investors might be more familiar with the big mining companies that have some limited exposure to Africa such as Kinross Gold (NYSE:KGC) or Freeport-McMoRan Copper & Gold (NYSE:FCX) with their multi-billion market cap operations, they might do well to familiarize themselves with smaller companies (although more speculative) such as Banro. With production starting in October this year in the Twangiza oxide mine, it is projected to produce 120,000 ounces of gold during the first year. 6.74 million ounces are measured and indicated with another 4.59 million inferred (stats from website and slight variation from Banro fact sheet).
Also to be considered is the cost of mining. According to the Gold Mine Coast Report (Q1 2011), the average global cost of mining earlier this year was $620 per ounce. In South Africa the average cash cost per ounce is $869 with the rest of Africa being much lower at $647. Banro clocks in below the average at a $500 per ounce average cost.
A notable extreme for mining costs reported in the Gold Mine Coast Report was the Bonikro mine located in the Ivory Coast run by Newcrest (OTCPK:NCMGF) with a cost of $2,134 per ounce. Due to political unrest, operations were suspended in March with a scheduled resumption in June a few months later. Medusa Mining Limited (OTCPK:MDSMF) reported cash costs of only $189 per ounce in June 2011 - some of the cheapest in the world.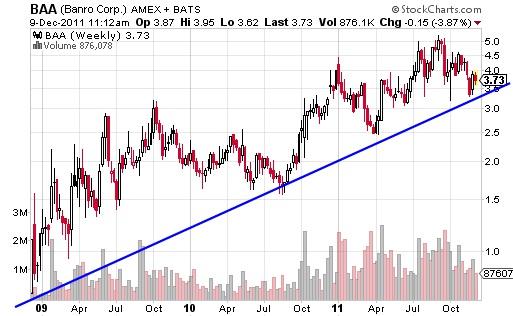 Extra trading notes: this stock is trading in a healthy upwards trend. The recent consolidation could provide a good buying opportunity over the next few weeks. Volume has picked up notably since October.
Broadening Your Portfolio
These are just a couple of picks worth considering at as markets roar up one week and down the next. Instead of trying to ride and react to every little volatile swing, investors focused on a creating smoother long-term portfolio performance should seriously consider gaining some exposure to small-cap gold stocks in developing or emerging markets such as Africa.
Disclosure: I have no positions in any stocks mentioned, and no plans to initiate any positions within the next 72 hours.