In this article we will discuss the following seven stocks: AT&T, Inc. (NYSE:T), Verizon Communications Inc. (NYSE:VZ), Merck & Co. Inc. (NYSE:MRK), Pfizer Inc. (NYSE:PFE), Johnson & Johnson (NYSE:JNJ), Intel Corporation (NASDAQ:INTC) and Kraft Foods Inc. (KFT).
Overview
The stocks discussed are blue chip U.S. multinational stocks. According to the New York Stock Exchange, a blue chip is a stock in a corporation with a national reputation for quality, reliability and the ability to operate profitably in good times and bad. The most popular index that follows U.S. blue chips is the Dow Jones Industrial Average. The Dow Jones Industrial Average is a price-weighted average of 30 blue-chip stocks that are generally the leaders in their industries.
I posit these stocks have extremely favorable risk/reward ratios coupled with significant upside potential based on macroeconomic, sector- and company-specific catalysts. These stocks have great stories and positive facilitators for future growth. However, many are trading at substantial values due to incessant negative macroeconomic headlines from the eurozone and a lack of confidence from Main Street based on the ever-present deleterious employment picture.
When the eurozone gets its act together, and they took a huge step today by signing a new pact, and the global economy achieves viable economic traction, you can kiss the current share prices goodbye. I envision a day in the not-too-distant future where we will look back at current market levels in awe of the amazing values currently presented.
We saw an inkling of positivity in the headlines out of Europe last week regarding the eurozone sovereign debt crisis as well as the U.S. unemployment situation which triggered a rally of epic proportions. Today's new deal is a critical step in the right direction for the eurozone and global markets. If things go well, this could be your last chance to pick up these stocks at this level, although the S&P ratings agency may provide one more buying opportunity next week with possible downgrades coming for the eurozone sovereigns.
The FOMC minutes for the two-day November meeting suggest that under current economic circumstances the Federal Reserve will may engage in a third round of quantitative easing. The solution to the eurozone's sovereign debt issues will inevitably lead to euro printing presses cranking up, allowing them to paper their way out of their solvency problems, which will only spur stock prices even higher.
Compelling Fundamental Statistics
The stocks discussed are S&P 500 buy-rated large-cap or better stocks with extremely strong fundamentals, performance statistics, earnings and dividends. Dividend stocks have outperformed the market over the last six months and the CBOE Volatility index was down significantly today which means investors' fear factor has been significantly reduced. Additionally, these stocks have great stories and positive catalysts for future growth. Moreover, most of these stocks are trading well below consensus analysts' estimates, have recent upgrades and positive analyst comments. Below are three tables with detailed statistics regarding each company's current summary, fundamental and earnings information.
Summary Statistics
Click to enlarge

Fundamental Statistics

Earnings and Dividend Statistics

Charts provided by Scotrade.com.
Company-Specific Potential Catalyst
AT&T, Inc.
The iPhone 4S launched on three U.S. carriers simultaneously for the first time ever, but AT&T still takes home the gold in terms of the choices made by 4S customers when it comes to mobile networks, according to a new study by app analytics firm Localytics. See chart below.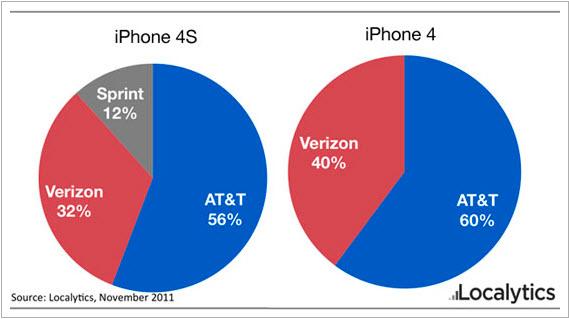 Localytics found that of the iPhone 4S devices running apps using its popular analytics platform, 56% use AT&T for voice and data services, while Verizon comes in second with 32%, and Sprint is a distant third with just 12% of all iPhone 4S impressions.
Verizon Communications Inc.
SpectrumCo, LLC, a joint venture between Comcast Corporation, Time Warner Cable and Bright House Networks, recently announced it entered into an agreement pursuant to which Verizon Wireless will acquire its 122 Advanced Wireless Services spectrum licenses covering 259 million POPs for $3.6 billion. Comcast owns 63.6% of SpectrumCo and will receive approximately $2.3 billion from the sale. Time Warner Cable owns 31.2% of SpectrumCo and will receive approximately $1.1 billion. Bright House Networks owns 5.3% of SpectrumCo and will receive approximately $189 million.
Merck & Co. Inc.
Merck, known as MSD outside the United States and Canada, recently announced the establishment of an Asia Research and Development (R&D) headquarters for innovative drug discovery and development located in Beijing, China. The new facility is part of a $1.5 billion commitment the company has made to invest in R&D in China over the next five years.
Pfizer Inc.
Pfizer Inc. recently announced the U.S. Food and Drug Administration's (FDA) Oncologic Drugs Advisory Committee (ODAC) voted unanimously 13 to 0 that data for the investigational agent axitinib support a favorable benefit/risk profile for the treatment of patients with advanced renal cell carcinoma (RCC) after failure of a first-line systemic therapy. The ODAC panel's recommendation will be considered by the FDA when making its decision regarding Pfizer's New Drug Application (NDA) for axitinib as a treatment for advanced RCC. Approximately 58,000 new cases of RCC are diagnosed in the United States each year, and approximately 20% to 30% of these patients have advanced disease at the time of diagnosis. Around 13,000 individuals die of this tumor in the U.S. each year.
Johnson & Johnson
Janssen Biotech, Inc., one of the Janssen Pharmaceutical Companies of Johnson & Johnson, recently announced it has executed an agreement with Pharmacyclics, Inc. (PCYC) to jointly develop and market the anti-cancer compound PCI-32765. A number of Phase 1 and 2 studies with PCI-32765 are ongoing across a panel of B-cell malignancy disorders, including chronic lymphocytic leukemia, mantle cell lymphoma, and diffuse large B-cell lymphoma. Interim data were reported at the 2011 American Society of Clinical Oncology Annual Meeting and oral presentations on two separate Phase 2 studies will be presented at the upcoming American Society of Hematology Meeting in December, along with several other poster presentations.
Intel Corporation
Intel Corporation and Micron Technology (MU) recently announced a new benchmark in NAND flash technology - the world's first 20 nanometer, 128 gigabit multilevel-cell (MLC) device. The companies also announced mass production of their 64Gb 20nm NAND, which further extends the companies' leadership in NAND process technology.
Developed through Intel and Micron's joint-development venture, IM Flash Technologies (IMFT), the new 20nm monolithic 128Gb device is the first in the industry to enable a terabit of data storage in a fingertip-size package by using just eight die. It also provides twice the storage capacity and performance of the companies' existing 20nm 64Gb NAND device. The 128Gb device meets the high-speed ONFI 3.0 specification to achieve speeds of 333 megatransfers per second (MT/s), providing customers with a more cost-effective solid-state storage solution for today's slim, sleek product designs, including tablets, smart phones and high-capacity solid-state drives (SSDs).
Kraft Foods Inc.
Kraft Foods recently reported third quarter results driven by strong organic revenue growth and operating income gains in each geographic region.
Highlights
Net revenues grew 11.5% to $13.2 billion; Organic Net Revenues up 8.4%
Operating income grew 11.8%; Underlying Operating Income grew 12.2%
Diluted EPS was $0.52; Operating EPS was $0.58
Company increased outlook for 2011 Organic Net Revenue growth to at least 6%
Operating EPS guidance for 2011 raised to at least $2.27
Disclosure: I have no positions in any stocks mentioned, but may initiate a long position in T, VZ, MRK, PFE, JNJ, INTC, KFT over the next 72 hours.