Actionable Items:
Highest Positive Spread: The New Ireland Fund (NYSE:IRL)
Lowest Negative Spread: Blackstone / GSO Senior Floating Rate Term Fund (NYSE:BSL)
Focus Stock of the Week: CEF Dogs
Last Week's Focus Stock: Latin American Discovery Fund (NYSE:LDF)
CEF Weekly Review: On average, the 13 closed-end fund (CEF) types registered a share price increase of 0.3% for the week ending 12/9/11. The high-low spread (percentage price change difference between the highest and lowest fund types) registered this week was a narrow +2.1% versus an extremely wide +6.5% the previous week. On an aggregate unweighted basis, the weekly average price change for the 500 plus CEFs in the GrowthIncome database was up 0.4%.
The PowerShares CEF Income Composite (NYSE:PCEF), an ETF that invests in taxable income CEFs, advanced 0.5% for the week. PCEF is down 6.7% YTD based on share price and up approximately 1.6% when its current annualized yield of 8.4% is considered. S&P 500 advanced 0.9% in a volatile week and narrowed its YTD loss to 0.2%.
Trading Volume: The average daily volume for the S&P 500 (GSPC) was off 5.8% to 4.1 billion shares this week. Volume was subdued as investors waited for the results of the Brussels' eurozone summit.
(Click here for YTD CEF Performance. See "Research" Menu; "CEF Weekly Information" tab.)
The Eqcome CEF Fear Index was essentially flat on the upside. The average CEF unweighted price increased 0.4% while the average related NAV increased 0.5%. The VIX continued its downward trend dropping 3.5% this week after plunging 19.6% the previous week keeping it below the threshold fear factor number of 30 and ending the week at 26.52.
Uptick, Downtick: Weekly money flow was up 0.8% for the Dow Jones U.S. Total Stock Market Sectors for the week ending December 9th as 9 of the 10 sectors experienced money inflows. The Up/Down Ratio (share volume on price upticks versus downticks) was 0.98 indicating volume on the uptick was less than the downtick volume.
Financials was this week's money flow leader, up 1.5%; Basic Materials, last week's winner, experienced a decline of 0.5%
CEF Weekly Fund Type Performance: Equity-oriented CEFs advanced last week in sympathy with the 7.4% surged in the S&P 500 on hope of a success eurozone summit this week. And while it wasn't a "buy on rumor, sell of news", the average price appreciation for the 13 fund types was 0.3% with the fixed-income leading the pack.
image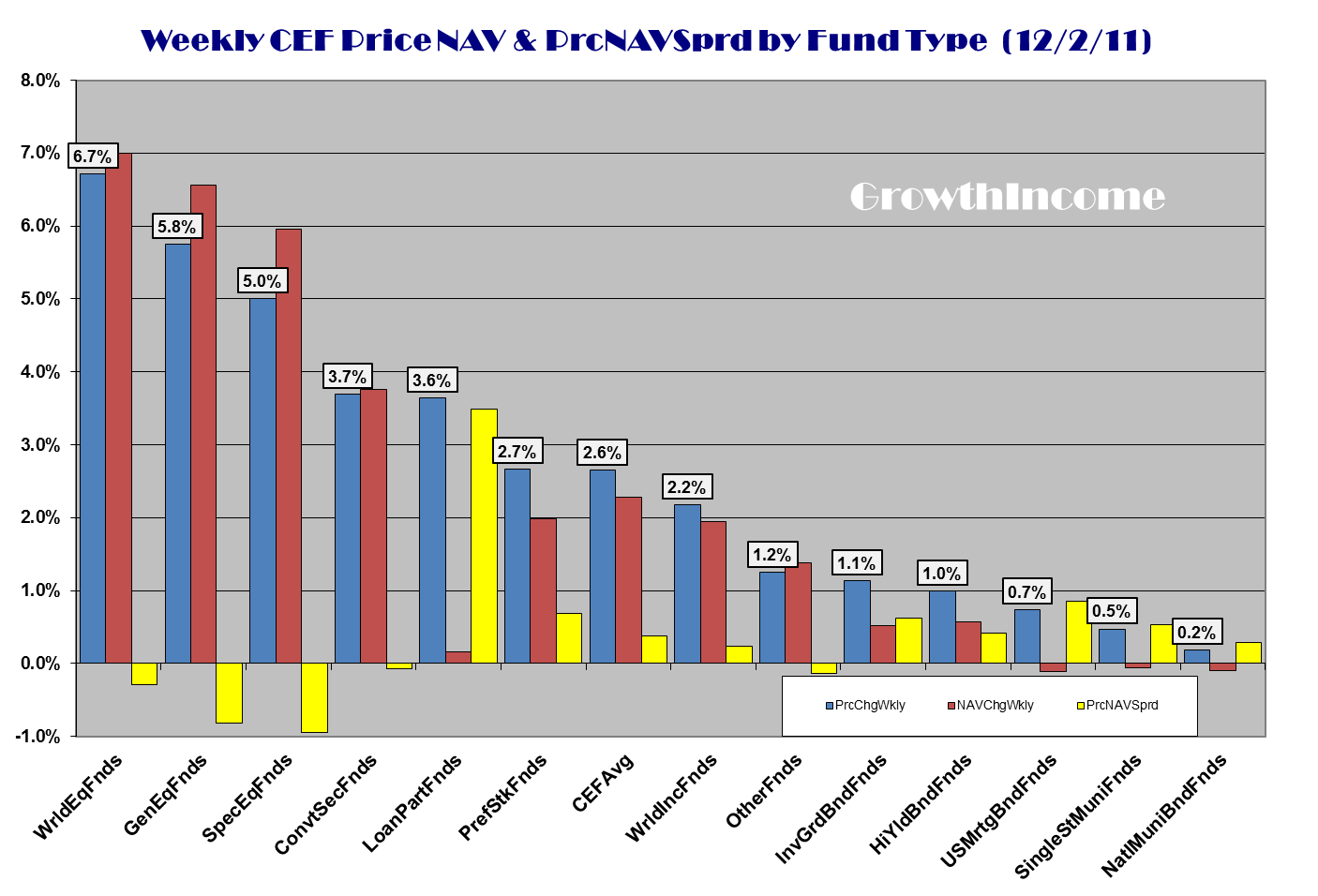 HiYldBndFnds, USMrtgBndFnds and WrldIncFnds posted price appreciation of 1.1%, 0.8% and 0.8%, respectively. SpecEqFnds and ConvtSecFnds posted modest losses of 0.1%. The SpecEqFnds funds type saw utility-oriented CEFs advance while commodity-oriented CEFs held down the group.
The largest negative PrcNAVSprd was recorded for LoanPartFnds where the average price change was -1.0% while the related NAVs advanced 0.1%
Weekly CEF Winners and Losers: One of the CEFs with the greatest positive PrcNAVSprd for the week was The New Ireland Fund (IRL). IRL's price increased 3.4% while its NAV advanced a modest 0.1% generating a positive PrcNAVSprd* of 3.3%.
IRL, as the name would imply, invests in equity and debt securities of Irish companies with a focus on technology, telecommunications and health care sectors. Its investment objective is capital appreciation. It is currently trading at 8.4% discounts, slightly better than its 52 week average of 12.3%. It pays a nominal annual distribution of less than 1%.
It appeared that investors got caught up in the enthusiasm of the inter-governmental agreement for solving the eurozone crisis of which Ireland is a participant. The stock shot-up 5.5% on Friday on 42,000 share volume which was 2.5 times its average 3 month volume.
If the enthusiasm for the current eurozone solution wanes IRL may backtrack some next week.
A CEF with the greatest negative PrcNAVSprd for the week was Blackstone / GSO Senior Floating Rate Term Fund (BSL). BSL's price decreased 4.0% while its NAV increased 0.1% generating a negative PrcNAVSprd of 4.1%. BSL trades at an annualized monthly yield of 7.0% and is selling at par versus its 52 week average of 1.5%.
The stock will go ex-dividend next Wednesday (Dec 14th) and again on December 28th with monthly distribution of $0.11 per share with payment dates of 12/30/11 and 1/13/12, respectively. It has also announced it February distribution at the same amount with ex-date of 2/15/12 and payment date of 2/29/12, respectively, so there is good distribution visibility.
BSL pursues its objectives by investing primarily in senior loans. Senior loans are made to U.S. and, to a limited extent, non-U.S. corporations, partnerships and other business entities which operate in various industries and geographical regions. Senior loans pay interest at rates which are determined periodically by reference to a base lending rate, primarily LIBOR, plus a premium. This stock appears attractive at this juncture.
For an excellent primer on this topic, let me refer you to an article in SeekingAlpha entitled, "Investment Grade Bonds: Dinosaurs of Investment?" which touches on this and related topics.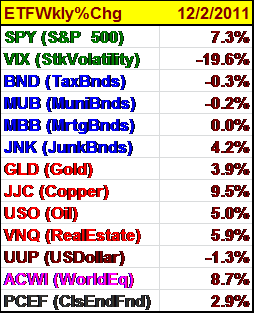 Economic & Earnings Outlook: (Click here for next week's economic calendar; click here for earnings' announcements and estimates.)
ETFs: For a more detailed EFT performance by sectors, click here—See "Research" Menu; "ETF Weekly Information" tab.)
Insider Trading: There are number of insider transactions to begin the month of December.
DST Systems, Inc. (held by West Side Investment Management, Inc.) continued to add to its position in early December in both Liberty All Start Growth Fund (NYSE:ASG) and Liberty All Star Equity Fund (NYSE:USA).
In the case of USA, DST added 23,443 shares at an average price per share of $5.07; an additional 7,783 were added to their position in ASG at an average cost of $4.02 per share. This was a continuation of buying by DST that started in November.
Both CEFs are advised by ASPS Advisors, Inc., a subsidiary of ALPS Holdings which in turn is a wholly owned subsidiary of DST Systems, Inc. ("DST'). DST owns 6.4% of ASG—down from 9.5% ownership in September. Both Liberty CEFs had stakes by Karpus Management, Inc. which is an activist CEF investor.
In addition to some small transactions, Paul Audet, director of BlackRock Enhanced Capital & Income Fund (NYSE:CII) purchased an initial position of 16,000 shares at $12.61 per share for a capital outlay of $201,744.
(Click here for a hyperlink to the Joe Eqcome's CEF Weekly Insider Report—See "Research" Menu; "CEF Weekly Information" tab.)
CEF Distribution Announcements This Week: The following is a link to a table of CEF distribution announcements this week as well as the previous week's with yet expired ex-dividend dates. The list is not intended to be inclusive. Additionally, mid-month is a time when many CEFs go ex-dividend and the beginning of the month is typically the time distributions are announced. (Click here for Joe Eqcome's Weekly CEF Distribution Announcements—See "Research" Menu; "CEF Weekly Information" tab.)
CEF Focus Stock(s) for the Week: Our focus stock(s) this week are the CEF Dogs of 2011. Every year we look at the worst CEF performers at the year and determine whether they are likely to be beneficiaries of a "bounce" in the subsequent year.
In a recent report entitled "CEF Dog of 2011: Will it Work This Year?" we went back and looked at the performance of the "Dogs" for the last couple of years.
Out of the three years covered in our analysis, two years seemed to confirm the thesis: that the 10 worst CEFs in term of price performance outperformed the 10 best performing CEFs the subsequent year.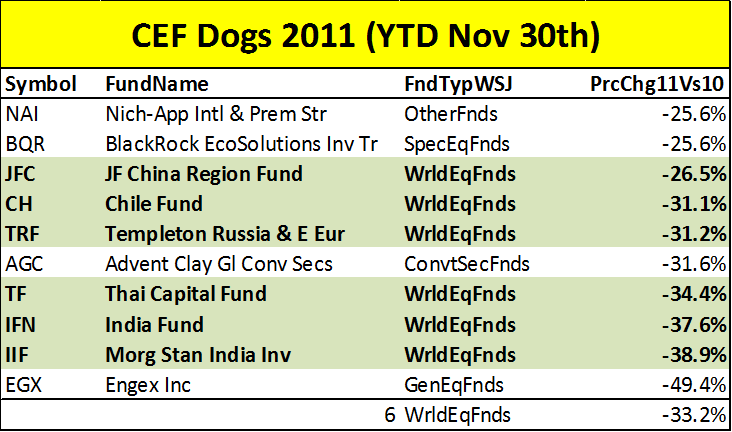 CEF Dogs: The adjacent chart (click to enlarge) reflects this year's worst performing CEF for the 11 months of 2011 and it reflects a concentration of WrldEqFnds. The fact that there is a concentration in a particular fund type gives us greater comfort that the reason for their poor performance is less a function problems facing an individual CEF as it is a fund type that is out-of-favor.
Only for the Brave: For those who have a higher degree of risk tolerance, putting some of these WrldEqFnds in the speculative portion of your portfolio, to hold for the next six-to-twelve months, may make sense. CEFs are known to swoon as tax losses are realized at year end for poorly performing CEFs, and some of these CEFs are making their year-end capital distributions. (See "CEF Dogs 2011 (YTD Nov 30th)" table.)
Last Week's Focus Stock(s): Last week's focus stocks were two Latin American CEFs that had divergent paths during the past week. Latin American Discovery Fund (LDF), managed by Morgan Stanley, posted a spectacular 11.5% advance with a 10.1% change in NAV generating a 1.3% positive PrcNAVSprd. Alternatively, Aberdeen Latin America Equity Fund (NYSEMKT:LAQ) also posted a plus 10% advance in NAV (10.7%) while its share price rose 7.2% and posted a negative 3.5% PrcNAVSprd.
As we suggested that we might see some gravitation to the mean, LDF gave up about 1.0% some of its last week's gain while LAQ advanced 1.4%.
---
[*] All things being equal, price and NAV should move in tandem. A price movement greater than the NAV generates a positive PrcNAVSprd and may be interpreted as negative on a near-term basis and indicate that the stock is overvalued relative to its NAV which in theory is the stock's intrinsic value. The opposite would be true for a negative PrcNAVSprd.
Disclosure: I am long PCEF, JFC, CH, TRF, TF, IFN, IIF. Author owns a diversified portfolio of CEFs and ETFs and is long stocks in the CEFBig10™ and CEFMuni10™.) The first is a balanced equity-income portfolio (CEFBig10™) and the second a tax-exempt income portfolio (CEFMuni10™).