The Dow Jones Industrial Average gained around 900 points from November lows, closing up another 203 points to 12,147 on December 9 2011. The rebound in the index is over 1,500 points higher than the yearly low reached in October.
The sharp overall recovery in the index does not tell the same story for many beaten down large capitalization stocks on the S&P 500 index. The difference between the closing price and the price target set by analysts is greatest for bank stocks. To gain up to a 68% return, investors must believe in the forecast of analysts.
Below is an analysis on the likelihood that the average price targets set by analysts will be met.
| | | | | |
| --- | --- | --- | --- | --- |
| Company | Target Price | Dec 8 Price | Difference From Target | Difference From Target |
| Bank Of America Corp | $9.81 | $5.72 | $3.92 | 68.53% |
| Ford Motor Co | $16.69 | $11.03 | $5.61 | 50.86% |
| Citigroup Inc | $43.57 | $28.77 | $13.74 | 47.76% |
| Cliffs Natural Resources | $104.36 | $69.35 | $32.96 | 47.53% |
| Alcoa Inc | $12.78 | $9.64 | $2.88 | 29.88% |
| Freeport-McMoRan Copper | $51.89 | $39.73 | $11.95 | 29.60% |
| General Electric Co | $20.85 | $16.84 | $4.11 | 24.41% |
| Pfizer Inc | $23.07 | $20.56 | $2.60 | 12.65% |
1) Bank Of America Corp (NYSE:BAC)
Closing at $5.72 and up 13.94% from its 52-week low, Bank of America trades at a price most disagreeable to its target price. Analysts think the stock is worth 68.53% higher than its closing price.
A bullish case for the company comes from examining BAC's form 10Q; only 33.69% of level 3 assets are related to real-estate. The implication is that only $20B of the assets may be incorrectly valued. This would explain why the expectation is high that Bank of America shares will rise.
The bearishness on shares comes from the unknown liabilities stemming from potential litigation.
2) Ford Motor Company (NYSE:F)
Ford closed at $11.03 and is 50.86% below its target price of $16.69. The company recently re-instated a dividend of just $0.05, a tiny but respectable 1.8% yield for loyal investors. The automotive industry is long known to be reactive to the health of the economy, including troubled ones like Europe. This would imply that the dividend is not secure by any means.
The last time Ford paid dividends was back in 2006. The reinstatement signals confidence that the company is able to sustain a healthy cash flow to reward its investors. In the long run, the company's ability to react quickly to changing demand will ensure a steady rise in profits for the company.
3) Citigroup Inc (NYSE:C)
Citigroup trades at a price target that is 47.76% below analyst targets. Shares rose steadily from $23.50 in November, as central banks coordinated efforts for lending to Europe.
Citi trades well below book value and has a P/E in the single digits. The reason shares trade well below target prices set by analysts is because it is hard to calculate the liabilities for mark to market instruments, unreported risks, and the future costs for litigation the company faces.
4) Alcoa Inc (NYSE:AA)
Alcoa closed at $9.64, 29.88% below its target price. Shares bounced from a $9 double bottom between October and late-December. Investors who buy Alcoa are making a conviction that aluminum prices will rise.
Seth Klarman once said that buying stocks takes a kind of arrogance that an investor knows more than the market. When it comes to commodities, prices are determined by market factors that influence prices, and are not easy to predict.
Taken from the kitcometals website, prices do not appear to have bottomed yet: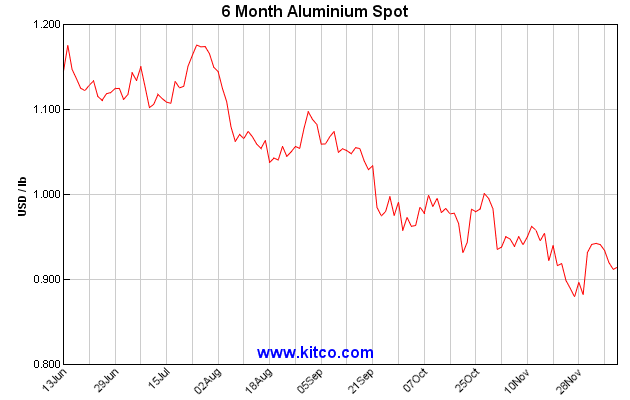 5) Freeport-McMoRan Copper (NYSE:FCX)
Analysts on average think Freeport is worth $51.89, 29.60% higher than its current closing price. Taken from the LME website, copper contract prices continue to sell at lower prices in the range of $7000 - $8000: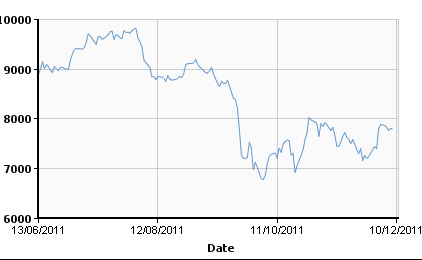 Labour issues aside, copper prices (last quoted at $3.56) may slide down to $3 if growth in the EU and in China continues to deteriorate. Freeport-McMoRan's upside moves at a magnitude greater than copper prices. Unfortunately, the downside is just as large and even severe, if copper prices remain depressed.
6) General Electric Co. (NYSE:GE)
GE is $4.11 away from its average target price of $20.85. Bloomberg BusinessWeek recently highlighted the improving financing unit of GE in a recent article. GE also increased its dividend to $0.17, a signal to investors that management is confident it can generate growing positive free cash flow. Shareholders of record at the close of business December 27 will be paid on January 25 2012.
7) Pfizer Inc. (NYSE:PFE)
The average target price for Pfizer is $23.07, a price not far from its current close. Taking the recent rally into account, the uptrend on the chart continues to be positive. The company also pays a $0.80, or a 4%, yield.
The biggest negative story for Pfizer is the expiry of its flagship Lipitor product. This patent expiry marks the end of the idea of investing in companies using a blockbuster drug model in the pharmaceutical sector. In the short-term Pfizer's shares will not face selling pressure. The company is coping with the profit erosion by letting go of 2,400 research staff, and reducing research and development costs by $1.5B in 2012.
Disclosure: I am long F.