Morningstar (NASDAQ:MORN) is a low-to-no growth internet stock that is priced to perfection at 30X trailing earnings and 23X analyst estimates. In my view, the stock market overall is a lousy place to invest right now and the mutual fund industry in particular is reeling with redemptions as it appears harder and harder for active money managers to add any value over major index funds. Legendary investors like Bill Miller have been bruised in recent years and with redemptions from actively managed funds continuing to hurt the mutual fund business, one should expect Morningstar's business to taper off in sympathy even though the company is exceptionally well managed and has a wide moat to paraphrase company vernacular.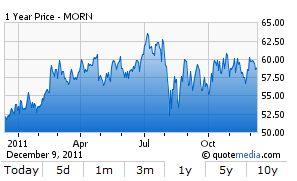 Morningstar provides a valuabe service for investors and the site is fantastic at what it does; however, in an era where little value can be gained from MIT graduates in suits over a benchmark of passive investments, it's hard to see where Morningstar's growth will come from in the future. Over the past three years, Morningstar has seen net income basically flatline at around $85MM which according to Ben Graham should be worth around 10X earnings on a best case scenario. If we apply a ten times multiple to MORN's flattish earnings, we get to an intrinsic value estimate of around $850MM or so for the business. If we add back the company's $368MM or so in net tangible book value, we get to a valuation of around $1.2 billion or so on a conservative basis. Morningstar's "moat" gives it another $400MM or so in brand value, which means we could see paying a maximum of around $1.6 billion or so for the business. This estimate of valuation implies that MORN shares are some 42% overvalued.
Morningstar is an exceptionally well run company that is unrivaled in its market, but the stock is simply not cheap compared with the amount of web users that visit the site. Given the long term headwinds facing the mutual fund and brokerage industries, Morningstar investors face the dual challenge of investing in a shrinking industry while paying a market multiple which is more than double that of the average common stock.
While I do not advocate an outright short on MORN, I do think wise investors who own the name should at the very least sell call options against their stock positions and more aggressive investors should consider selling bear call spreads on the common stock to profit from sideways to lower price action in the name. We are currently bearish on most asset classes aside from gold and silver.
Disclosure: I have no positions in any stocks mentioned, and no plans to initiate any positions within the next 72 hours.