As I've said in my recent article, "3 Reasons Why The U.S. Is Not Like Japan", demographic characteristics in the U.S. are much different than those of Japan. One very interesting phenomenon that the U.S. has, and with substantial potential market impact, is the baby boomers.
The baby boom happened as a consequence of all those soldiers coming back home at the tail end of the Second World War. Economic conditions at the time were very inviting to starting a family – with the effects of the Great Depression finally left behind. It was thus not a surprise to see a giant leap in birth rates that, in a way, were just the continuation of a prior trend reflecting better economic prospects. Such can be clearly seen in the chart below.
Click to enlarge: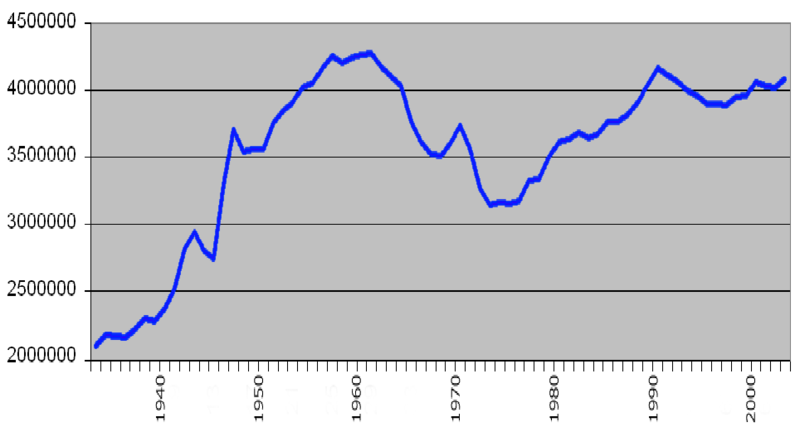 This leap in family building had many consequences – for starters, it enabled the continuation of a strong sense of economic prosperity, leading to a home building boom, and with all the associated demand for furnishings. And it would lead to a second housing boom, in the late sixties and early seventies, as all those baby boomers got married.
And later, it would lead to an investment boom, in the eighties and nineties, as those boomers hit their peak earning years.
But now, all those boomers are arriving, little by little, to their retirement years. The population pyramid showing their inexorable advance.
Click to enlarge: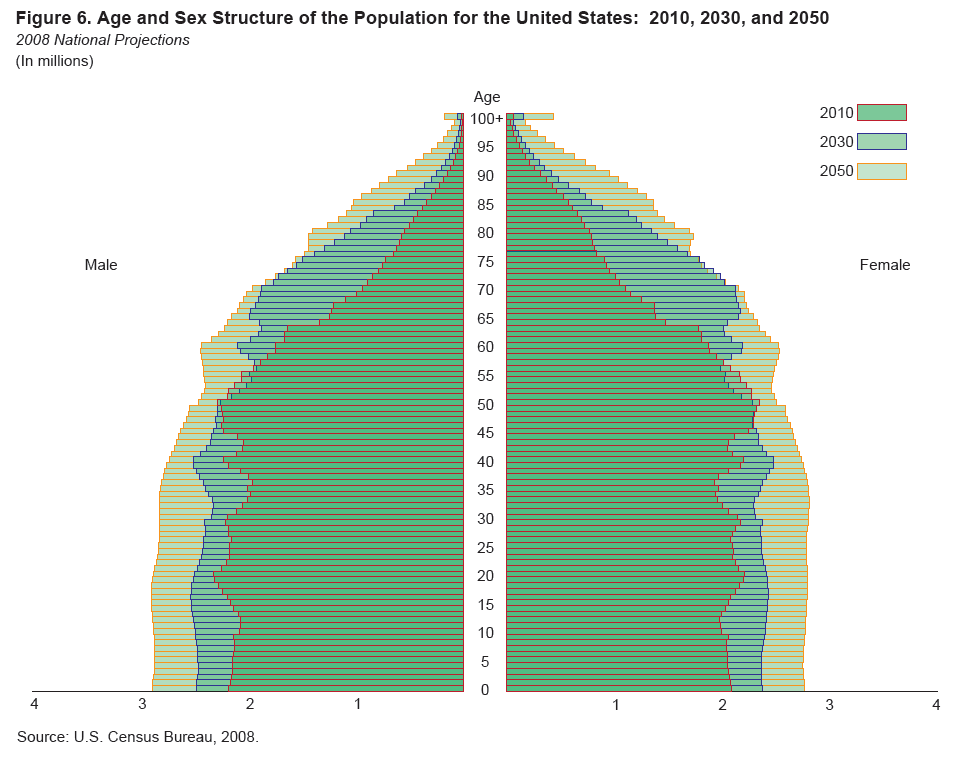 Since the original baby boom had its start back in 1946, here we are now, with the leading edge of the boom hitting retirement. What can we expect now?
We can expect, amongst many other possible outcomes:
The boomers will go from net investors/accumulators, to net divestors, selling part of their holdings in capitalized pension plans;

The boomers will have increasing health demands, putting pressure on public and privately-funded health insurance and provision schemes, while favoring health suppliers;

The boomers will have higher investment demand for more stable investments, as well as more demand for investments with yield, including stocks with stable and high dividend yields. Stocks such as Microsoft (NASDAQ:MSFT), with a 3.1% yield; Intel (NASDAQ:INTC), yielding 3.3%; General Electric (NYSE:GE), yielding 3.6%; Procter & Gamble (NYSE:PG), yielding 3.2% ... or even the big tobacco firms, though there might be a threat to their stability. All in all, it would be expected for boomers to favor well-known, stable, names with high yields over speculative growth companies with no yield and great volatility;
These are just a small sample of the consequences we can derive from the present stage in the boomer's life. Feel free to add others in the comment section.