One sector that has failed to participate in the recent stock market rally is the agriculture sector. The stocks have been weak because the commodities themselves have been weak. The best gauge of agriculture commodity prices is the DBA ETF. This ETF owns a diversified basket of agriculture commodities including corn, wheat, cattle, soybeans, and other agriculture commodities. A year to date chart of DBA is shown below.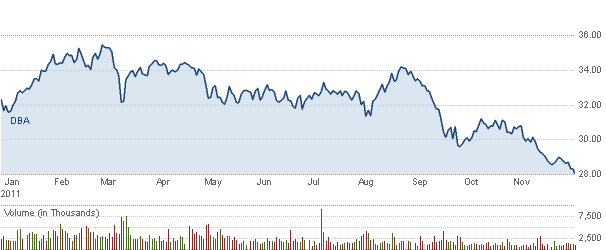 [CNBC]
Clearly, agriculture commodities prices have been under considerable pressure for the second part of this year. There are many reasons why agriculture commodities have been weak this year:
European debt crisis issues are having an effect on all asset classes, agriculture commodities included.
China is slowing down, thus imports will not be as strong going forward.
Crop reports have been better than expected, and the Russian drought has eased allowing Russia to release wheat for exports.
While these factors may keep agriculture commodity prices under pressure over the short term, this pullback represents a good entry point for long term investors. The major long term bullish factors are still very much in place.
China continues to be a major importer of agriculture commodities. While there might be a real estate bubble popping, the Chinese will still need more and more food each year.
Global central bankers continue to pursue a policy of "easy money", this is good for all commodities, agriculture included.
New supply of agriculture commodities is still relatively weak. It is becoming harder and more expensive to grow additional crops.
How to buy agriculture:
One way to buy the agriculture sector is to buy the ETFs that track the prices of the actual commodities. These ETFs include, (NYSEARCA:DBA), (NYSEARCA:DAG), (NYSEARCA:CORN), (NYSEARCA:WEAT), (NYSEARCA:COW), (BAL). Another way, and in my opinion a better way to play agriculture is via the stocks. Good agriculture stocks include machinery maker Deere (NYSE:DE), and potash producers Potash Corp (POT), Mosaic (NYSE:MOS), Intrepid Potash (NYSE:IPI), and CF Industries (NYSE:CF).
Disclosure: I have no positions in any stocks mentioned, and no plans to initiate any positions within the next 72 hours.