Harley-Davidson (NYSE:HOG) is one of the most well known American symbols of our times. Harley produces and sells heavyweight motorcycles, as well as offers motorcycle parts, accessories, and related services. It operates in two segments, Motorcycles and Related Products, and Financial Services.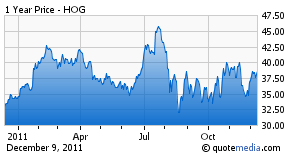 Harley-Davidson had been trying to reach a younger demographic for almost ten years now. Harley has tried everything from new lines of bikes to celebrity endorsements, but the company's core customer base continued to get older. The company's current buyer base is about 50 years old.
Harley may have finally found a way to reach the younger market. The company enacted a plan to modernize its business and at the same time attract a younger customer base. Harley started advertising a modern bare-bones retro bike called the Iron 883. The company priced the bike at only $8,000 to appeal to a younger customer base. Harley is trying to shed the image of a bike designed for the older generation. The company also launched entry level models to allow younger buyers with smaller budgets a chance to get familiar with the brand.
It looks like the company's plan is working, the Iron 883 is the company's best selling model. The low priced models are currently growing twice as fast as Harley's other segments. There has also been improvement in Harley's target market. In 2008, 16.6% of new Harley buyers were estimated to be below the age of 35, that number has now improved to 21% so far this year.
Some investors have brought up concerns regarding current dealer inventory levels. Sales were much stronger than anticipated in the third quarter which caused dealer inventory to be below last year's levels by about 16%. The company has responded by releasing the 2012 models a little sooner to help meet demand. The company knows about the situation and is working on bringing levels back to a healthy number.
I'm not concerned about the inventory situation and expect inventory to be back to normal in the next few quarters. Here are other highlights I like about Harley-Davidson:
- Third quarter income from continuing operations improved to $183.6 million, an increase of 95.9%. Operating income from the Motorcycle business was up 78% compared to last year's third quarter. The strong increase in the Motorcycle business was driven by increased motorcycle shipments and lower spending on ongoing restructuring activities.
- Operating income at Harley-Davidson Financial Services was up 21.9% behind improved credit loss performance.
- Market share in the U.S. was 57.9%, up 1.3 percentage points compared to last year's third quarter. The Harley-Davidson brand continued to show its strength while many competitors continued to discount prices to move aging inventory. The company is planning to increase prices in 2012 to take advantage of this strength. I expect this to improve margins and increase profits in the coming quarters.
I'm bullish on Harley-Davidson and view pullbacks as opportunities to buy. I expect the company to succeed in attracting younger buyers through its entry level pricing strategy. Harley estimates it has about a 93% loyalty rate, this should benefit the company as younger buyers look to upgrade models and buy additional accessories in the future.
Disclosure: I have no positions in any stocks mentioned, but may initiate a long position in HOG over the next 72 hours.