Too often, investors forget that the stock market is not simply a basket of stocks, but a collection of individual companies. The stock market, for most of 2011, has been dominated by headlines, from both the United States and Europe. Markets trade with headlines from Europe, as individual company's fundamentals are largely ignored, even if the situation in Europe is largely irrelevant to them.
We would like to highlight two such companies, for whom Europe is an opportunity to grow, not a risk. EMC (EMC) and VMware (NYSE:VMW) are lynchpins in the technology world. EMC is the worlds largest data storage company and VMware is the leader in virtualization technology. EMC is the majority owner of VMware, owning 80% of the company, an extremely shrewd purchase on its part. Two things have caused us to examine VMware and re-examine EMC, which we reccommended on September 16. First, VMware has shown remarkable resilience year to date. How can this be? VMware trades at a P/E of over 65. Shouldn't such stock be the first to be crushed in weak markets, such as the one we are currently in? VMware has held up remarkably well, and has actually outperformed its parent and the S&P 500, both of which have a much lower valuation.

We think this sets shares of VMware up for a large rise. The shares have stayed in a range, rarely venturing above $100. Furthermore, EMC has been aggressively buying shares below $100. No one, aside from VMware itself, knows VMware's business better than EMC, and if it thinks that VMware shares are a buy below $100, we think so too. However, as much as we would like to, we cannot simply recommend VMware on large insider buying. We must also look at the company's fundamentals, and what we have found further reinforces our opinion that VMware is a buy at these levels.
On October 17, VMware reported its third quarter results. The company posted GAAP EPS of 41 cents/share on revenues of $942 million, which grew 32% from last year. CFO Mark Peek noted that:
VMware's third quarter results were driven by growth across all products. Demand was especially strong in the Asia Pacific markets and we also experienced the seasonal impact of sales to the US Federal Government.
Volatility in Europe does not appear to be showing up in either VMware's top or bottom lines. On the conference call, management noted that growth in Europe was strong, led by increasing demand for virtualization products from Germany. How can this be? Isn't Europe supposed to be falling apart? Simply put, when you offer customers a product that saves them money, as VMware does, and it leverages a secular trend (virtualization), demand will grow regardless of economic conditions. We take issue with the assumption that the European debt crisis will take down all companies. It is true that some will suffer as a result of slowing demand in Europe, but VMware is not one of them. International revenues grew by 37% on a constant currency basis in the third quarter.
VMware, to be fair, has guided conservatively for this quarter, citing the usual "uncertainty." However, management stated on the conference call that they have not seen meaningful cancellations from their customers. Nor have public sector customers changed purchasing patterns in fear of austerity or budget cuts. VMware not only has strong operational results, but strong financial metrics as well. Free cash flow grew 72% in the most recent quarter to $1.8 billion, and has been growing an average of 38.3% a year over the past 5 years. In addition, VMware has $3.5 billion in net cash on the balance sheet.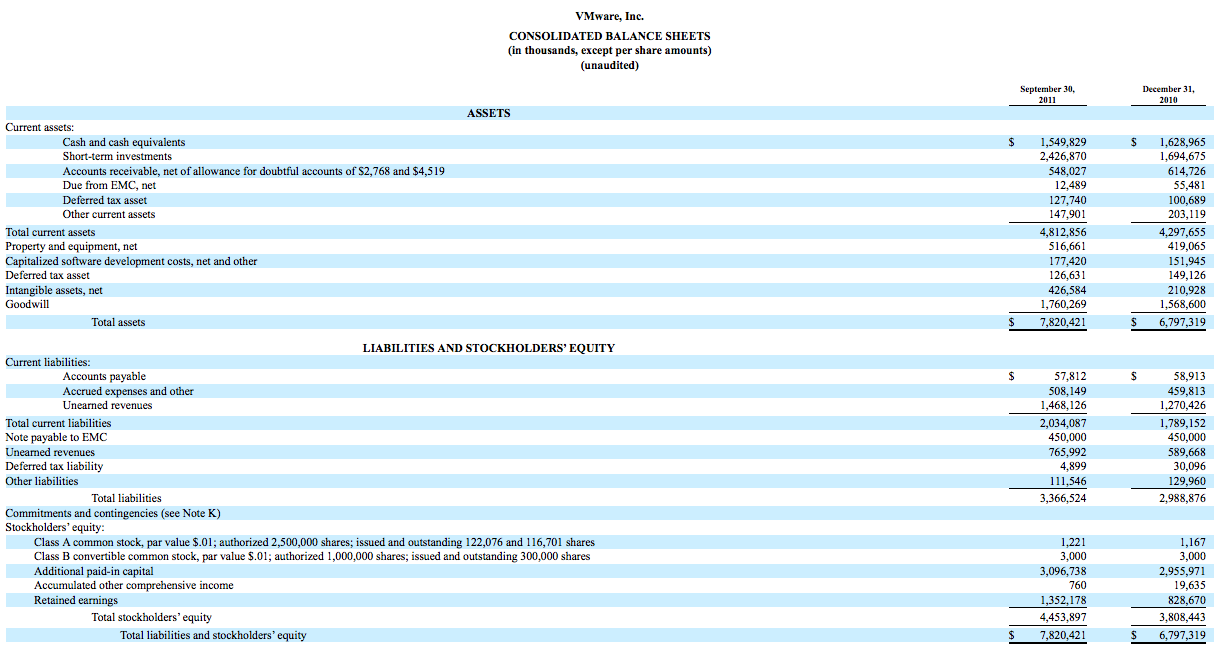 VMware is a company that seems to grow no matter what is occuring in the global economy. The company's products are changing the world of technology and sit at the nexus between cloud computing and cost reduction. This secular trend has allowed VMware to deliver outstanding results for its customers and shareholders. We think that this trend is not going away anytime soon, and analysts agree with us. The Reuters average price target stands at $107.02, 10.98% above current prices. We think the average is too low. VMware has guided too conservatively for the fourth quarter and 2012, in our opinion, and the next quarter's results should provide a catalysts for analysts to raise their price targets.
VMware's technology allows its customers to do business more efficiently, and VMware's stock should allow investors to cash in as well. But what if VMware is simply too expensive for some investors? While we think that VMware's multiple is fair given its growth, some investors simply refuse to buy expensive stocks, no matter how rapidly the underlying company is growing. We think that is a flawed strategy, for high P/E ratios do not make a stock a poor investment on their own. But for those investors who prefer stocks with lower multiples, EMC is the obvious alternative to VMware. EMC is the world's largest data storage company, and the parent of VMware, owning 80% of the company. EMC trades at a far lower P/E of 23, and like VMware, it has a number of catalysts going for it. On September 16, we recommended EMC, arguing the stock was too cheap relative to its growth potential. Since then, EMC stock has risen by 3.79%, lagging both the S&P 500 (by just 2 basis points), and its VMware subsidiary.

We think this underperformance was, ironically, caused by EMC itself. Competition between EMC and NetApp (NASDAQ:NTAP), its main competitor in the data storage and management sector is fierce. And the competition is taking its toll. NetApp's most recent quarter missed expectations, and as a result, the stock plunged, taking EMC along with it. We think this is an unwarranted drop. EMC is far better positioned than NetApp, able to both outspend and out-innovate NetApp. On November 16, NetApp posted its second quarter results. And although non-GAAP EPS reached a record of 63 cents per share, NetApp noted weakness in several of its largest accounts, and forecast third quarter earnings below consensus estimates.
On its conference call, NetApp commented that "macroeconomic uncertainty" has made it impossible to accurately forecast fourth quarter earnings at this time. On October 18, EMC posted its third quarter results, and the company also had a record quarter, in terms of revenue and income. Revenue grew 18% to $4.98 billion, and EPS grew to 27 cents per share. The company also posted record gross margins. On its own conference call, EMC stated that its European division grew by 12%. EMC did admit to some softness in southern Europe, but core European demand remains strong. EMC, in our mind, has credible management, and we trust that they are fully aware of what is going on in Europe. Investors bearish on EMC will see these two reports as evidence that both EMC and NetApp are suffering. Given that NetApp reported its results almost a full month after EMC, bears may contend that the weakness NetApp spoke of will be revealed in EMC's next earnings release; we do not think so.
Third party data from Gartner, a leading market research firm, shows that EMC extended its dominance of the data storage market in the third quarter. EMC grew its market share by 3.6% to 32.1%, while NetApp lost 0.7% of market share, now claiming 10.7% of the market. EMC's VNX line, targeted at small to medium sized businesses, is seen as one of the reasons for EMC's success. We think that the selloff in EMC shares prompted by NetApp's weak results is unwarranted, given that one of the primary causes of weakness at NetApp is strength at EMC. EMC is able to both outspend and out-innovate NetApp. Free cash flow stood at $3.8 billion over the last 12 months, and the company has $6 billion in net cash on the balance sheet, allowing it to not only invest more in R&D, but to outbid NetApp should both companies wish to acquire the same company.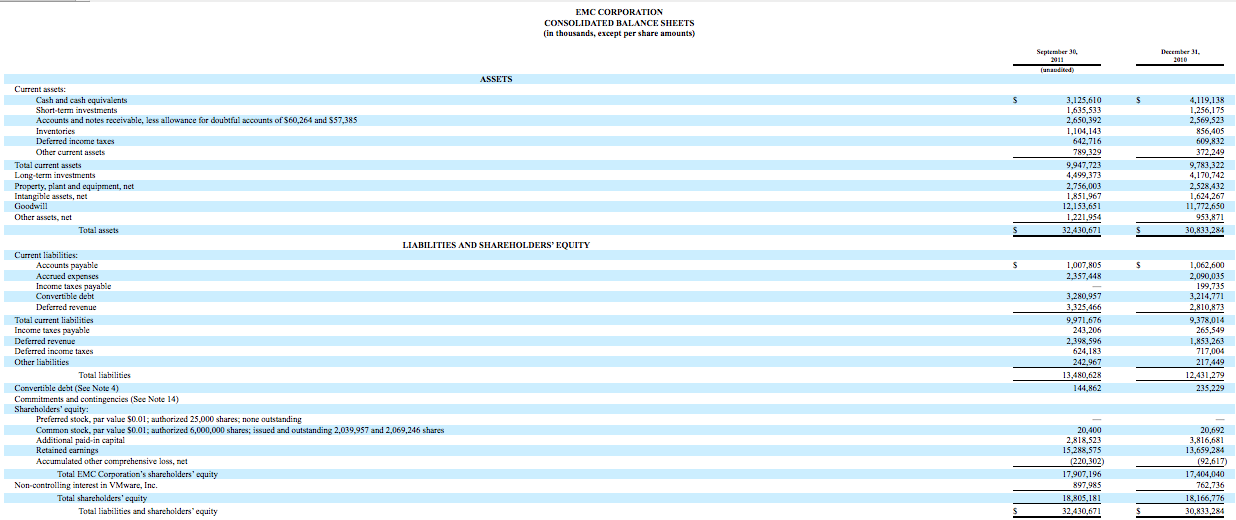 The fact of the matter is NetApp has no one to blame for its weakness but itself. EMC has proven that it operates on a different level. The company is able to ride the wave of VMware's growth as well, putting in a class all by itself. EMC sits at the crossroads of cloud computing, social networking (exploding amounts of data leads to rising storage demand) and digitization. This places EMC in a unique posiiton to serve its customers and investors, and analysts agree. The Reuters average price target stands at $29.92, representing upside of over 27% from current levels. EMC is clearly extending its lead over its competitors, and adding to or initiating positions in EMC stock will allow investors to beat the market.
In conclusion, we think both VMware and EMC are buys at these levels. VMware is growing rapidly, and we think guidance and price targets are too conservative. EMC has been needlessly sold off on worries over Europe's effects on the industry, when in fact, the poor results of its competitors are due to EMC's strong product portfolio and execution. Investors should do well owning either EMC or VMware, or both.
Disclosure: I am long EMC.