Is it time to flee to safety? With the economic and political climates only becoming more tumultuous I have been paying closer attention to dividend stocks recently. We all know about the blue chip dividend companies but there are other, attractive companies with high yields that are going ex-dividend every week. This strategy can work in one of two ways: either you buy before the ex-date to receive the dividend or buy after if the stock declines far below the after-tax amount of the dividend.
Buying the stock to receive the dividend is intuitive, but many have contacted me requesting further details on the second strategy. Investopedia has a great example of how this works. To explain this, I will use AT&T (NYSE:T) as an example. AT&T declared a $.43 dividend to shareholders of record on October 10th, 2011. On the ex-dividend date the stock price should decline by the after-tax dividend amount, with an assumed tax rate of approximately 15% because many dividends qualify for a lower tax rate. As a result, an investor would expect the stock price to decline by $.37 = [$.43 * (1-.15)]. If AT&T declined by more than $.37 in the absence of negative news you might have an attractive opportunity on your hands. Executing this strategy can generate outsized returns over short periods of times.
To focus on these opportunities I ran a screen with a focus on relative safety for the investments. Since this is a high yield quest I began with a specification of a dividend yield greater than four percent and an ex-dividend date within the next week. To provide some layer of safety I narrowed down the environment by looking at companies with market capitalizations greater than one billion, PEs between zero and twenty, and institutional holding percentage of at least twenty-five percent. While not a precise requirement, I prefer companies that have underperformed the S&P 500 year-to-date as it indicates limited downside relative to peers. This is summarized below:
Dividend Yield ≥ 4.0%
Ex-Dividend Date = Next Week
Market Capitalization ≥ $1B
PE Ratio: 0-20
Institutional Ownership ≥ 25%
After applying this screen I arrived at thirteen potential trades. Although I envision these as short-term trading ideas, you still need to be careful. The information presented below should simply be a starting point for further research.
Ares Capital Corporation (NASDAQ:ARCC): 9.22% Yield – Ex-Dividend 12/13
Ares Capital Corporation is a specialty finance company that provides services to diverse middle-market companies that have unique financing needs. The underserved nature of the business makes this a highly lucrative segment but it is not without risk in this economic climate; however, with a PE under nine I am comfortable with the margin of safety. Please note that ARCC is one of the largest Business Development Companies ("BDC") under the Investment Company Act of 1940. A nice overview of BDC is provided by IndieResearch but the primary point is that BDCs must distribute 90% of their earnings as dividends.
The dividend history is a little volatile but the dividend appears to be safe for at least the near-term. There are signs that ARCC is planning on growing for a potential acquisition as it seeks to raise new equity capital so the situation requires close monitoring.
UniSource Energy Corp. (NYSE:UNS): 4.59% Yield – Ex-Dividend 12/14
UniSource is a predominated regulated utility company with fewer than 500,000 customers in the Arizona. This week approximately 25% of the screen results are utilities thus I narrowed in on UNS because of its low PE and average yield. It basically is a toss-up between UniSource and DTE Energy Company (NYSE:DTE) as UNS has underperformed but DTE has higher institutional ownership. I have been a fan of electric utilities for years because of their high yields and low risk. I highlighted PPL last week and UniSource is significantly smaller but has a similar profile.
Valley National Bancorp (NYSE:VLY): 5.75% Yield – Ex-Dividend 12/13
Valley National Bancorp is the bank holding company for Valley National Bank, which has nearly two hundred locations New Jersey and New York. Valley provides services including commercial, retail, trust, and investment services. Forbes' John Schloegel has a great article covering Valley. In essence, the words bank and financial have become obscenities for investors but the entire sector is not tainted. Less than two percent of the bank's mortgage portfolio is nonperforming (either 30 days past due or in foreclosure) and this appears to be a relatively safe financial that rewards investors with a healthy yield.
NYSE Euronext (NYSE:NYX): 4.4% Yield – Ex-Dividend 12/13
NYSE Euronext operates securities exchanges including the New York Stock Exchange (NYSE), NYSE Arca, NYSE Amex, and Euronext N.V. Mr. Schloegel also writes a superb summary of why NYSE is so intriguing:
The thesis here is to own some of the plumbing within the world's capital markets. NYX generates revenues primarily from transaction and clearing fees, listing fees, and market data and technology fees. This is a company with equities exchanges in five countries and derivative exchanges in six countries. More growth is expected to occur in the coming years as it seeks to merge with Germany's Deutsche Boerse. These shares are -34% from their highs and sport a hefty yield of 4.2% with a dirt cheap PE of 9.5x next year's estimate.
I do not look at NYSE Euronext as a traditional dividend play as the dividend appears elevated due to the slide in the share price but even at three percent I view it as a way to compensate investors while they wait for a recovery in value.
Vector Group Ltd. (NYSE:VGR): 8.90% Yield – Ex-Dividend 12/13
Vector Group is one of the smaller tobacco companies but is still quite attractive like Reynolds that arose in my screen last week.is one of the "big tobacco" companies with brands including Pyramid and USA. I have invested in both Altria (NYSE:MO) and Philip Morris (NYSE:PM) with tremendous capital gains and dividends over the years. Vector is more expensive but has a much higher yield than Altria.
The legal ruling against strong warning labels on cigarettes should benefit all companies in the industry. Tobacco companies are both mature and safe; precisely what investors are seeking in this economy. For this reason I hold PM in my "Great Recession II" portfolio.
The information presented above has been summarized below. Click to enlarge: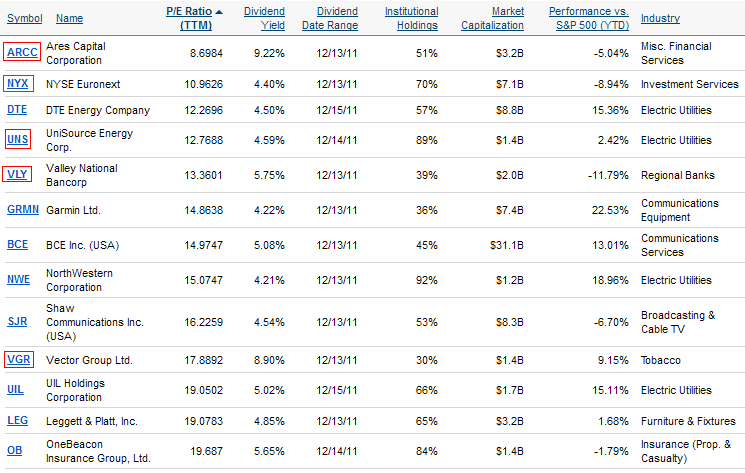 Disclosure: Author is long MO, PM, and T.