Following the release of unofficial housing price survey data for April, there have been some media coverage suggesting that the drag on the overall economy is likely to persist, something which must lead to more stimulus measures.
While recent data wasn't very rosy (PMI), it seems like much of the street is missing an important point - that the monthly trend is showing signs of improvement. Echoing a sentiment from previous notes, before the YoY comparison can show signs of improvement, the MoM trend (a 'faster-moving' indicator) needs to improve.
And it has been. Nationwide home prices in China had been falling about -0.5% MoM from May through December 2014, something which annualizes out to a pace of about -5.8%. However, when taking a look at the trend in the first quarter of 2015, the situation looks very different, even after allowing for the seasonal distortion in January which saw prices rise on a MoM basis. The pace of monthly price declines has reversed from lows in 2014, and seems poised for a possible positive print in May if the improving trend continues, which would be a very healthy development for the market.
A chart of the MoM price change illustrates this point more clearly: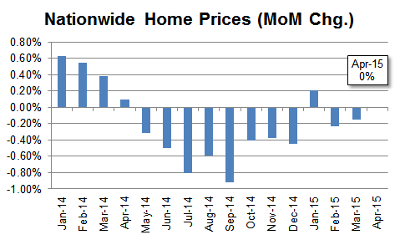 One conclusion from the data is that various policies aimed at propping up the Chinese real estate market are beginning to take hold, and seem to have accomplished a milestone in terms of stabilizing prices.
The implications for a sideways move in home prices (or at least a more controlled and slowed descent) could be significant, particularly when combined with the recent rally in Mainland markets. Indebted real estate developers may soon have the opportunity to both unload existing inventory to buyers who see a floor in prices, and at the same time address their debt loads through share placements to repay existing loans.
Given what appears to be an imminent improvement in China's real estate market, the market will likely be keeping a close watch on weekly transaction data which could provide signs of confirmation that conditions are in fact improving.
Investors in US-listed China stocks have a few choices available for direct exposure to this trade, including SouFun (NYSE:SFUN), E-House China (NYSE:EJ), and Leju Holdings (NYSE:LEJU). (A company like 58.com (NYSE:WUBA) could also have some exposure from its real estate listing service, but it's less of a pure play than other names mentioned.)
All three of those stocks have been in strong rally-mode, along with the market, since mid-March, however while SFUN has added +54% and LEJU about +48%, EJ has added only about +20%, so the stock may be due for some catch-up with peers in the space.
Disclosure: None