The computer hardware group, as represented by the Computer Hardware Index (HWI) is up over 27% from the lows in early October, far exceeding the 16%-17% rise in the overall markets in the same period. Industry leader International Business Machines (NYSE:IBM) is leading the way, up over 35% this year and trading at all-time highs, while the industry and the overall market are approximately flat to slightly up for the year.
In this article, based on the latest available Q3 institutional 13-F filings, we look at the buying and selling activities of legendary fund managers in the computer hardware group to aid us in determining the companies in the group that these 60+ managers together have voted with their fund dollars to be the most attractive. Taken together, these guru funds are bullish on the group, adding a net $7.02 billion in Q3 to their 17.97 billion prior quarter position, and they are also overweight in the group by a factor of 1.2.
The following are the computer hardware group companies that guru fund managers are bullish about, and that are also trading at a discount to their peers in the group:
International Business Machines (IBM): Big blue, as it is commonly known in investing circles, is an American multinational technology and consulting corporation. It provides computer hardware and software, and it offers infrastructure, hosting and consulting services. This was guru funds biggest buy in Q3 in the group, and probably in the whole market, both in absolute and relative terms, as they added a net $6.25 billion, effectively more than doubling their $5.67 billion prior quarter position.
Together, they hold an outsized 5.3% of the outstanding shares compared to their average 3.1% weighting in the group. The top buyer by far was Warren Buffet's Berkshire Hathaway that added $6.22 billion in Q3 to its $4.77 billion prior quarter position; however, even beside Berkshire, eight other guru funds accumulated Big Blue in their portfolios in Q3.
IBM shares currently trade at all-time highs, and are undervalued, trading at 13 forward P/E compared to the 15.9 average for its peers in the integrated computer systems group. Also, this behemoth of a company is still projected to grow earnings at a very impressive 13.2% annual growth rate from $11.59 in 2010 to $14.84 in 2012, while it has a good dividend yield of 1.5%. Although shares are a tad expensive compared to where the stock has traded at in terms of its historic P/E range of 10-18, there is a lot to like with Big Blue and the stock should appeal to a wide cadre of investors, including dividend hunters to growth and value seekers.
Apple Inc. (NASDAQ:AAPL): Probably among the most innovative companies the world has ever known, this maker of the iPhone, iPod, and iPad, founded by the late Steve Jobs, is one of the world's largest manufacturers of personal computers, mobile communication devices, and portable digital music players. Guru funds hold a massive $4.38 billion position in AAPL, including adding $58 million in Q3. The top buyers of AAPL in Q3 were Viking Global Investors ($442 million) and Capital Growth Management ($159 million).
This gem of a company can be bought for 10 P/E, compared to 8.9 average for its peers in the micro-computer group, but when adjusted for growth the company trades at a discount. Earnings at AAPL are projected to increase 18.7% compounded growth rate from $27.68 in 2010 to $38.98 in 2012 compared to the average 5%-10% growth rates for many of its peers in the group. AAPL shares have fared remarkably well since Jobs's death; however, the over-riding question for AAPL investors is how AAPL will do in terms of innovation long-term without Jobs at the helm. We believe it is too early to decipher that, and the risk is probably to the downside in the interim as even a slight error in execution is likely to get severely punished.
Hewlett-Packard Co. (NYSE:HPQ): A Silicon Valley marquee company, HPQ is a leading provider of IT and outsourcing services, PCs and peripherals, printers and scanners, and servers and storage devices. Guru funds added $649 million in Q3, and the largest buyers were Baupost Group ($572 million) and Yacktman Fund ($105 million). Its shares trade at a discount 6-7 forward P/E compared to the 8.9 average for its peers in the micro-computer group. However, earnings are projected to fall from $4.88 in 2011 to $4.08 in 2012, before rebounding back up to $4.46 in 2013. We believe that its shares are cheap on a P/E basis for good reason, and we would avoid them until the company returns back to year-over-year growth sometime in 2013.
The following are the computer hardware companies that guru funds are bearish about (see table):
Seagate Technology (NASDAQ:STX): STX manufactures hard disk drives for the enterprise, desktop, mobile computing, and consumer electronics markets. Guru funds cut a net $277 million in Q3, and the largest seller was Viking Global Investors ($315 million). The stock trades at a discount 5 forward P/E, and it sports an attractive 4.5% dividend yield. The stock is up over 50% in the last couple of months after the company reported outperformance in its latest September quarter on October 20, and after it guided late last month on November 28 that its fiscal Q2 and Q3 revenues would be above consensus estimates.
Dell Inc. (NASDAQ:DELL): Dell provides desktop PCs, mobility products, servers and networking products to individuals, businesses and governments. Guru funds cut a net $14 million in Q3, and Dell trades at a discount 8 forward P/E compared to the 8.9 average for its peer in the micro-computer group. However, earnings are projected to flat-line and fall next year, from $2.11 for the fiscal year ending January 2012 to $2.02 in the following year. Dell is currently approaching the top of its trading range, however with the projected fall in earnings next year and a near-fair valuation it is unlikely that the stock will break above that range in the intermediate-term.
EMC Corp. (EMC): EMC develops, delivers and supports information and virtual infrastructure technologies and solutions, and offers enterprise storage systems and software which are deployed in storage area networks (NYSE:SAN) and network attached storage (NAS). Guru funds cut a net $69 million in Q3, and the stock trades at discount 13-14 forward P/E compared to the 28.0 average for the computer storage group.
Other companies that guru funds accumulated in the group in Q3 (see table) include integrated network storage and data management hardware provider NetApp Inc. (NASDAQ:NTAP), in which it they added $201 million; hard disk drive manufacturer Western Digital Corp. (NYSE:WDC), in which they added $25 million; storage memory platform provider Fusion-io Inc. (NYSE:FIO), in which they added $2 million; and unified threat management systems provider Fortinet Inc. (NASDAQ:FTNT), in which they added $3 million.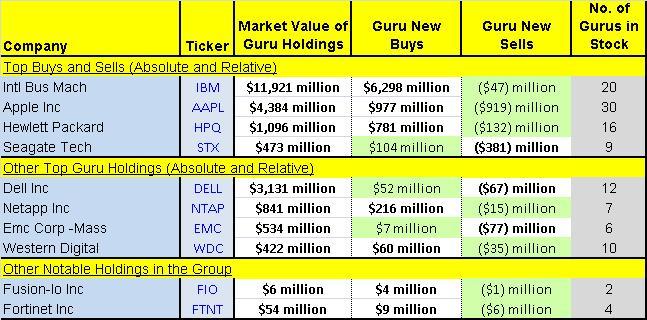 General Methodology and Background Information: The latest available institutional 13-F filings of over 60+ legendary or guru hedge fund and mutual fund managers, such as Warren Buffet, George Soros, Carl Icahn, Steven Cohen and Mario Gabelli, were analyzed to determine their capital allocation from among 50+ different industry groupings, and to determine their favorite picks and pans in each group. The hedge fund and mutual fund managers included in this select group include only high profile names who by virtue of their long-term market-beating returns have earned their standing in the investment community and are worthy of our attention. They include well-known names such as those mentioned above, as well as perhaps relatively lesser-known names that also have a stellar long-term history of beating the markets, such as Seth Klarman, John Griffin, Prem Watsa, Robert Karr and Lee Ainslie. Each guru has been carefully selected based on their long-term performance and standing in the investment community. Furthermore, the credentials of most of the 60-odd guru funds that justify their inclusion in this elite group were detailed in our previous articles that can be accessed from our author page.
These legendary or guru fund managers number less than one percent of all funds and yet they control almost ten percent of the U.S. equity discretionary fund assets. The argument is that institutional investors have the resources and the access to information, knowledge and expertise to conduct extensive due diligence in informing their investment decisions. When high alpha generating or guru Institutional Investors by virtue of their fund performance, low volatility and elite reputation in the investment community, invest and maybe even converge on a specific investment idea, the idea deserves consideration for further investigation. The savvy investor may then leverage this information either as a starting point to conduct his own due diligence or even go as far as constructing a model diversified portfolio based on the guru funds best picks.
This article is part of a series on institutional holdings in various industry groups and sectors, and other articles in the series for this and prior quarters can be accessed from our author page.
Credit: Fundamental data in this article were based on SEC filings, I-Metrix® by Edgar Online®, Zacks Investment Research, Thomson Reuters and Briefing.com. The information and data is believed to be accurate, but no guarantees or representations are made.
Disclosure: I have no positions in any stocks mentioned, and no plans to initiate any positions within the next 72 hours.
Disclaimer: Material presented here is for informational purposes only. Nothing in this article should be taken as a solicitation to purchase or sell securities. Before buying or selling any stock you should do your own research and reach your own conclusion. Further, these are our 'opinions' and we may be wrong. We may have positions in securities mentioned in this article. You should take this into consideration before acting on any advice given in this article. If this makes you uncomfortable, then do not listen to our thoughts and opinions. The contents of this article do not take into consideration your individual investment objectives so consult with your own financial adviser before making an investment decision. Investing includes certain risks including loss of principal.