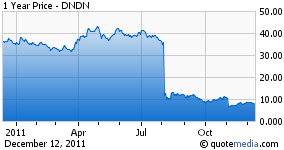 I've said it before: Corporate presentations at healthcare conferences conducted by Wall Street financial firms often don't reveal anything that the Street doesn't already know. So, I didn't expect Dr. Mitch Gold, Dendreon's (NASDAQ:DNDN) president and chief executive officer, to provide much in the way of new information when he made a presentation at the Nasdaq OMX 27th Investor Program Conference Call on December 6, 2011 (here and here).
That said, buried in Gold's comments, I heard the following: "We have a study called NeoACT that looks at the use of Provenge prior to radical prostatectomy, in other words prior to patients having surgery, and that was really designed to help us better understand the mechanism action, how Provenge works and to educate physicians exactly with what's going on in the tissue and we've seen some very interesting data start to come out of that study." (emphasis added)
What is NeoACT and why did my ears perk up? According to the company, as posted on the FDA's Web site for the trial, NeoACT is "An Open Label, Phase 2 Trial of Immunotherapy With Sipuleucel-T (Provenge) as Neoadjuvant Treatment in Men With Localized Prostate Cancer." In plain English, the purpose of the study is to assess the immune response following treatment with sipuleucel-T. To accomplish this, tissue from the prostatectomy specimen will be compared with tissue from the core biopsy specimen obtained prior to treatment with sipuleucel T.
The study is being conducted at seven sites in four states:
United States, California
USC / Norris Comprehensive Cancer Center
Los Angeles, California, United States, 90033
UCSF Comprehensive Cancer Center
San Francisco, California, United States, 94115
United States, Oregon
Oregon Health & Science University
Portland, Oregon, United States, 97239
Kaiser Permanente Portland
Portland, Oregon, United States, 97227
United States, Utah
University of Utah School of Medicine
Salt Lake City, Utah, United States, 84132
United States, Washington
Virginia Mason Medical Center
Seattle, Washington, United States, 98101
Seattle Cancer Care Alliance
Seattle, Washington, United States, 98102
The trial began enrolling patients in July 2008, with an estimated enrollment of 40. Robert Sims, MD, of Dendreon, is the study director. The primary completion date was expected to be this month (December 2011), so it is not surprising that the corporation is already looking at preliminary data. That they are "interesting" is, at the least, encouraging.
Why is this study important? Because it has the potential to inform the company and doctors regarding how Provenge might benefit patients at earlier stages of the disease.
As is well known (and as discussed in depth here, for example, by one Investor Village message board poster), Provenge is approved for use in men with end stage prostate cancer. As well, other treatments (e.g., JNJ's Zytiga and Medivation's MDV3100) address the late stages of the disease as well as do a plethora of other drugs that are the subject of ongoing studies. But tens of thousands of men have not reached these late stages. Do they not need treatment? Of course they do. And if it could be demonstrated that Provenge, administrated to those with early stage disease, had a beneficial effect, the label expansion could reap significant benefits for these men and the corporation.
Consider why Provenge might work in the early stage disease. Because Provenge works by training the immune system to hunt for tumor cells on a long-term basis, essentially preventing the spread of the disease to places where it could kill, the patient is saved. (Here's Dendreon's explanation of how Provenge works, including a video.)
One way to measure the effectiveness of Provenge in such a setting might be to perform Circulating Tumor Cell counting, something that was cleared by the FDA in 2008. Essentially, Provenge would be used to 'scrub' the patient suffering from prostate cancer of stray tumor cells before they can evolve into tumors and kill him (versus using Taxotere and Avastin to destroy established tumors, short term, to kill tumors). It is for this reason and others and I are so eager to learn the results of the NeoACT study. To us, they could begin to show the way to Provenge label expansion in early stage disease.
Technical Analysis
Dendreon jumped on Wednesday, December 6th - in fact, the stock was halted for a brief period - after the company announced that it had sold its royalty interest in Victrelis TM (boceprevir; marketed by Whitehouse Station, N.J.-based Merck & Co) for $125 million. The intellectual property related to Victrelis was co-developed by Corvas International and Schering, and was acquired by Dendreon in 2003. I discussed Victrelis, a hepatitis C virus protease inhibitor, on November 7, 2011. The sale of this intellectual property further strengthened Dendreon's cash position, bringing cash on hand close to $700 million.
The Daily chart, courtesy StockChart.com, is below. It shows the issue again falling in Relative Strength after being turned away from the 50-day moving average. The weekly chart is more encouraging, showing the stock coming out of its oversold condition, with the MACD positive. The latter suggests that despite the negative tone to this equity, beneath the surface there are signs the "smart money" is returning to the issue. Whether such buyers, who for now are "flying under the radar," will show themselves in greater numbers once end-of-year selling is over is, of course, unknown.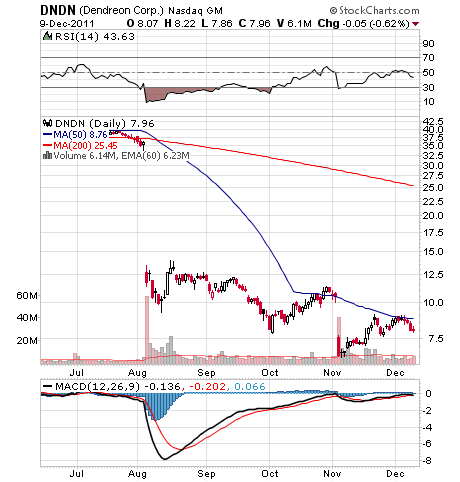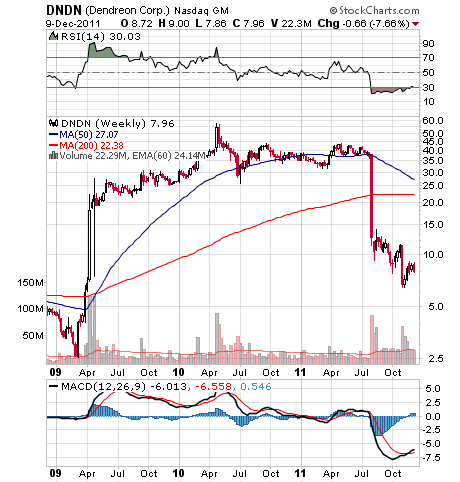 Disclosure: I am long DNDN.
Additional disclosure: I am long DNDN and will not alter my position within 72 hours of the time of publication of this article.