By Jeffrey Stafford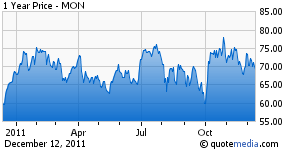 Monsanto (NYSE:MON) has built a formidable position in the biotech seed industry, dominating a market it essentially created in the late 1990s. While the firm has had its share of slip-ups in the recent past, fiscal 2011 was a bounce-back year. We think Monsanto will maintain its pole position by focusing on products and innovations that increase crop yields. Selling seeds that increase yields means that Monsanto can charge more for its products and grab a share of the value created when farmers are able to produce more food on the same amount of land--a theme that will be ever more important as the world population marches higher.
Its Breeding Is Leading
While investors and the market usually focus on the biotech aspects of the seed industry, Monsanto's conventional and molecular breeding apparatus is a significant source of the company's wide economic moat. Monsanto claims the world's largest breeding bank, or germplasm, and spends as much of its research and development budget on conventional and molecular breeding as it does on higher-profile biotech traits.
Originally a chemical company, Monsanto built its immense breeding operation over the years by acquiring seed companies around the world, with DeKalb (corn), Asgrow (soybeans), and Deltapine (cotton) as the most notable additions. DeKalb's corn seeds historically lagged the competition by 5-10 bushels per acre before Monsanto improved upon DeKalb's breeding techniques by making investments in technology. Monsanto also dramatically increased DeKalb's germplasm scale by acquiring more than 35 additional breeding programs. During the past decade, Monsanto has erased DeKalb's corn yield disadvantage. In fact, for the 2011 harvest, Monsanto estimates DeKalb held an 11.2 bushel per acre advantage versus U.S. competitor products with similar maturities and biotech traits. We think Monsanto's investments in its germplasm library have paid dividends and the money the company continues to pour into molecular breeding is well spent.
While breeding may sound less advanced than the firm's biotechnology efforts, that's not exactly the case. Monsanto uses sophisticated DNA sequencing to identify genes and their functions, providing markers in the germplasm that can be used to breed superior seeds with increased yields. Further, the firm's germplasm library also should accelerate gains in biotech traits, as biotechnology and breeding are used in tandem to generate new technologies. Monsanto already has an example of this convergence in the market with its Roundup Ready 2 Yield soybeans. In creating RR2Y, the company realized that placing the first-generation Roundup Ready, or RR1, trait in a different spot in the genome led to a higher-yielding soybean seed.
Compelling Products in the Pipeline
Monsanto has a deep and diversified product pipeline. By our estimates, the firm spends significantly more on seeds and genomics research and development than its two main competitors, DuPont (DD) and Syngenta (NYSE:SYT). While we don't equate absolute R&D spending with future product success, we think Monsanto's history of technology leadership and commitment to R&D spending bodes well for the company's prospects. In particular, we think a handful of Monsanto's upcoming products in the final stages of development look promising.
To slow the development of resistance by insects to biotech traits meant to kill them, the Environmental Protection Agency requires farmers to plant a "refuge" of nonbiotech corn close to corn with traits for insect resistance. This has created a headache for farmers who must keep up with the latest mandates, plan acres accordingly, and buy and plant two different types of seeds. In 2012, Monsanto will release its first refuge-in-bag product,, which simplifies the process by including the biotech seed and refuge seed in a single bag, allowing farmers to plant their entire field with one type of seed bag and thus saving time. Refuge-in-bag products will give farmers an additional measure of planting convenience and a smaller refuge requirement.
Further down the line, the company will probably be the first to introduce a biotech trait for drought-tolerance in corn, a market that has been sized at potentially $2.7 billion. While Monsanto will be the first to market with a biotech trait, Syngenta and DuPont already have rolled out drought-tolerant corn seeds developed through conventional breeding. Monsanto will need to prove that its biotech trait can achieve yield gains that breeding cannot.
Other promising products include herbicide-tolerant traits to address glyphosate-resistant weeds and a soybean seed developed specifically for Brazil. These Intacta Roundup Ready 2 Yield soybeans are on track for a fiscal 2013 launch. In trials, the product has shown a 4-5 bushel per acre yield advantage over RR1 soybeans, and Monsanto estimates Intacta will produce insecticide replacement savings of $5-to-$6 per acre per season. Showing a consistent yield and cost advantage over RR1 is very important for Monsanto, as the company will face stiff competition from DuPont, which continues to license Monsanto's first-generation soybean technology. Further, Monsanto will undoubtedly try to price Intacta as a premium product, so the yield and cost advantages need to be noticeable.
Looking Overseas for Growth
With the North American market near saturation, Monsanto will increasingly look outside the United States for growth. Brazil and Argentina are primed to drive the company's growth as farmers trade up to more advanced biotech traits. We think corn sales growth and margin expansion in Brazil will outpace Argentina, as Brazil is lower on the technology adoption curve. Long-term growth prospects in China and Eastern Europe are also attractive, but much will depend on government acceptance of biotechnology.
The company estimates that for the first time in its history, the majority of its fiscal 2012 gross profit growth will come from outside the U.S. Brazil and Argentina will be the main international focus for Monsanto during the next several years, as significant penetration of markets such as China and Eastern Europe is still a ways off. IHS Global Insights projects that about a third of the world's incremental corn demand and two thirds of incremental soybean demand during the next five years will be met by Brazil and Argentina. Although it varies between each country by crop, Brazil and Argentina are generally not as far along the technology adoption curve as more mature markets in the U.S. This means Monsanto's opportunity for margin expansion is greater in South America, as Brazil and Argentina move up the adoption curve faster than the U.S. Also, Monsanto will be able to leverage technology advances there that it already has rolled out in the U.S. to improve companywide margins.
Yield Data Promising
With Roundup Ready 2 Yield soybeans showing meaningful yield advantage over first-generation Roundup Ready seeds in 2011, we have more confidence in our thesis that farmer transition to RR2Y will blunt much of the negative impact from RR1 coming off patent in several years. For the 2011 harvest, RR2Y showed a 4.2 bushel per acre yield advantage over competitive RR1 varieties. We think this advantage (which should grow in the coming years as even more varieties carry the trait) will be sufficient to build adoption of RR2Y to a level where the company will not see a huge drop-off in soybean profits when RR1 soybeans come off patent for the 2015 growing season.
Both Monsanto's internal data and our check of independent data from a third party show Monsanto's corn seeds consistently outperforming technologies from competitors. While the company's degree of future success will depend on pricing strategies, we think Monsanto has demonstrated that it holds a breeding and technological edge.
The performance of Monsanto's reduced-refuge family (SmartStax, VT Triple PRO, and VT Double PRO) bodes well for the adoption of these premium-priced products. The company tripped up in fiscal 2010 with the introduction of SmartStax, pricing the seed in a range that farmers weren't willing to accept. The firm corrected pricing strategies in fiscal 2011, and with solid yield data in hand, we think Monsanto can hit its target of 22 million-24 million U.S. acres of reduced-refuge family corn in fiscal 2012 compared with 13 million acres in 2011.
Although the 2011 RR2Y yield data look good, we still think RR1 patent expiration is a big deal for Monsanto. While the comparison isn't perfect, one needs to look no further than Monsanto's Roundup weed killer for an example of what generic competition can do to a product line. The company's gross profit from glyphosate herbicides dropped more than 90% from fiscal 2009 to 2010, as oversupply from Chinese producers flooded the market. In the past, we have compared Monsanto's biotech traits process to the pharmaceutical industry's quest for new drugs, which provides yet another example of the impact of generic competition on a product whose patent has expired.
Disclosure: Morningstar licenses its indexes to certain ETF and ETN providers, including BlackRock, Invesco, Merrill Lynch, Northern Trust, and Scottrade for use in exchange-traded funds and notes. These ETFs and ETNs are not sponsored, issued, or sold by Morningstar. Morningstar does not make any representation regarding the advisability of investing in ETFs or ETNs that are based on Morningstar indexes.