The media group, as represented by the PowerShares Dynamic Media Portfolio Index (PBS), is down 5.4% for the year, versus the less than 2% decline for the broader market as represented by the S&P 500 (SPX). The outlook for the "old" media companies as represented by newspaper publishers and cable companies, for example, continue to be bleak.
Cable companies in particular are at particular risk as not only are people cutting off their cords to get content online, but also they face competitive risks for fiber optic-based services, and perhaps even more potently, the new generation is not getting cable in the first place. Newspaper publishers are a little further along in terms of re-inventing themselves, but they too continue to face challenges in terms of matching costs to declining revenues.
In this article, based on the latest available Q3 institutional 13-F filings, we look at the buying and selling activities of legendary fund managers in the media group to aid us in determining the companies in the group that these 60+ managers together have voted with their fund dollars to be the most attractive. Taken together these guru funds are bullish on the group, adding a net $631 million in Q3 to their 16.97 billion prior quarter position, and they are also overweight in the group by a factor of 1.5.
The following are media companies that guru fund managers are bullish about, and that are also trading at a discount to their peers in the group:
Sirius XM Radio (NASDAQ:SIRI) provides satellite radio services in the U.S. and Canada via approximately 135 channels of commercial-free music, sports, news, talk, traffic and weather on a subscription basis. Guru funds added a net $17 million in Q3, and the largest buyer was Steven Cohen's SAC Capital Advisors ($25 million). SIRI shares have languished in the $1.50-$2 range for a few months now; however, earnings have finally broken out of the 1c barrier as in the last two quarters it earned 3c and 2c respectively, beating analyst estimates by 2c and 1c respectively.
Its shares now trade at a discount 25 forward P/E compared to the 34.2 average for the radio and TV broadcasting group, as earnings are projected to rise strongly from 3c in 2010 to 7c in 2012. Furthermore, a number of brokers, including Citigroup and Lazard, have come out recently with Buy ratings on the company and price targets well over $2. We believe the stock is well positioned to rise up from here, and that the bias in SIRI shares is now to the upside based on projected strong earnings growth going forward.
Cablevision Systems (NYSE:CVC) is a leading telecom, media, and entertainment company. Its cable TV operations serve 3.1 million subscribers in the NY city area. Guru funds added a net $8 million in Q3, and together they hold an outsized 7.6% of the outstanding shares. The largest guru fund buyer in Q3 was John Griffin's Blue Ridge Capital ($26 million).
CVC trades at a discount 11 forward P/E compared to the average 27.7 for the cable TV group. However, we are not excited about the discount and would steer clear of CVC as the company faces significant competitive challenges from AT&T (NYSE:T) and Verizon's (NYSE:VZ) fiber optic-based services. It has been losing video subscribers and missing analyst earnings estimates recently, while the gain in its broadband subscribers is falling short of making up for the loss of video subscribers.
The following are the media companies that guru funds are bearish about (see table):
Comcast Corp. CLA (NASDAQ:CMCSA) provides cable services and content to 22.8 million subscribers in 39 states, as well as Internet and phone services. Guru funds cut a net $141 million in Q3, and together they hold only 1.0% of the outstanding shares versus their 4.0% weighting in the group. The top guru fund seller in Q3 was First Eagle Investment Management ($154 million).
CMCSA is undervalued, and it trades at a forward 12-13 P/E versus the average 27.7 for the group. However, we would not be enthusiastic about CMCSA for the same reasons as spelled out in the above section on CVC, as all cable providers face the same challenge of competing with fiber-based broadband services that can offer video services far cheaper than cable companies, and can also lure them in with a quad-play package that includes telephone, broadband, TV and wireless services.
Pandora Media Inc. (NYSE:P) is a premier provider of internet radio in the U.S., offering listeners a streaming music based on analysis of user listening behavior. Its services are offered on traditional computers, and on smartphones such as Android phones, BlackBerrys and the iPhone. Guru funds dropped their entire $7 million position in the company in Q3, with the top sellers being RS Investment Management ($3.7 million) and Kingdon Capital Management ($3.5 million). Pandora is currently generating losses, and trades at an expensive 15.6 P/B compared to the average 2.8 for the radio and TV broadcasting group.
The McClatchy Company (NYSEMKT:MNI): MNI is a publisher of newspapers in the U.S., with 30 daily and 43 non-daily newspapers in 29 markets across 15 states. Guru funds cut a net $5 million in Q3, with the largest seller being Tiger Global Management ($4.7 million). MNI shares surged recently, almost doubling in the last three trading days after the company announced in its outlook at a UBS conference that it saw improving advertising revenue trends, led by strong performance in national and retail advertising. However, even with surge, MNI trades at a discount 6-7 forward P/E compared to the average 9.3 for the newspapers publishing group.
DIRECTV Inc. (NYSE:DTV): DTV provides digital television entertainment in the U.S. and Latin America, providing direct-to-home (NYSEARCA:DTH) digital TV services, as well as multi-channel video programming distribution services in the U.S. Guru funds cut a net $252 million in Q3, and top seller was Maverick Capital ($192 million). DTV trades at a discount 14 P/E on a TTM basis versus the 20.6 average for the satellite communications group.
CBS Corp. (NYSE:CBS): CBS is a global media company engaged in TV and radio broadcasting, motion picture production, publishing and advertising. Guru funds cut a net $410 million in Q3, and together own 2.6% of the outstanding shares versus their 3.8% weighting in the group. The top guru fund seller was Children's Investment Fund Management ($577 million). CBS trades at 11-12 forward P/E versus the 10.5 average for the media conglomerate group.
Other companies that guru funds accumulated in the group in Q3 (see table) include theme parks and resort operator The Walt Disney Co. (NYSE:DIS), in which they added a $258 million in Q3; international diversified media holding company News Corp. (NASDAQ:NWSA), in which they added a net $1.51 billion in Q3; global diversified media holding company Time Warner Inc. (NYSE:TWX), in which they added a net $112 million in Q3; and leading Spanish language media company Grupo Televisa SA (NYSE:TV), in which they added a net $43 million.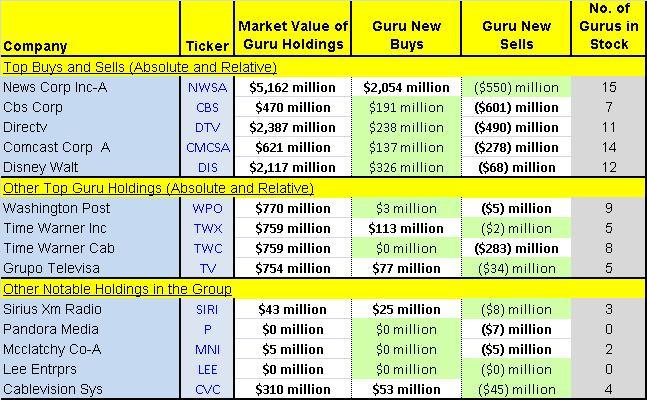 General Methodology and Background Information: The latest available institutional 13-F filings of over 60+ legendary or guru hedge fund and mutual fund managers, such as Warren Buffet, George Soros, Carl Icahn, Steven Cohen and Mario Gabelli, were analyzed to determine their capital allocation from among 50+ different industry groupings, and to determine their favorite picks and pans in each group. The hedge fund and mutual fund managers included in this select group include only high profile names who by virtue of their long-term market-beating returns have earned their standing in the investment community and are worthy of our attention. They include well-known names such as those mentioned above, as well as perhaps relatively lesser-known names that also have a stellar long-term history of beating the markets, such as Seth Klarman, John Griffin, Prem Watsa, Robert Karr and Lee Ainslie. Each guru has been carefully selected based on their long-term performance and standing in the investment community. Furthermore, the credentials of most of the 60-odd guru funds that justify their inclusion in this elite group were detailed in our previous articles that can be accessed from our author page.
These legendary or guru fund managers number less than one percent of all funds and yet they control almost ten percent of the U.S. equity discretionary fund assets. The argument is that institutional investors have the resources and the access to information, knowledge and expertise to conduct extensive due diligence in informing their investment decisions. When high alpha generating or guru Institutional Investors by virtue of their fund performance, low volatility and elite reputation in the investment community, invest and maybe even converge on a specific investment idea, the idea deserves consideration for further investigation. The savvy investor may then leverage this information either as a starting point to conduct his own due diligence or even go as far as constructing a model diversified portfolio based on the guru funds best picks.
This article is part of a series on institutional holdings in various industry groups and sectors, and other articles in the series for this and prior quarters can be accessed from our author page.
Credit: Fundamental data in this article were based on SEC filings, I-Metrix® by Edgar Online®, Zacks Investment Research, Thomson Reuters and Briefing.com. The information and data is believed to be accurate, but no guarantees or representations are made.
Disclosure: I have no positions in any stocks mentioned, and no plans to initiate any positions within the next 72 hours.
Disclaimer: Material presented here is for informational purposes only. Nothing in this article should be taken as a solicitation to purchase or sell securities. Before buying or selling any stock you should do your own research and reach your own conclusion. Further, these are our 'opinions' and we may be wrong. We may have positions in securities mentioned in this article. You should take this into consideration before acting on any advice given in this article. If this makes you uncomfortable, then do not listen to our thoughts and opinions. The contents of this article do not take into consideration your individual investment objectives so consult with your own financial adviser before making an investment decision. Investing includes certain risks including loss of principal.