The market doesn't believe Apple (NASDAQ:AAPL) can deliver sustained growth, assigning a lowly PE of 14 to the company, ignoring its accelerated revenue growth. For all the talk that Apple can't keep its pace, sales have actually sped up. Its earnings growth hasn't been shabby either, rising 85% this year. In contrast, Amazon's (NASDAQ:AMZN) PE of 101 towers over Apple, despite having far less growth.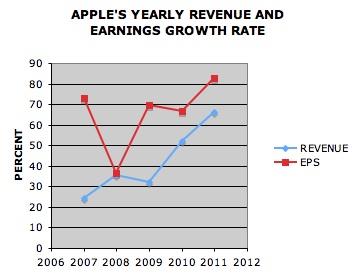 Investors fret that Apple won't continue its robust earnings production. While no one can peer two years into the future with any certainty, we can look toward January's earnings report to gauge Apple's short term prospects.
Who better to unveil the future of its business than Apple? So what's the company saying?
Apple has given shareholders a $9.30 EPS guidance. How strong is that outlook?
Compare Apple's outlook to those of the 6 previous January quarters. The chart below looks Apple's Q1 outlook versus the preceding Q4 earnings.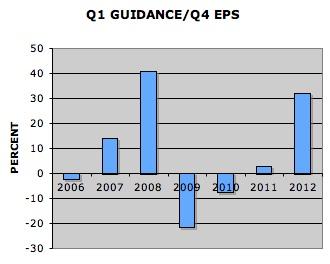 Apple's guidance for this coming quarter is extremely bullish. It is forecasting earnings 32% higher than last quarter. Except for 2008, other January guidances have been far less optimistic, ranging from -21% lower to +14% higher than the previous quarter EPS. Even taking into account that this quarter will be one week longer, Apple is confident about its upcoming earnings.
Apple is known for UPOD, under promise over deliver. It would be most unusual for this company not to make good on its forecast. Apple's earnings have exceeded its guidance for the last 24 quarters. While the company doesn't give long range outlooks, its $9.30 quarterly guidance is unusually bullish, a strong indication that Apple's growth is very much intact.
We have already seen two confirmatory reports that this quarter will be strong, corroborating Apple's optimistic forecast.
AT&T (NYSE:T) just announced it has sold 6 million smart phones after completing two-thirds of its quarter, driven in large part by Apple's 4s iPhone. The record for any AT&T quarter is 6.1 million. We haven't yet seen December, a traditionally strong month for iPhone sales. If AT&T is loving iPhone sales, it's a good bet Verizon (NYSE:VZ) and Sprint (NYSE:S) are as well.
Moreover, Hon Hai, Apple's primary assembler of the iPhone and iPad, reported an increase in October sales, 33% greater than in September. The Chinese manufacturer's recent good fortune is attributed to strong 4S iPhone sales.
Apple doesn't give bullish guidance unless it plans on delivering. Its major vendor and customer each have verified this is going to be an Apple Christmas. Investors should feel confident in Apple's continuing growth.
Disclosure: I am long AAPL.