Last week, tanker company Frontline (NYSE:FRO) announced a comprehensive restructuring to tackle the difficulties it is currently facing in a depressed market. By a set of different measures, and with the help of its main shareholder and other related companies, Frontline will now have a more solid basis, and avoid a dilutive cash call – as well as the spectre of bankruptcy brought to everyone's mind by the demise of General Maritime (NYSE:GMR).
Frontline is currently one of the largest oil tanker operators in the world. Its fleet consists of about 50 vessels, plus some additional vessels in non-wholly owned subsidiaries or chartered in from third parties. Frontline's strategy is to operate these vessels mostly in the so-called spot market, where the vessels are available for hire by anyone who'd like to hire them as long as they are available (like a taxi or a hotel room).
This has the benefit of being able to achieve superior rates when the market is tight and few vessels are available to meet oil transport demand, but also the risk to get meagre rates when the supply of ships is far greater than demand. Frontline has experienced both scenarios over the past five years, but the last two years have been difficult. The rates paid in the spot market have consistently been below the cash break-even rate of Frontline's vessels, meaning the minimum rate the ships must earn to cover budgeted operating costs, estimated interest expenses and scheduled loan principal repayments, bareboat hire and corporate overhead costs. In plain English: The company was bleeding red ink, and the market remained in depression longer than anyone initially thought.
Frontline had also placed orders at shipyards for new vessels, and it became increasingly difficult to finance these newbuilds as cash was running low, and a decrease in vessel values was putting strains on the balance sheet and loan covenants.
With its third quarter report, Frontline announced that it would run out of cash by the beginning of 2012, and that a restructuring was required. The shares sold off heavily after this acknowledgement, although it was not really a surprising fact. The company also announced that its main shareholder, CEO John Fredriksen (who controls the company via Hemen Holdings) was supportive of a restructuring. Hemen owns more than a third of Frontline's shares, and there was little chance that Fredriksen would accept a dilution or bankruptcy of his holding, which is one of the cornerstones of his shipping empire -- next to his offshore empire, centered around Seadrill (NYSE:SDRL).
The proposed restructuring contains the following measures:
A new company will be created (working name "Frontline 2012"). This company will be capitalized by a new equity issuance of $250m, of which Frontline will buy 10% ($25m). Hemen Holdings will guarantee the offering, and shares will be offered to the existing shareholders of FRO.
Frontline 2012 will use some of this money to buy assets from Frontline and assume debt related to these assets. For a payment of about $150m, Frontline 2012 will take control of about $1.12bn of assets currently on FRO's balance sheet, and assume $990m of debt and other commitments. About $100m cash from the capital raising will remain with the new entity to operate it.
The assets acquired by Frontline 2012 are all the VLCC newbuildings (five very large crude carriers scheduled to be delivered over the next five quarters), and the most modern vessels in FRO's fleet: six VLCCs built 2009-2010 and four Suezmax vessels built in 2010. Frontline's current fleet will thus be reduced from 50 units to 40 units.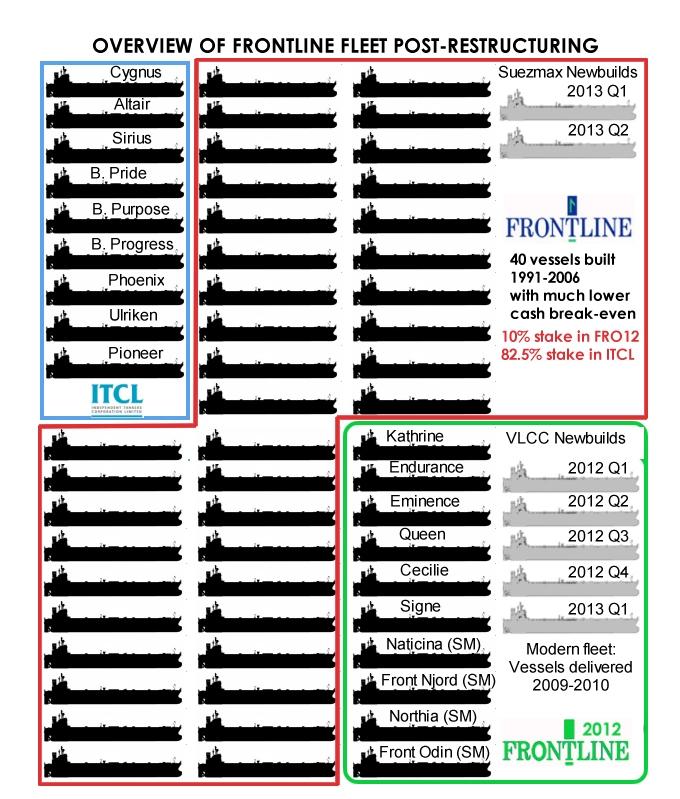 With the spin-off/IPO of its newbuildings and modern vessels, a large part of the debt burden on Frontline can be eliminated. However, this does not yet make the company profitable in the current tanker market environment because the cash break-even rates of Frontline remain high. Frontline charters a large part of its remaining fleet (28 vessels) from Ship Finance International (NYSE:SFL), another Fredriksen-controlled company which was spun off by Frontline some years ago. As part of the restructuring, SFL would agree to reduce the rate it charges for its vessels by $6,500 per day for the next three years, and enable Frontline to regain footing in the current market.
Historically, Frontline has had cash break-even rates of about $30,000 per day for VLCCs and $24,000 per day for Suezmax vessels. With the restructuring, Frontline would be able to nearly halve these rates, to $17,600 per day for VLCCs and $12,800 for Suezmax vessels. At these rates, Frontline could operate without heavy losses even in this most depressed market; however it will have to remit any excess earnings up to the initial rate to SFL.
The restructuring is well thought-out because it focuses both on the balance sheet and on the income statement, both of which were pressuring Frontline. The balance sheet will be reduced by about a billion dollars, and the contract amendment with SFL will allow FRO some breathing space and avoid further heavy losses and cashflow issues. The equity ratio will improve to nearly 25% from the currently very low 17%, and FRO will still retain some upside in its newbuilds and modern vessels via its 10% stake in Frontline 2012. The sale to Frontline 2012 will also raise about $125m in extra cash previously tied up in the ships.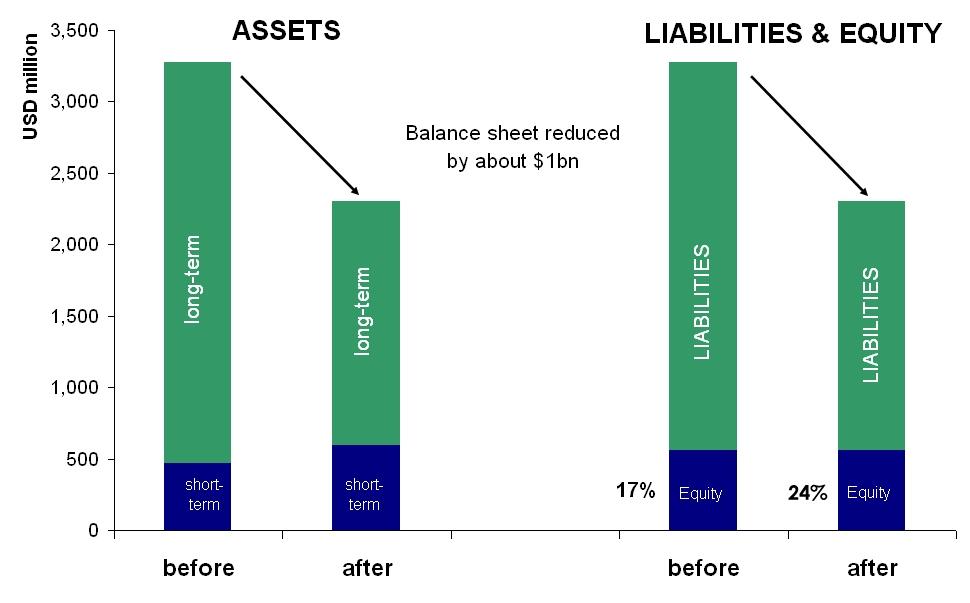 In the form it has been presented, Frontline 2012 will be a leveraged company, but with a collection of very valuable assets. The newer vessels are more efficient and have lower operating costs. It is very possible that Frontline 2012 will merge with another company within the Fredriksen group of be a part of a convoluted deal involving the other companies controlled by Hemen Holding.
Just look at this overview of the various shipping companies inside the Fredriksen universe: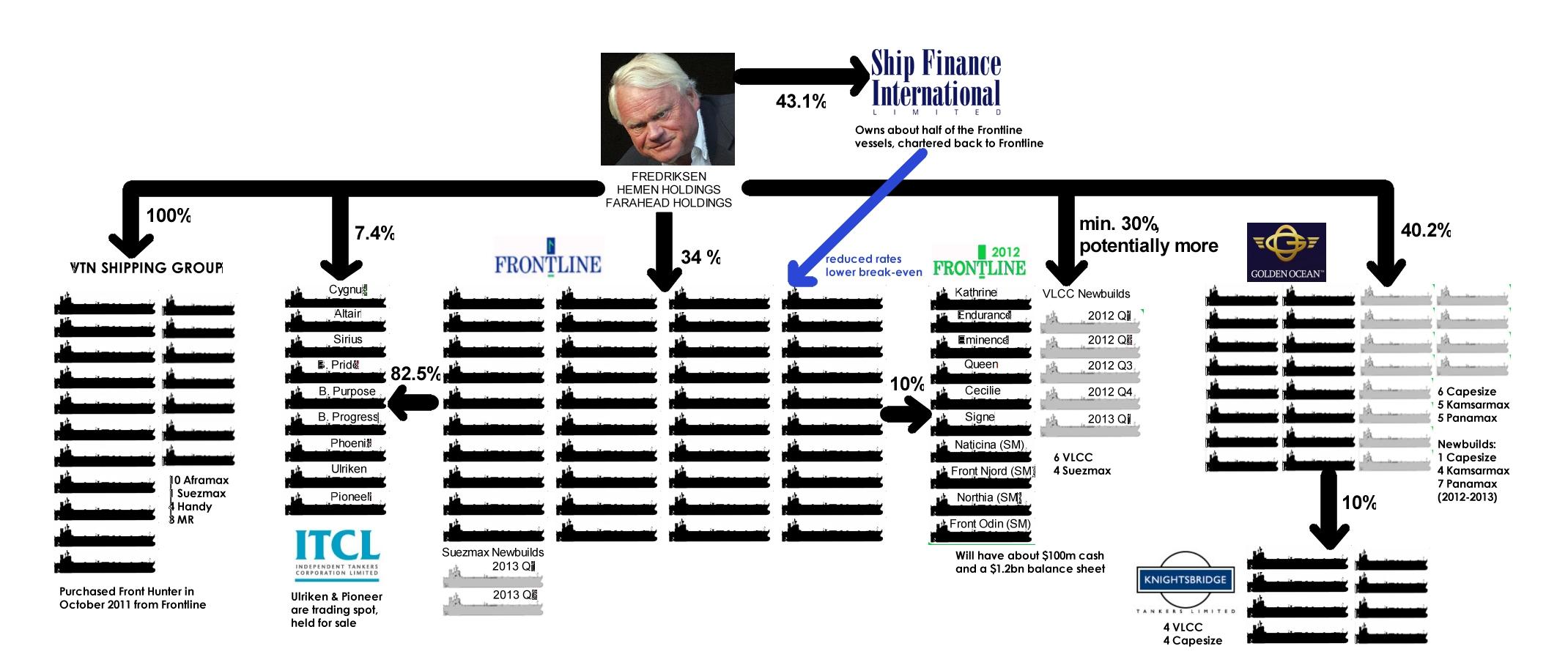 VTN shipping group, wholly owned by Farahead Holdings, owns a collection of Aframax tankers, and recently purchased a Suezmax tanker from Frontline.
Independent Tankers (OTC:ITKSF), a listed subsidiary of Frontline (82.5%), and where Hemen holds 7.4%, has been deleveraging its balance sheet for the past years. Two of its VLCCs (Ulriken and Pioneer) currently trade in the spot market, while its remaining vessels are on long-term charters which will expire in the next years.
Frontline 2012 will only have about $100m in cash which it will need to operate its vessels, this basis is insufficient to "grow and become the consolidator in the tanker market when timing is right" as stated in Frontline's press release. It will either need to raise further capital or join forces with another company.
Such a company could be Knightsbridge Tankers (VLCCF), which has a very strong balance sheet, and has indicated it wanted to raise additional equity to acquire ships or companies. Golden Ocean (OTCPK:GDOCF), a drybulk company controlled by Fredriksen, holds 10% of the share capital of VLCCF.
The new FRO will be a stable entity, but with limited upside in the near term. If the tanker market only improves slightly, the benefits will first go to SFL via the rate claw-back mechanism. Only if spot rates rally sharply (which is not likely in the near term) these VLCCs would again become "very large cash cows."
I have currently no idea what the cash break-even rates are at Frontline 2012, but I suppose they will be around the $30,000 level. If the current low levels in the spot market persist, and with the commitment to its newbuildings, Frontline 2012 is likely to need a partner very soon. I have a feeling Fredriksen has already something in mind, but what will it be? 2012 will be another fascinating year.
Disclosure: I am long FRO, SFL, GDOCF.PK, ITKSF.PK, SDRL.